The History of the 4D Vision
Click here to download original 4D Vision Booklet (October 2011)
In 2012 the St. Luke's Church Council began a process to discern what God's plan was for the church over the next three to seven years. As a congregation we felt we were receiving a call of the Spirit to reassess our priorities and begin an intentional process to determine how we as 3D People (Deeply Devoted Disciples of Jesus Christ) could dream and discover God's destiny for St. Luke's over the next five years.
We began a strategic visioning process in late 2010 which challenged us to consider the possibilities of transforming St. Luke's from an attractional to a missional congregation. During Lent 2011, we asked the congregation to help us discover our strengths by sharing what keeps them returning to St. Luke's, what inspires them about being a part of the congregation, asking for specific focus for where our church can create significant community change and dreaming about what others will think about St. Luke's five years from now.
The "4D Process for 3D People" affirmed our mission, vision and core values but also declared that we as a congregation felt called to set ambitious new goals and strategic vision for our missional future. Through the thoughts shared by our congregation, six "world changing" ideas were born and became a resulting Vision. The 4D Vision is a multi-year Strategic Plan to continue to answer God's calling for our lives through ministry and connection at St. Luke's. Through this Vision, we will continue "Building the Kingdom by Building Disciples" in greater ways than we ever imagined.
Six World Changing Ideas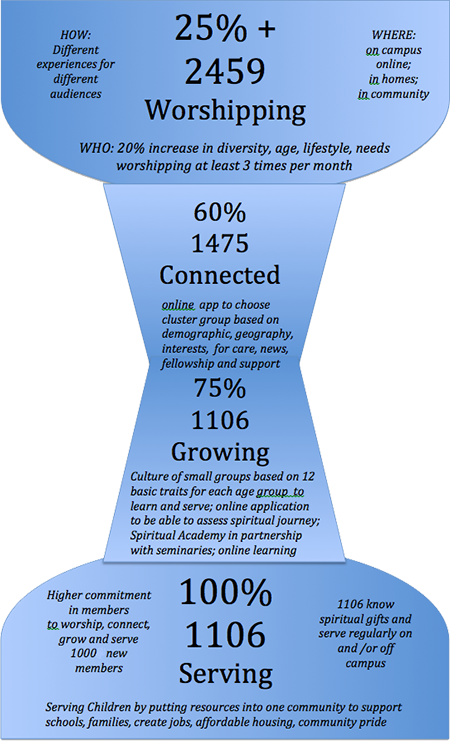 4D Newsletters:
September 2012

Hopefully in your worship guide you have been noticing the ways in which St. Luke's is living into its 4D Vision. For those who might not be familiar with St. Luke's "4D" terminology, here is a quick refresher. In 2011 the congregation began a journey toDiscover, with God's guidance, what St. Luke's is not only gifted at in terms of spiritual gifts and talents, but its passion and its heart for others. The members Dreamed together about how those gifts and passions could meet the needs of people in our community, and then they Designed a 5 year strategic Destiny to live into as a congregation.
This vision has been divided into 5 strategies which has St. Luke's seeking to Speak Love Aloud with radical acceptance to those who have been turned away from the church, Turn the Church Inside Out by expanding our worship and ways to worship on and off campus, Dig in and Grow Deep as disciples who Connect for Care in order to Take Jesus on the Road and seek to align our gifts and passions to create transformation for children and their families in a particular Central Florida Community. Ambitious? Quite! God inspired and driven? Absolutely! Will it take every St. Luker to pull it off? Undoubtedly!
You might ask, "How are we going to do all this?" The answer is, by shaping the culture of St. Luke's so that the congregation's faith walk includes these four areas of emphasis:
Worship three times or more every month on or off campus
Connect in a cluster group once a month
Grow in your spiritual formation through a small group at least twice a month
Serve using your gifts and resources either within the church or in the community that we will be transforming.
(Notice these four words appear in our worship guide each week)
Now that you have had a short refresher course, let's move on to the big details about St. Luke's movement into the 4D Vision. The following information is being shared from various lay leaders who are making sure the Vision stays on track with the forward momentum to make it a reality. If you have any questions about this journey, please do not hesitate to email me at jstileswilliams@st.lukes.org and I will be happy to share more information with you.
Grace and Peace,
Jenn.
Tracy Farkas, Chairperson Staff Parish Relations
On behalf of the Staff Parish Relations Committee (SPRC) I would like to thank you all for your amazing send off for Pastor Beth, and the warm welcome you have all showed to our newest pastors Corey Jones and Jad Denmark. If you were in church to hear them preach, I am sure that you were as excited as I was to listen to their first messages to our congregation. Below are some highlights since May that show the progression into the 4D Vision:
Announcement Sunday in May: The plan to wait for Jad and Corey to arrive, and get to know them a bit prior to assigning their ministry tasks was announced.
The SPRC met with Corey and Jad in June, and approved the recommendation brought forth by the Governance Team, ensuring that their talents and passions were being matched to the responsibilities that we needed to fill.
Assignment of roles:

Pastor Corey Jones will be serving in the position of Minister of Community. His primary responsibilities will support our 4D focus of Speaking Love Aloud. Corey will do this by creating a vision and developing partnerships with underrepresented communities (young adults, LGBT community, African American, Hispanic and other cultures found in our demographics) to welcome them and draw them into the life of St. Luke's. He will also work with the Community Transformation Ministries team to continue to offer care, and promote our interfaith partnerships.
Pastor Jad Denmark will be serving in the position of Minister of Connection. His primary responsibilities will support our 4D focus of creating connection within our congregation and creating a process for moving people from visitor to connected attender to member. Jad will do this by developing a plan that connects a person from first time visitor, through regular attendee, involvement with a Cluster group and on to membership. You will hear much more about Cluster groups as we move through our 4D work, but the general idea is that people will self select into Cluster groups based upon geography, spiritual journey, interests, demographics, etc. for the purpose of fellowship, communication and a way to serve together. Jad will help to listen to folks, and get them connected to a group that makes them feel welcome and helps them to grow along their spiritual journey.
Both Corey and Jad will work closely with the lay leadership team for their ministry area to establish, review and evaluate the ministry's vision in relationship to St. Luke's 4D Vision. They will also fulfill pastoral duties, including pastoral visitation, weddings and funerals, and participate in church council and other clergy leadership meetings. If you have a passion for Speaking Love Aloud and would like to assist in this ministry, please do not hesitate to contact Corey at cjones@st.lukes.orgto get plugged in. If instead you feel drawn to connect visitors and regular attendees with a welcoming group, reach out to Jad at jdenmark@st.lukes.org and let him know you would be happy to assist.
Thank you again for welcoming both of our new pastors with open arms. We look forward to the great things they will help St. Luke's accomplish.
Sharon Somner, Chairperson Church Council
John 12:26 – If any of you want to serve me, then follow me. Then you'll be where I am, ready to serve at moment's notice.
What a blessing it was for me to attend the Dignity Serves class and learn about thinking and becoming more like Christ with everyone you encounter.
As I sat down in class I had two initial thoughts:
What challenges will this class open up for me?
How will it change my life?
My challenge was the people in the class. We all came from different backgrounds, cultures and ways of life. As we role played, we were all convicted of how we had prejudices and stereotypes of others without knowing their life history. If we look at the problems of this world differently, we will respond in a way that empowers the people that we are serving, rather than meeting their immediate needs. The group exercise was done in an open way that did not make anyone feel condemned, but encouraged us to look at our own life in a new way.
The class was excellent! I Thank God that we all are created in His Image. I truly enjoyed the spiritual growth I received from the Dignity Serves class because "Only what we do for Christ will last."
Our goal for 2012 is to have 100 people participate in this eye-opening training session. Training is an essential element of our Take Jesus on the Road vision. It will prepare us to serve our community in new ways. As of August 2012, 70 persons have completed this training. The next Dignity Serves experience is September 21 and 22. Please contact Lynette Fields at lfields@st.lukes.org to sign up.
Mark Adelhelm, chairperson 4D Leadership
You may not realize it, but 2012 has already been a very busy year moving our 4D Strategy from vision to ministry reality. All throughout the strategy ("Speak Love Out Loud", "Turn the Church Inside Out", "Take Jesus on the Road", etc.) the emphasis has been on shining the light of our Lord and Savior through our ministry and actions into the lives of children and families in Central Florida and beyond. As we discerned our strategy for the next several years, we felt that it was important that we initially focus our efforts more holistically on a principal community. By concentrating many ministry efforts towards a specific community, we intend to:
Have a sustainable, transformational impact in the lives of the members of that community.
Have a sustainable, transformational impact in the lives of the members of St. Luke's.
Develop and validate a repeatable model for how to serve other communities in the future.
With this goal in mind, we've had three specific successful ministry initiatives underway this summer.
Summer Lunch Program:

Five weeks
25 St. Luke's volunteers helped provide free lunches for children in the Mollie Ray school zone.
Served an average of 120 children daily for a total of 2,108 lunches in 17 days

Rock Orlando Summer Day Camp:

Five-week camp at Rock Orlando

50 children participated
Volunteers from both St. Luke's and Rock Orlando

Two weeks of St. Luke's Summer Camp

Change the World Camp: 65 campers from St. Luke's, Rock Orlando, and our surrounding community
30 staff and volunteers from both campuses
Spark the Imagination Camp: over 90 campers
40 staff and volunteers from both campuses

The program was a huge success and demonstrated again that we can extend and better leverage the resources and gifts that God has blessed us with by working creatively with other churches and organizations in the communities we serve.

Community Listening Initiative:

Approximately 25 St. Luke's members and staff under the guidance and leadership of Lynette Fields, Mariam Mengistie and Carolyn Green Souder
Actively looking at several local communities where St. Luke's ministry has been serving to help determine which community might invite St. Luke's to partner with them for community transformation
Other successful models for community revitalization and sustainable impact for children and families were evaluated and the team better understands what dignified service, meaningful engagement and lasting impact demands.
The team is now working to better understand these communities and determine how St. Luke's can get to know the leaders, residents and other stakeholders (business persons, public safety, teachers, faith organizations, etc.) in these communities to determine what their assets are and whether St. Luke's can be an effective partner with them in improving the lives of their children.
The community transformation team looks forward to expanding its efforts to engage directly with people living and serving in these communities this fall. If you are interested in being a part of this effort, please reach out to Lynette Fields at lfields@st.lukes.org or Mariam Mengistie at mmengistie@st.lukes.org and we'll get you up to speed!
Volunteers in all three of these initiatives participated in a 3 hour orientation PRIOR to serving as part of our 2012 focus on training and readiness. As of this writing, 105 persons have completed this orientation.
So if you've been wondering, "What ever happened to that 4D Strategy stuff?" hopefully now you realize the answer is "We're putting it into action!" Hopefully, your next question is, "Is it too late for me to get involved and make a difference?" And of course the answer is emphatically "No!" This 4D journey is under way, but just beginning. We need you – and all the "beautifully and wonderfully made" gifts that God blessed you with – to join us in this exciting new chapter for St. Luke's!
The lay and clergy leadership of St. Luke's continue to meet with Champlin Architects to develop a phased Master Plan for optimizing our campus facilities. In order to utilize worship to Turn the Church Inside Out as well as to Dig In and Grow Deep disciples, there is much needed work for technology on our campus. We also recognize that when the economy took a turn a few years back, we were very conservative in our decisions for building or renovation of our current facilities. We know it is time to create the best platform for our campus to build disciples in order to deploy disciples for the purpose of building the Kingdom through community transformation. Champlin Architects held "Needs Assessment" meetings with different ministry groups in the church and then wrapped up those findings in a Charrette process of visioning and dreaming with a group of staff and lay leaders. We are currently working with them to put some finishing touches on a phased plan so be on the lookout for more information in our next 4D Update.
We want to hear from you! The 4D Vision was developed through your input during our Lenten Worship series in 2011. Now it is time to gain more of your insight. We will be inviting you to give feedback regarding our campus, but first we would like to know more about your thoughts on other areas of the Vision. Click the link below to participate in the 4D Survey. The survey only takes about 15 minutes but your feedback is imperative to our ability to move forward with St. Luke's 4D Vision. Please prayerfully complete the questions which will help us be better able to serve you as we seek to build disciples who are building the kingdom.
Link to 4D Survey: (Link no longer active)
March 2012

Welcome to our St. Luke's 4D Vision update. Each month we will highlight the new steps that have been taken, and benchmarks met, that help meet the strategies and goals our congregations adopted on our 4D Vision. We look forward to continuing to roll out our vision strategies in the coming months so that together we can grow into this exciting new Vision that God has laid before us.
At the beginning of the year, the Executive Team of Church Council (Chair Sharon Somner, Vice Chair Joe Farkas, Secretary Julie Young, lay leader Chuck Mallue and the current chairs of our committees: SPR Chair Tracy Farkas, Trustees Chair Jeff Woy and Finance Chair Jeff Winn) merged with our 4D Leadership team (Mark Adelhelm, Dave Riley and Jeff James). This new, larger group now meets every other month and serves as a guiding team for Church Council, staff and members as we move forward in the coming years. This 4D Leadership Team will help spin-off lay teams as Church Council and staff work together and implement each of our strategies.
2012 is our first year for the 4D vision. This is the time our ministry teams will research and gather information, learn best practices from other churches, nonprofit groups and within the community, and look at how we create and implement the ministries needed to support our six strategies. Each mission essential is creating lay teams that will work with members of the community so we can listen, study, interview and gather suggestions for creating sustainable ministries. With each month and each step, we are getting closer to turning our 4D vision into a reality.
In addition to these monthly updates, you can see what's new each week in our Worship Guide. The 4D icon will be listed next to programs, groups and service activities that are direct results from the 4D vision. Each month we will try to provide you specifics about how we are putting our 4D Vision and Strategy into action within our ministry efforts. This update spotlights the significant progress already underway within "Take Jesus on the Road". Look for more details from our other 4D Priorities in the monthly updates to come!
To bring all of these goals to life, we need you. To get involved today, please contact Jenn Stiles Williams at jstileswilliams@st.lukes.org.
Jeremiah 29:11 – I know the plans that I have for you, declares the Lord, plans to prosper you and not to harm you, plans to give you hope and a future.
Your Church Council has been prayerfully discerning the plans that the Lord has for St. Luke's. As we continue to move forward in our 2012 commitment, several pivotal decisions have been made to help us live into our 4D Vision.
We have approved taking the next step with a Master Plan which will include architectural service, audio visual planning and web design services. Budget estimates are collected now so that we can complete necessary improvements physically, and virtually. A new St. Luke's website will serve as the launching point for our visions to Speak Love Aloud, Dig in and Grow Deep and Turn the Church Inside Out. You can read more about this below in our information regarding Campus Planning for our Trustees Chair Jeff Woy.
An important part of reaching our objectives is to continually understand and measure our success. To help us stay on track, Church Council is creating a dashboard that will help us stay on track and measure our growth as we strive for our goals in worship, connection, growth and service. To date, our Stewardship measurements show us that approximately 586 St. Luke's members worship two or more times a month while our weekly attendance averages 2000 worshippers. Of the 586 identified, 225 participate in some type of small group. These initial measurements will serve as baselines that we can use to guage progress and impact of our 4D strategy, specifically in terms of regular worship participation and small group membership.
When lives are significantly changed, it is visible in new, outward actions. We know that God is indeed moving in St. Luke's. Through our prayers and continued dedication to this vision, we believe our members will show their support prayers, spiritual gifts, time and tithes to build the Kingdom.
Sharon Somner
Church Council Chair
An important part of our vision is to share God's love with those who are already part of our St. Luke's families. We have identified several objectives and set forth four key strategies to help us truly "Take Jesus on the Road."
Strategy #1- Identify specific goals for the individual child
Beyond Biological (foster and adoptive family support ministry)
The Beyond Biological (2B) ministry began in January to help connect families who have adopted a child, want to adopt a child, are foster parents or seek to be foster parents, with each other and with those who feel the tug in their hearts to be a part of this family support ministry. Each month, we come together to share advice, challenges, concerns and offer prayers of comfort for each other. As our ministry grows, we will continue to add new events and activities for both the children and families of Beyond Biological.
Laura Thompson,
2B member, administrative team
Strategy #2-Support families
IMPACT Parent Empowerment and Involvement
For the past three years, the St. Luke's IMPACT ministry successfully matched volunteers with classrooms, tutoring programs, afterschool programs, summer feeding programs and many other student programs at both Mollie Ray Elementary and Pineloch Elementary Schools. As we take the next steps in our 4D strategy, we are strengthening our efforts to increase parent and community involvement at the two schools. Our first steps focused on relationship building and better equipping the existing PTA organizations at both schools. These efforts included:
A PTA membership drive
A "Welcome Back Teachers" breakfast
A Pumpkin Patch for 75 families and 150 students
A "Parents and Pastries" event for over 200 students and their families
Parent Resource Fairs for approximately 200 individuals
Periodic staff encouragement notes and gifts
Staff birthday cards
Our next steps include identifying additional parent leaders to partner with and to continue to assist the PTA's with their goals.
Sharon Adelhelm
Team member
Educational IMPACT Parent Empowerment
Strategy #3-Train Laity for Community Transformation
There is so much to be done. And change truly starts with each of us as individuals. As a member of the staff, it was an amazing and humbling experience to take part in the Dignity Serves training. Loving and showing love to others is where we find dignity, and we discussed that truly positive change takes place when someone cares enough to partner with others, show love and compassion and get to know each other as individuals. Taking part in the Dignity Serves training helped me, and those around me, understand that barriers can be broken and that as God's children we can step forward together, create relationships and build His Kingdom here on earth.
On a personal level, I am beyond grateful to the leaders of St. Luke's for providing the Dignity Serves seminar to the church staff so that we can continue to grow personally, spiritually and in our roles serving the St. Luke's family and our community. I am ready to take the next step as we meet new people, partner in change and live out God's command to love each other, to give and to serve.
Jenna Hunnicutt, St. Luke's Staff Member
Strategy #4- Target one neighborhood for a community transformation initiative
This is our most ambitious strategy and as such it requires that we take deliberate steps and lay a create a solid foundation. Since last summer, we have been strengthening our mission leaders, staff and church leaders with Dignity Serves training so that those making critical decisions have an understanding of this particular ministry and know the best practices for success implementation. To date, more than over 50 people have been through this training.
During Lent, a task force met for four weeks to compile best practices and understanding of asset-based community development to share with church leadership and the congregation through sermon series and liturgy. This summer there will be three major opportunities for over 150 St. Lukers go into the community to gain invaluable experience listening and learning from others. We will share more during the April 15 worship services! As we continue to gather information, build stronger relationships, and listen to those who live in the communities we serve, this local mission ministry is strengthening, and we are going where God is leading us.
Lynette Fields
Executive Director for Servant Ministry
The 4D Leadership Team and the chairs of the St. Luke's Board of Trustees met with the Vision Teams last fall to learn about physical needs related to our campus and its technology. From these meetings, we determined St. Luke's needs a high level campus planning process to facilitate living into our 4D Vision. This process will address use of our current campus facilities and use of technology, as well as improvements that need to be made. A process was conducted in February and five architectural master planning firms submitted their proposals. A firm was selected by consensus in mid-March and the selection team reported back to the 4D Leadership Team. Our process, which includes all of the 4D Vision Teams, will begin in April and conclude in June. It will give us with opportunities for input from the ministry teams to help use our campus as a platform from which we move into the community. We look forward to gathering information and input so that a full plan for enhancements and renovation can be put into place.
Jeff Woy
Chairperson of Trustees and
Dave Riley
Chair of Campus Planning Task Force