Our camps provide quality, affordable, scripture-based instruction in a nurturing environment.  We invite children of all backgrounds and traditions to participate in summer camps at St. Luke's.
Registration opens March 12 for campers and February 26 for adult and youth volunteers.
VACATION BIBLE SCHOOL 2018

SUMMER CAMP FOR PRE-K TO RISING 6TH GRADERS

Can it be that time again? It is time to start planning the summer activities for the children. We want St. Luke's to be your spot for safe and fun summer camps. This year there will be a wide variety of camps from which to choose. Start marking your calendars now!
Elementary Age Full-Day Camp
1st grade-rising 6th grade
9:00 a.m. to 5:00 p.m. with an early morning drop off option at 8:00 a.m.

 July 9-13 and 

 July 16-20 and

 July 23-27.
Week 1: 1st-3rd grade will participate in music, dance, art, gym games and missions
4th-6th grade will participate in gym games, theatre, art, and missions
Week 2: 1st-3rd grade will participate in puppets, team sports, art, and STEM
4th-6th grade will participate in art, team sports, stage production, and games
Week 3: 1st-3rd grade will participate in STEM, nature, art, and theatre games
4th -6th grade will participate in missions, culinary, STEM, and outside games
Elementary $140 for the full day for the whole week.
$50 for the whole week of extended day from 8-9 am
Preschool Camp
Pre K and rising Kindergarten
9:00 a.m. to 12:00 p.m. with an afternoon extended day option until 5:00 p.m.
Preschool $60. $20 per day for extended day.
THEATER AT ST. LUKE'S SUMMER PRODUCTION CAMP

Theater at St. Luke's
Theater at St. Luke's creates an opportunity for students to develop their skills and build confidence through voice, movement, and acting. Students are taught the process of character development, theatre fundamentals and expectations along with foundation of St. Luke's Core Values: Acceptance, Hospitality, Community, Discipleship and Service.
Through this experience, we meet students where they are in their journey as performers and help them nurture their strengths and explore their passion and talent. Student will also have the opportunity to learn the technical side of theatre by helping build costumes, sets, and props.  Our Youth Theatre camps give a well-rounded experience in faith, fellowship, rehearsal, performance, and production.
Auditions required. 40 space available pending auditions.
Two Week Production Camp:
June 4- June 15, 9:00 A.M.- 2:00 p.m.
extended day 2:00-5:00 p.m. for an additional fee.
Performances: 
June 15 at 7:00 p.m.
June 16 at 7:00 p.m.
June 17   at 2:30 p.m.
Audition dates: April 24 and 25

 to schedule an appointment.
Auditioning: Rising 3rd graders- Graduating 8th graders.
Production Fee: $275.00
Extended Day Fee: $20.00 per day
SINGIN' IN THE RAIN JR.
Screenplay by: Betty Comden and Adolph Green
Songs by: Arthur Freed and Nacio Herb Brown
The "Greatest Movie Musical of All Time" is faithfully and lovingly adapted by Broadway legends Betty Comden and Adolph Green, from their original award-winning screenplay in Singin' in the Rain JR. Hilarious situations, snappy dialogue and a hit-parade score of Hollywood standards make Singin' in the Rain JR. a guaranteed good time for performers and audience members alike.
Singin' in the Rain JR. has all the makings of a Tinseltown tabloid headline – the starlet, the leading man and a love affair that could change lives and make or break careers! In silent movies, Don Lockwood and Lina Lamont are a hot item, but behind the scenes, things aren't always as they appear on the big screen! Meanwhile, Lina's squeaky voice might be the end of her career in "talking pictures" without the help of a talented young actress to do the talking and singing for her.
Multiple extraordinary roles for young performers make Singin' in the Rain JR a perfect opportunity for all to shine.
FOR PARENTS

Important Information Before Registering
Registration must be completed online.
Space is limited.
Age restrictions and limits apply.
Payments for Summer Camps are due at time of registration.
Cancellation no later than two weeks prior to the start of the camp will result in a 100% refund less a $10.00 processing fee. Cancellations no later than one week prior to the start of the camp will result in a 50% refund of the cost of the camp less a $10.00 processing fee. Cancellations made one week or less prior to the start of the camp will result in no refund.
Be sure to include any food allergies in the Medical & Information field.
Campers participating in a Full-Day camp should bring a lunch with a beverage each day. Lunches should be clearly marked with the camper's name. Refrigeration will be provided for all lunches.
A mid-morning and mid-afternoon (peanut-free) snack will be provided.
Campers should not bring personal items to camp. If a cell phone must be brought it must be put away and silenced during camp hours.
The camp staff does not administer oral or topical medications. Be sure to note special circumstances in the Medical section of your registration.
ADULT AND YOUTH VOLUNTEERS

OVERNIGHT CAMP

Camp All Year Round at Warren Willis and Life Enrichment Center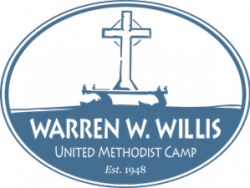 The camping ministry of the Florida Conference of the United Methodist Church has a  long tradition of Christ-centered camping experiences that transform the lives of young people. This ministry has centered around the Warren  W. Willis Camp facilities in Fruitland Park. Learn more at warrenwilliscamp.org. St. Luke's Week will be June 25-30. Registration is open on the Warren Willis website now.
Federal ID Number is 59-2135880