Cuba Team 
On Friday, March 11 five members of St. Luke's Cuba Team will be visiting our partner church, Melones Methodist Church in Cuba. Please keep Pastor Jad Denmark, Lynette Fields, Joel Strickland, Patrick Ziegler, Luky Nova and the congregation in Melones in your prayers. St. Luke's is supporting the partner church (through the "Methodists United in Prayer," a Florida United Methodist Conference initiative with the Cuban Methodist Conference) building a parsonage and providing a salary supplement for pastors. You can be a part of this team whether or not you are able to travel to Cuba.
Mission Experience, March 11-17, 2016
The team of five St. Lukers traveled to Melones, Cuba March 11-17 to visit St. Luke's partner church. Though much is changing in Cuba, there is still very limited access to the internet. By the time, the group secured an internet card; they did not have access to a compatible computer. Instead of daily blogs from the field, the team put together a series of reflections on different aspects of the trip. With Cuba in our own U.S. news so much these days, it was indeed an honor to see history unfolding in person. The team is incredibly grateful for the support of St. Luke's in this mission partnership.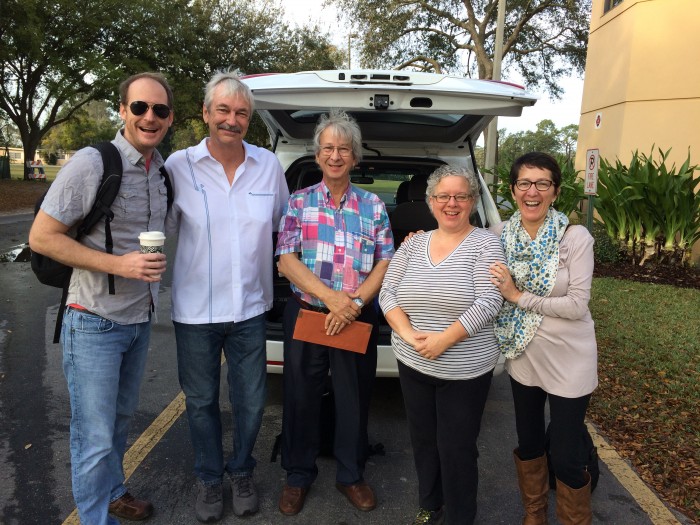 Cuba 2016 departure—Pastor Jad, Patrick Ziegler, Joel Strickland, Lynette Fields, and Luky Nova
Partnership Taken Very Seriously and Prayerfully
Reflections by Lynette Fields, Executive Director of Missions
Travel restrictions to Cuba have eased over the last few years, but it still takes planning, effort, and patience to get to our partner church. A visa is required, only limited charter flights out of Miami are available, and immigration is particular. Though Cuba is one of our closest neighbors, it still takes most of a day to get there. After a full day of traveling on Friday, March 11, we were greeted at the Holguin airport by the pastors at Melones, our partner church, the District Superintendent, two drivers, and the local coordinator of the Methodists United in Prayer partnership. We were treated like old friends even though only one in our party had met any of the people there in person. Lots of hugs and kisses were shared. Having been on scores of mission experiences, this welcome was unique and heart-warming.
St. Luke's and the Melones congregation have been partners since 2010 and a small team from St. Luke's visits each year. Though I had never been to Cuba previously, I had been part of the planning team since the beginning and had heard many stories about our Christian brothers and sisters there. On our first day at Melones, Pastor Rafael and Pastora Laru welcomed us into the home that was built through financial support of our Mission Capital Endowment Fund and dedicated in 2012. I had seen many pictures but I was quite overwhelmed with emotion seeing it with my own eyes. The house is really quite simple but it was evident that it was beautifully constructed with care taken in the small details from the tile in the kitchen to the wooden shades on the front window. It was lovely and secure—you could ride out a hurricane in the concrete structure.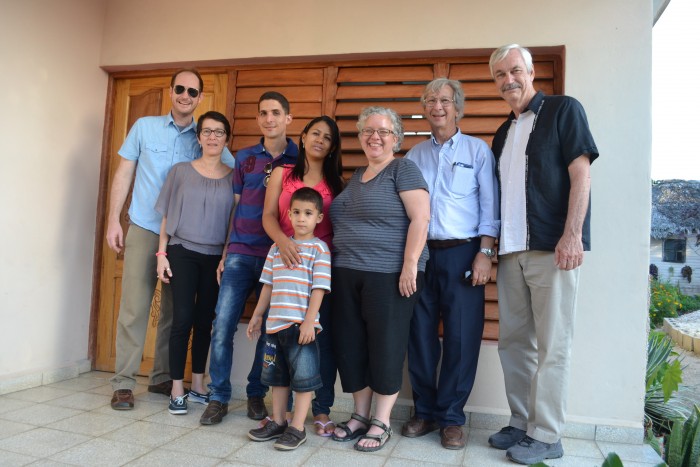 Rafael and Laru, pastors serving Melones
After a quick tour of the house, they led us to the well that was started in 2014. That part of Cuba is quite dry so they shared their joy with having a water source close but their challenge with it not being deep enough. We were next taken to their worship center –an open air structure with a concrete floor and a thatched roof. On the wall was this prayer list for St. Luke's. Every week, they lift us up in prayer. For the past year, they have been praying in particular for Pastor Jenn's recovery and for Shelly Denmark. It was touching that Pastor Jad could hear firsthand their joy about Shelly's progress in healing. My own name was on the list and once again my eyes filled with tears as I realized that "strangers" had been holding me in prayer this past year. In many ways this visit was a homecoming.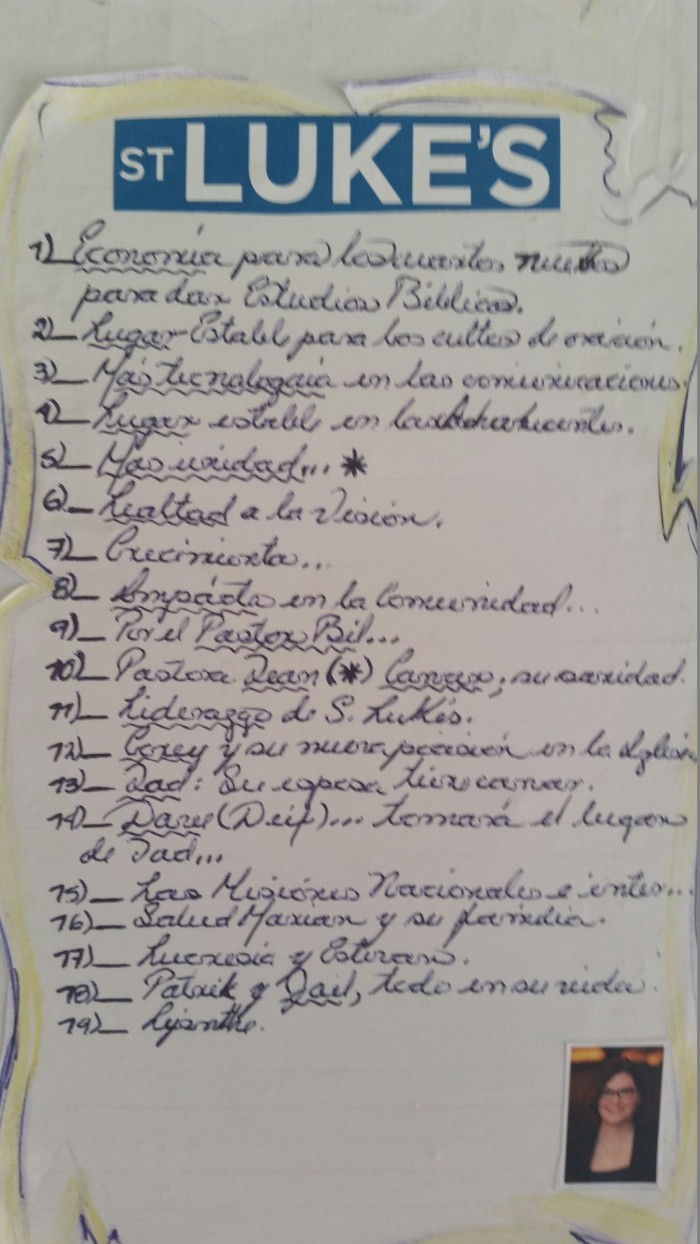 Prayer list posted at Melones
Where's the Beef and Other Questions about Cuba
Reflections from Patrick Ziegler, Cuba Core Team
Wendy's made famous "Where's the beef?" I can attest it's in Cuba. As we traveled the breadth of the island, we saw a lot of cattle yet and the Cuban people ate very little beef. When asked why we see so many cattle, the reply was "the penalties for killing a cow are more severe than for killing a person". Yet, in Havana, we ate beef and bought leather. Is this the power of propaganda to deny some, or is it law?
The people of Cuba are on the move everywhere, in an eerie synchronization all of the time and in every form of transportation. Horns honking and lights flashing on the roads was all done in caring of the fellow Cuban riding on a horse drawn cart, a bicycle, and even those walking on the roads day and night?
Road in Cuba
On a side note about lyrics, did you ever hear that the song "Imagine" by John Lennon was written about Cuba? I never fathomed that as I hummed along and croaked out a few words of the lyrics. There must be something to it as we visited a park in Havana with a life size statue of John sitting on a park bench. John's glasses were not part of the sculpture; those were managed by a woman in the park for any photo ops we wanted.
Did John impress a member of the party, or was Fidel a fan?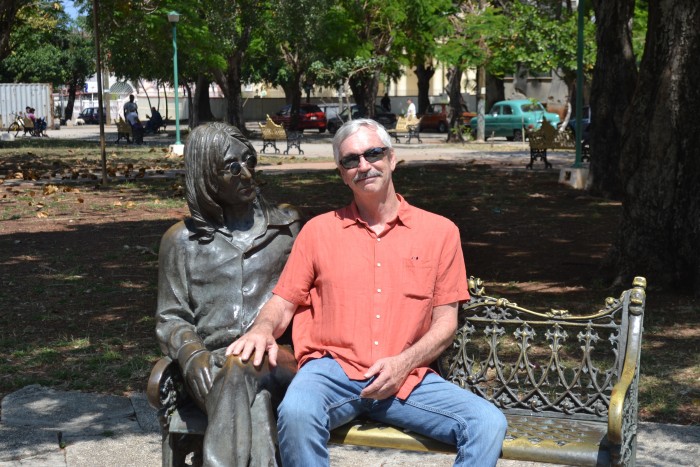 Patrick with John Lennon
My first car was a 1957 Chevy. An unmistakable body style that was just plain cool—adorned with lots of polished steel trim and even had a hidden gas filler located in the famous fin. There were many 1957's, and just as many from 1952, 1953, 1955, 1958 and so on from a bygone era. My neck is sore from all the craning this old car lover did while riding in one of those represented. How many 50's era American cars are there? A lot!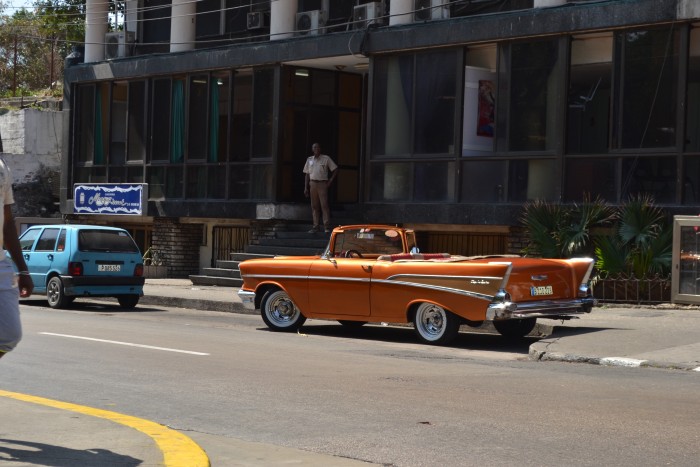 57 Chevy
Wrapping your head around a 2 tiered monetary system can be a struggle. The Cubans have their money and values, and the rest of the world has its monies and a much different value. Is this in Cuban, CUC, or American? Buying things in Cuba takes just a tad more skill. Street vendors usually inflate prices and expect to negotiate. Marked prices on most anything is done twice, for us and them. Government stores, street markets, and the black markets all live in Cuba, mostly harmonious.
"Who's in charge?" I do wish I could get an appointment with the one in charge with Cuba's future and check in on what they see down the road. I have excitement for it, but I fear it even more. It appears more work is being done since my last visit to preserve the beautifully ornate architecture. But at the same time, China is boasting of a prime real estate acquisition it will be developing after razing the old. I just hope the ministers squeezed lots of favor to use for restoration of some of its many existing buildings in need.
I don't want a McDonalds every 8 blocks. I'd like restoration, just like the Cubans have done with our cars.
The People make it Powerful
Reflections from Pastor Jad Denmark, Minister of Connection
I was excited when I was asked to join our Cuba Mission team for the 2016 trip. And for me the most powerful part of the trip was the people. First, you St. Lukers never cease to amaze me. Your kindness and compassion, your fortitude and focus and your unique and creative ability to build the Kingdom of God at St. Luke's, in East Winter Garden, and all around the world with our mission partners is amazing. I got to witness first hand St. Lukers doing just that, using their unique Spiritual gifts to walk alongside ministry partners in Cuba. Patrick Ziegler, Luky Nova, Joel Strickland, and Lynette Fields were my mission teammates and each brought a unique gift and common love to this mission trip. Then there are the people of Melones and the Iglesia Metodista Melones.
Pastors Raphael and Laru are a young pastoral team in their second year serving in Melones. They are energetic, outgoing, talented and passionate about the Kingdom of God. The people of the Melones community are kind, generous and filled with the Spirit of God. I was moved by how quickly the St. Luke's Mission team and the people of Melones became fast friends if not family. That is the term Pastor Raphael used somos familia, we are family. Each day was long, exhausting, and powerful. It was the people who made it powerful. Their lives are lived for God in Christ, for their church and their families, their willingness to share, giving their talents, time, and passion to building up their church and reach out to the community are a powerful witness to the Kingdom of God in their hearts and in Cuba.
Transportation in Cuba, a tale of variety, ingenuity, community, and courtesy
Reflections from Joel Strickland, Cuba Core Team
Most people know traveling to Cuba is akin to time travel. Arriving on the island you are transported back to the 1950's. But transportation in Cuba is a multi-faceted jewel. It's a story of many dimensions, much more than just the thrill of finding the car your parents used to drive. In Cuba we see: a wide variety of vehicles, striking examples of ingenuity and making do with what you have, and a strong sense of community and courtesy.
From modern aircraft at the international airports and modern tourist buses on the highways to horse drawn carts, bicycle taxis, and pedestrians, you see just about every mode of transportation imaginable. This photo taken on our first trip to Cuba in 2010 illustrates the point; here you see a modern bus following an automobile following a horse drawn cart while a bicycle taxi passes them on the opposite side of the street. We flew from Miami on a modern 737-800 owned and operated by American Airlines even though no American flag carriers are allowed to fly to Cuba, that restriction is about to be lifted.
Modes of transportation
There are striking examples of ingenuity and making do found everywhere including in the vehicles we hired to transport us. This 1951 Chevrolet is cosmetically beautiful, but modified with a Mercedes engine and transmission. And the 1955 Dodge we had in Havana was much the same story, this time with a Toyota drive train. And in many instances, the Cubans machine their own replacement parts as none can be had from the US under the current embargo.
Our car 2016
It is quite some experience to be driven around in Cuba with such a varied mix on the streets and highways; at first glance you wonder how high speed buses can travel the same highways as horse drawn carts without disastrous results. You soon learn that everyone looks out after everyone- the buses slow down as needed, people actually slow down to allow others to pass rather than speeding up to cut them off, and hitch hiking is a way of life since so few have automobiles. Family is a strong cultural force in Cuba and this sense of community is well illustrated by the behavior of the Cuban drivers.
Cuban Cuisine
Reflections by Luky Nova, Cuba Core Team
Hmmm…. where do I start? Always with "It's my favorite!" At the Hotel Pernik in Holguin, breakfast starts with a buffet of traditional fare–boiled eggs, an omelet station, seasonal fruits like papaya, guava, and pineapple, select meats, veggies like cabbage, cucumbers and tomatoes, fresh pancakes and a sandwich station, and of course, Cuban coffee which is exquisite like a little shot of energy.
Most Cuban cooking relies on a few basic spices such as garlic, cumin, oregano and bay leaves. Meats and poultry are usually marinated in citrus juices such as lime or sour oranges and cooked in a pressure cooker until meat is tender and literally falling off the bone, a result of some Caribbean influence in spice and flavor.
A staple to Cuban diet is yucca and boniato which are both favorite dishes in the root family.
Joel's favorite dish is the thinly sliced fried plantains which are served with every meal. Then of course, you have the delicious white rice and black beans, also known as, moro or congri, which is a famous Cuban dish. Imperial rice, which consists of four basic ingredients: rice, chicken, mayonnaise, and cheese in layers, topped with olives, bell peppers, and tomatoes is ideal for special events. I'll end this with the maduros, which is another one of my favorites… sweet fried plantains. I can go on and on all night, but you get the jest of it. I'm going to go eat now.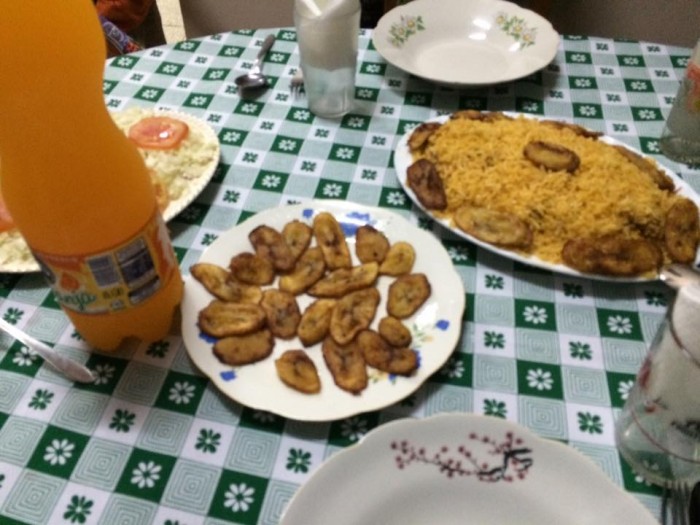 Melones food
Our Visit to the Main Seminary in Havana
Reflections from Joel Strickland, Cuba Core Team
The Methodist Church in Cuba is experiencing a growth spurt and needs new pastors. There are currently approximately 430 Methodist churches on the island with more being added each year. At the same time, many experienced pastors are leaving to live in the US; there have been 80 such moves in the past 10 years. Fortunately, there are also many young men and women who are experiencing a call to the ministry.
Some 32 branches comprise the Methodist Seminary system on the island of Cuba, five of which are in the Havana. On our trips to Cuba since 2010 we have been honored to present programs in 3 of them: the main seminary in Havana, the branch in Las Tunas, and the branch in Santiago de Cuba. Some 44 students graduate each year after having completed 44 courses in theology, history, pastoral care, Biblical language and Greek and Hebrew. The program requires 4 years to complete with students attending a 21 day session twice a year. Typical students are 25-30 years of age who have felt the call to the ministry and have worked as leaders of missions; when these missions have attained 25 members, these leaders are eligible to become ordained pastors and then begin their studies at the seminary.
During our visit, the Dean showed us classrooms, dormitories, the library and the computer room. The most urgent need for these students is a used Windows based laptop to assist in their studies.

Seminary visit in Havana
Visiting the Methodist Home for the Elderly in Havana
Reflections from Joel Strickland, Cuba Core Team
On our final day in Havana we visited the Methodist Home for the Elderly (Hogar de Ancianos Metodista) across the street from the church of the Bishop of Cuba. We met with the administrator, Mauricio Freeman, who gave us a tour of the facility and introduced us to some of the staff and the residents. The facility serves some 40 people who qualify for this care by having a strong relationship with their church and either a dysfunctional family or no family at all. The staff of 20 people includes an MD on call and a full time nurse.
Interestingly this is the only Methodist home for the elderly on the entire island and it receives no financial support from the Cuban government other than the pensions its residents receive. It is supported for the most part by donations from philanthropic organizations and individuals and it has no partner organization in the US, unlike many of the Methodist churches in Cuba. They would like to refurbish their existing building; from this photo of their kitchen you can see the need. Since they have a long waiting list of potential residents, they would like to expand into another building on their property but this must await funding.
We had a wonderful time visiting with the residents including the eldest, Angela, a spry lady whose demeanor belies her 92 years. We ended with a little ice cream social in the front hall and came away impressed with the loving attention these fortunate elderly people receive in this home.
Angela in Havana
Strengthening Our Relationships
Reflections by Lynette Fields, Executive Director of Missions
The country of Cuba is fascinating in itself but the main purpose of our annual sojourn is to visit with our Melones Christian family. There is the main church centered in Melones under the leadership of Pastors Rafael and Laru. In addition, there are two missions-Le Cero and Las Palmas. All three congregations are growing. All three groups joined together to welcome us and worship with us on Saturday evening. The service is currently taking place under a thatched roof because of the heat.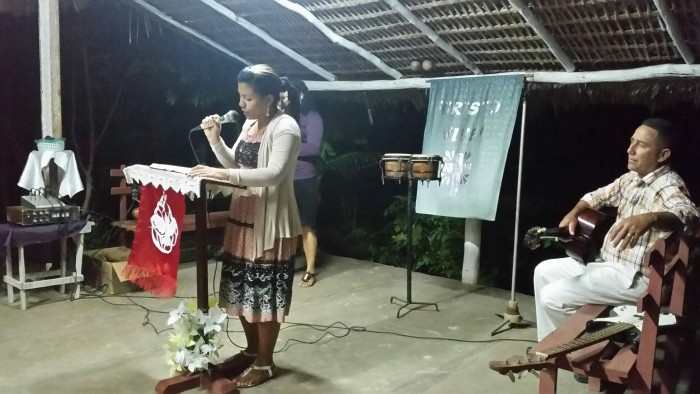 Melones worship
On Sunday, children from all three churches came together to play games. Last summer, St. Luke's children from our Change the World day camp made mini-backpacks out of t-shirts. Those were passed out after the games.

Melones children with bolsas
During last year's visit, the team noticed that one of the young girls had a hard time seeing. Through the support of a local optician, Patrick was able to return with new glasses for Dolly.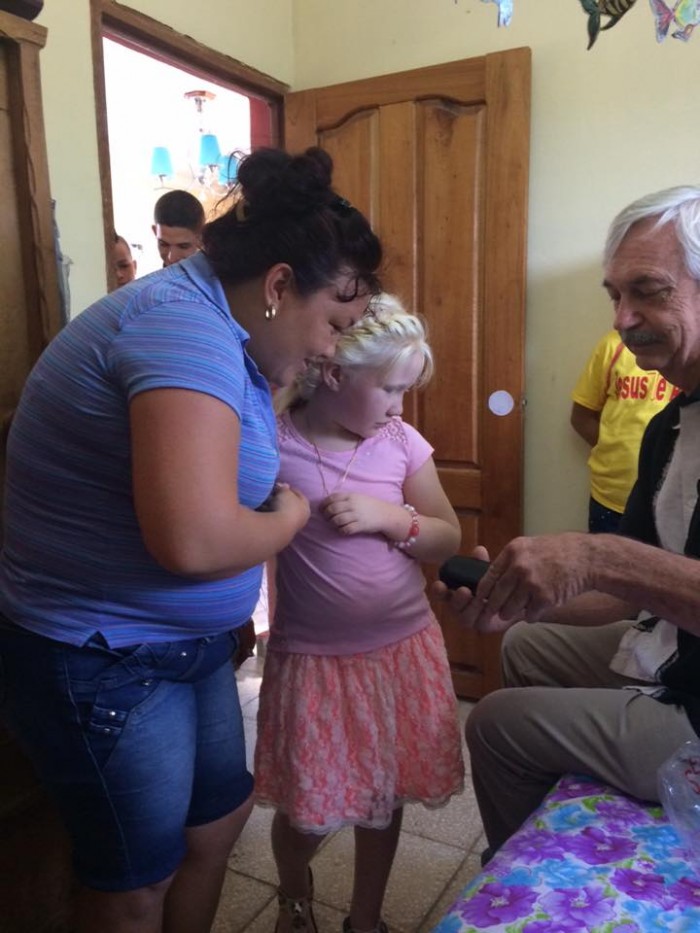 New glasses for Dolly
On Monday, we visited the Las Palmas mission and learned of their growth and challenges. The government has already built a cistern so their need for water will be very different than in Melones. They already have plans and permits for a more permanent structure. Then we returned to Melones and had a joint bible study with the leaders using Dr. Justo Gonzalez' book Three Months with the Spirit which just happens to be written in Spanish AND English. It was a deeply meaningful experience to share our faith journeys with one another. We hope to continue a bilingual bible study with them this summer.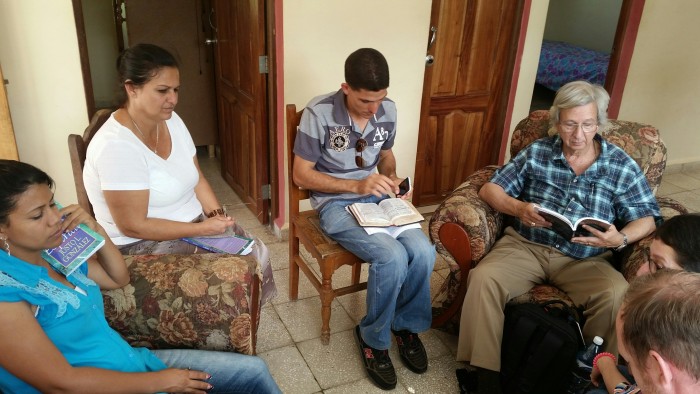 Bible study
We ended the evening taking an art class from Pastor Rafael who studied art before going to seminary. The team brought him art supplies so he can teach adults and children in the community. We were a practice workshop for him.

Rafael art, Pastor Rafael gave one of his drawings to each of us on the team
The pastoral leadership at both the congregation and district is new and expectations and hope are very high. The team is very excited to see what God will do as change comes for both the country and this community. What a wonderful opportunity for us as a congregation to be in partnership at this time!
Monday, March 14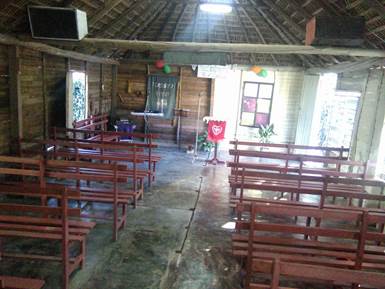 Worship Venue for Melones Methodist Church
We heard from the team – the team members are sending their love to their family and loved ones! They have arrived in Holguin safely and their flight from Miami was comfortable. In Joel Strickland's words they "have had a marvelous trip thus far. Best interchanges ever with Pastor Rafael and District Superintendent Aramis." They were greeted warmly at the airport.
On Sunday, they were a part of children's programs with 35 children from the small village of Melones at St. Luke's partner church – Melones Methodist Church. This is a St. Luke's-Melones Methodist tradition.
St. Luke's is committed to building a gathering space for the congregation.DS Aramis asked the team to see a model for such a space so planning for construction can resume. This is very exciting because it means the church is now growing needing more space! As you may recall, St. Luke's built the pastor's house, which is really used as a community center.
To learn more about the Cuba Team or other global mission opportunities through St. Luke's email serve@st.lukes.org or call 407.876.4991 ext. *285.