St. Luke's is distributing fresh produce, hot meals and homemade baked goodies to families in the East Winter Garden area. Over 400 people have picked up food for themselves and neighbors as we all join together to spread love during this unimaginable time.
The food has come from a partnership of many organizations including Shepherd's Hope, Society of St. Andrews, Cheers Bar Kissimmee , Pammies Sammies, Circles Winter Garden, Poverty Solutions Group, UF IFAS Extension, American  Heart Association, Fresh Point and Kalera Farms. East Winter Garden churches joined in the effort picking up for members of their congregation who could not get to Shepherd's Hope to pick up food.
Thank you Cheers, for the Chicken and Rice dinners as well as Meatloaf and Mashed Potatoes. Thank you Pammies Sammies for the Cheese Burgers. Thank you to all the gleaners for fresh cabbage, honeydew, cucumbers, tomatoes, blueberries, corn and eggs.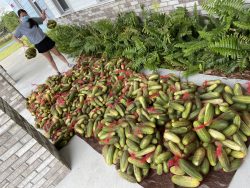 AND thank you to the MANY bakers who gave families corn bread for dinner, breakfast muffins, and cookies or brownies for dessert. We are grateful for everyone who shared the love.