By the power of the Holy Spirit you will be my witness in Jerusalem, Judea, Samaria, and to the ends of the earth.
Acts 1:8
 Agua Viva-Upcoming Mission Experience

Did you know that 664 million people on the planet do not have access to safe, clean drinking water? That is one in ten people. Agua Viva is helping communities not only get access to water, but to set up a long-term maintenance system for this precious water source. With your help, we can improve the quality of life and health of these communities.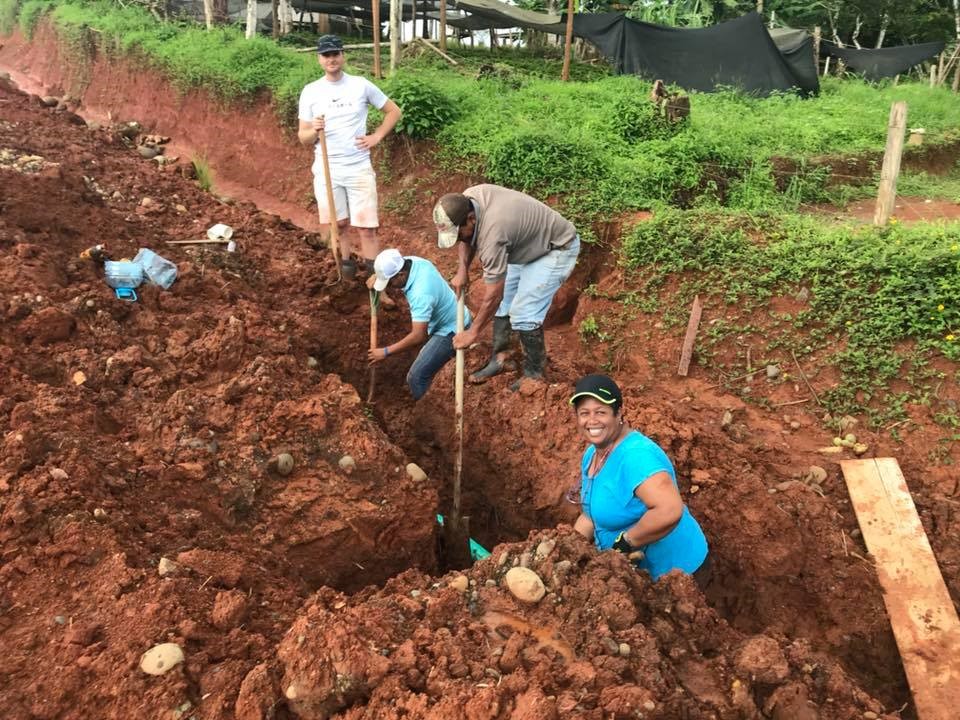 Agua Viva Serves leads sustainable, clean water projects in Costa Rica. St. Luke's will work alongside the community to connect pipes, dig ditches and bury pipeline to bring water to remote areas on the Nicaraguan border. All of the community sized projects include a co-op component to continue to maintain the systems for the future.  Agua Viva partners with communities to build a board of directors and begin collecting money to build a maintenance fund for ongoing operation. Learn more about this life-saving organization at http://avs.ngo/
Agua Viva Summer 2019 Mission Experience
We will be forming a team to travel to Los Chiles, Costa Rica to work alongside the community to lay pipe, bringing clean water to rural areas along the Nicaraguan border. To learn more and to register, click on the link below.

See Max's Blog on their recent trip to Costa Rica under the "Global Mission Experiences" Ribbon below.
For more information, contact Amy Winslow at awinslow@st.lukes.org.
St. Luke's Global Missions three main aspects include: supporting Missionaries, our six Mission Partners, and sending Mission Teams.
Cuba Ministry 

Four St. Luker's traveled to Melones, Cuba over the Thanksgiving break to meet Pastor Ramon and his family. Our sister church is blessed by this dynamic new pastor who has already brought 170 members of the community together for a healing service and has many ideas to engage the community in the church. Top priority of our meeting was meeting Felix, the construction lead for the new church which  should start construction in the spring. Our construction expert Patrick Ziegler reviewed the detailed plans while our own Luky Nova made sure that we all understood each other!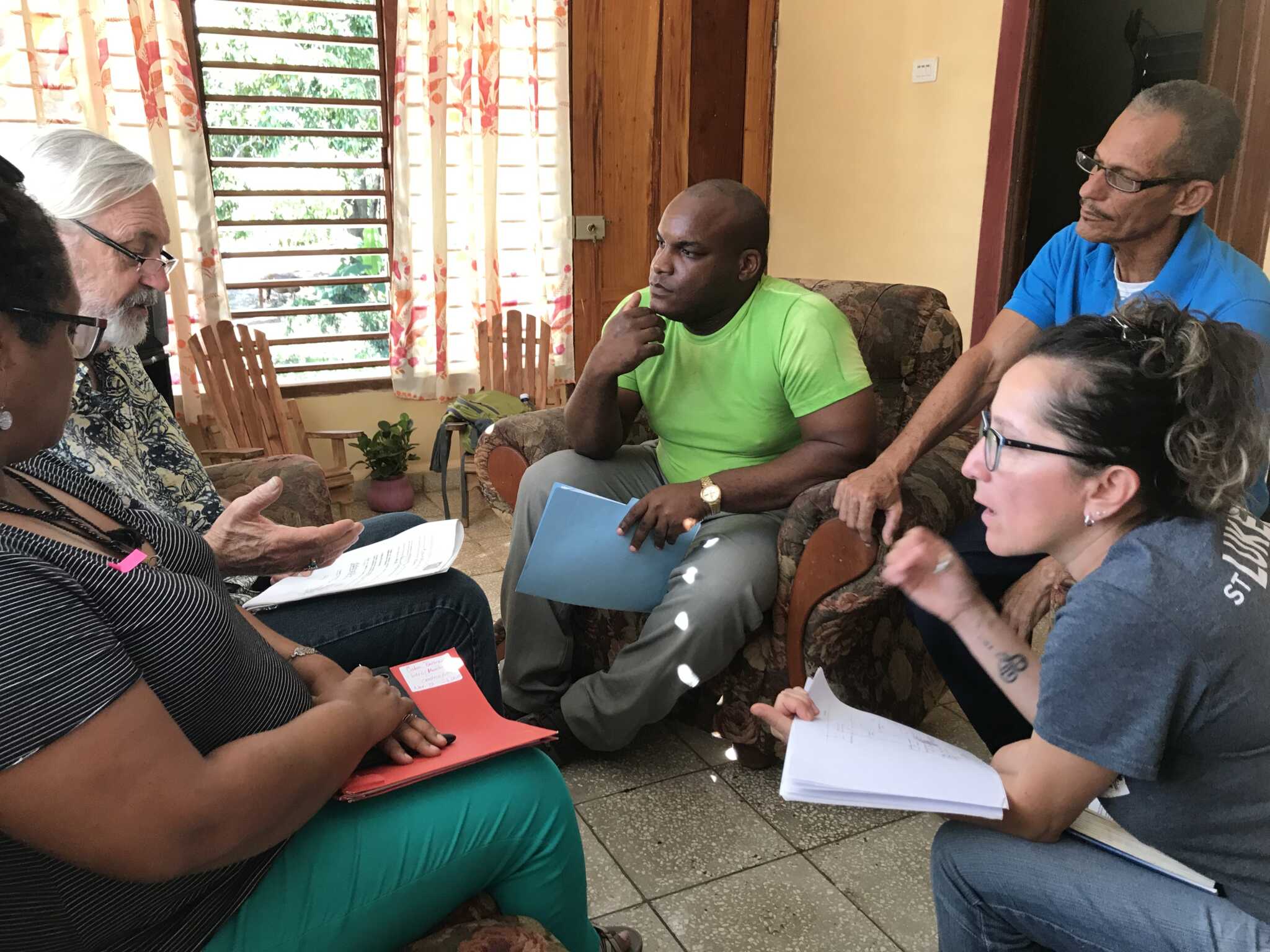 Keep our sister church in your prayers as this exciting year of building approaches!
To read more about our visit, click the link below.

 ZOE Ministries

Give the gift of hope and empowerment to vulnerable children in Rwanda
Every year, the ZOE Core Team at St. Luke's organizes the Tree of Hope fundraising to give our congregation the opportunity to partner with an Empowerment Group – empowering another 80-100 teens and children to never need charity again through ZOE's innovative 3-year empowerment model!  You may make a pledge of $300 paid over three years.  
You can give today!

or to make a pledge
Completed and signed forms and payment may be returned to St. Luke's UMC, Attn: Peggy Caverly (Missions Team).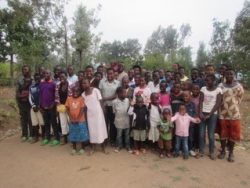 Abakoranabushake "Committed" Empowerment Group
2017-2020
This empowerment group was funded with the 2017 Tree of Hope Campaign
For more information, contact Amy Winslow at awinslow@st.lukes.org or call 407.876.4991, ext. 297.

For information about the St. Luke's January 2016-2018 ZOE "Brave" Empowerment Group,
please click on the link below.
This empowerment group was funded with a portion of the Advent offering in December 2015.
For information about the ZOE "Love" Empowerment Group, Cyeya, Rwanda
please click on the link below.
This empowerment group was funded by St. Lukers and the Missions Budget.

For information about the ZOE "Love" Empowerment Group, Kigarama, Rwanda
please click on the link below.
This empowerment group was funded by a portion of the Lenten Offering this year.
For information about the latest ZOE Empowerment Group,
Urumuri "Light" Empowerment Group,
Partnered with St. Luke's UMC – Children's Ministry and United Methodist Women
January 2018-December 2020
please click on the link below.
For additional information about the ZOE Program, visit their website at www.zoehelps.org.
*     *     *     *     *
Check out the first few monthly ZOE newsletters!
ZOE Prayers of Hope cards
Please visit st.lukes.org/journey-with-jenn to read the blog from Pastor Jenn's visit to Rwanda in 2016.
Recent Mission Experiences-ZOE-Rwanda & Agua Viva-Costa Rica

"Whom shall I send, and who will go for us?"
I said, "Here am I. Send me!" Isaiah 6:8
Are you being called to serve others far from home?
Experience a St. Luke's Global Mission trip.
ZOE Mission Experience to Rwanda, June 20-28, 2018

On June 20-28, we had a team of 14 people visiting our ZOE partners in Rwanda. On this mission experience, they will see child-led community transformation through this empowerment model program for vulnerable and orphan children. This ministry is Restoring Hope in Africa.
To follow their mission experience to Rwanda, please click on the link below

For more information, contact Amy Winslow at awinslow@st.lukes.org.
*     *     *     *     *
A team of 6 adults and 6 youth went to Costa Rica on July 28 through August 4 to work alongside the community to build infrastructure to bring fresh water to distressed communities on the Nicaraguan border. This ministry allows the community to Navigate Life with the gift of this basic necessity.
Read Max's blog capturing the whole week of the team's experience here.

For more information about Agua Viva, contact Amy Winslow at awinslow@st.lukes.org or 407.876.4991, ext. 297.
Interfaith Ministry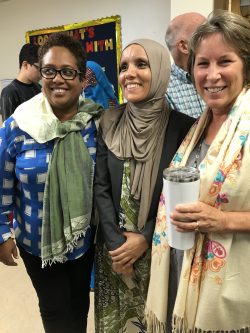 Interfaith ministries at St. Luke's engages people to bridge religious and cultural differences. We provide opportunities for us to meet our neighbors of other faiths to promote peace and understanding. Through this connection, we are able to work together for the good of our community and the world. Watch our event calendar for interfaith events.
For more information or to be involved in this ministry, contact Amy Winslow, Director of Missions at awinslow@st.lukes.org or 407.876.4991, ext. 297.
Iftar June 2018 with the Islamic Center of Orlando
Noah's Pudding event, April 2018
The Atlantic Institute shared NOAH'S PUDDING with St. Luke's on Sunday, April 15.  Stories and the pudding were shared as a way to embrace diversity and build tolerance for differing beliefs, and traditions. The Atlantic Institute Central Florida is an independent, non-profit organization whose goal is to facilitate dialogue and bridge cultures  from multiple regions of the world.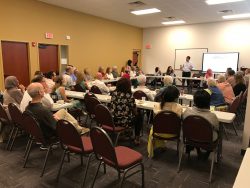 Belfast, Northern Ireland

St. Luke's relationship and friendship with the Methodist Church in Belfast goes back to 1997. Out of this relationship came the opportunity to have Owain Campton from Belfast, as an intern with Missions. Currently, Belfast South Methodist Church, led by Rev. David Campton, and St. Luke's are exploring ways to do studies together in order to deepen our relationships, hear perspectives from another part of the world, and grow together spiritually.
Branches United Methodist Mission and Community Center, Florida City


Branches supports children and youth from low-income and migrant families by providing an after school program, youth ministry, and community outreach. This ministry with a big heart is a beacon of hope in Florida City. St. Luke's sponsors missionary, Kim Torres, Director of Grow and Climb ministries.
Methodist Church,  Melones, Cuba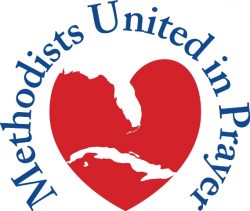 Through the Methodists United in Prayer, a Florida United Methodist Conference initiative with the Cuba Methodist Church, St. Luke's has a mission partner in Melones, Cuba. In spite of years of oppression and scarce resources, the Methodist Church in Cuba is
thriving and growing. Our relationship has centered around assisting them in building a house for their pastor and planning for a new sanctuary. They are currently worshipping (many times a week) under a thatched roof. They in turn share their tremendous  faith and help us to grow in our relationship with God. It is a great and growing friendship. Small caravan teams travel to Cuba every 15 months or so to participate in events and stay in contact with our partner church.
Missionaries

Missionaries are individuals who are called to serve God in a unique cultural context. These persons are willing to leave their own environment and share Christ in a new communities through their roles as teachers, church planters, preachers, doctors, community developers, agriculturalists, area financial executives, counselors and attorneys. Their primary roles include strengthening and renewing Christian congregations and communities; alleviating human suffering; and seeking justice, freedom and peace. St. Luke's is currently supporting the following missionaries.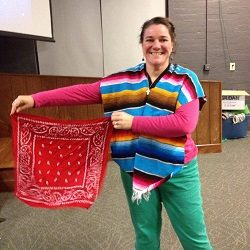 Kim King Torres, Branches, Florida City, Florida
Kim King Torres is a Church and Community Worker missionary with the General Board of Global Ministries serving as Director of Student Services of Branches, Inc., a community center in Florida City, Florida that provides a broad range of ministries among children, youth, and families. Kim has been a covenant missionary with St. Luke's for more than a decade.
Branches is a holistic ministry with a focus on afterschool tutoring and enrichment, family literacy, a spring break camp (Oasis), and summer outreach (Summer Shade Day Camp). It provides ESOL (English for Speakers of Other Languages) classes and family empowerment experiences, often in partnership with the Miami-Dade Public Schools. Branches touches the lives of many children and youth, sometimes leading them to seek careers in ministry and humanitarian services.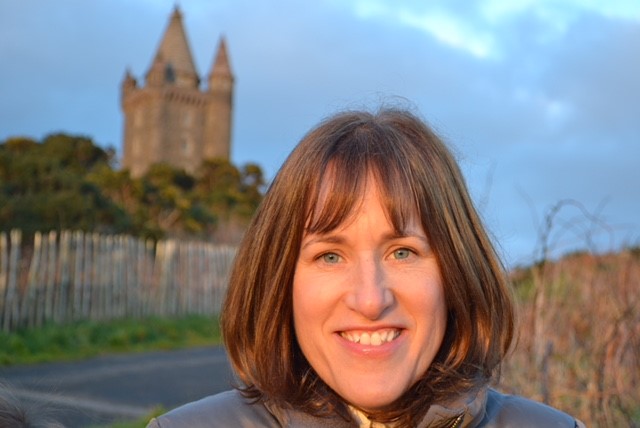 Alison Gilmore, Skainos, Belfast, Northern Ireland
Working for Peace and Justice in Northern Ireland
Alison Gilmore is a missionary of the General Board of Global Ministries assigned as a counselor at the East Belfast Mission in Belfast, Northern Ireland.
Global Ministries and East Belfast Mission have a long partnership in providing a Christian witness to peace, justice, and tolerance in the areas of unemployment, poverty, and social and political tension. One of the mission's newer services is a counseling center that seeks to offer emotional healing resulting from years of conflict in the area. The 170-year-old East Belfast Mission, which has a worshipping congregation of some 200, sees itself as a center for many efforts to care for and support the poor and marginalized.
*     *     *     *     *
Rev. Michelle Shrader (Cape Town, South Africa) and Alison Gilmore (Belfast, Northern Ireland) were here on July 5 to share their experiences as our UMC missionaries.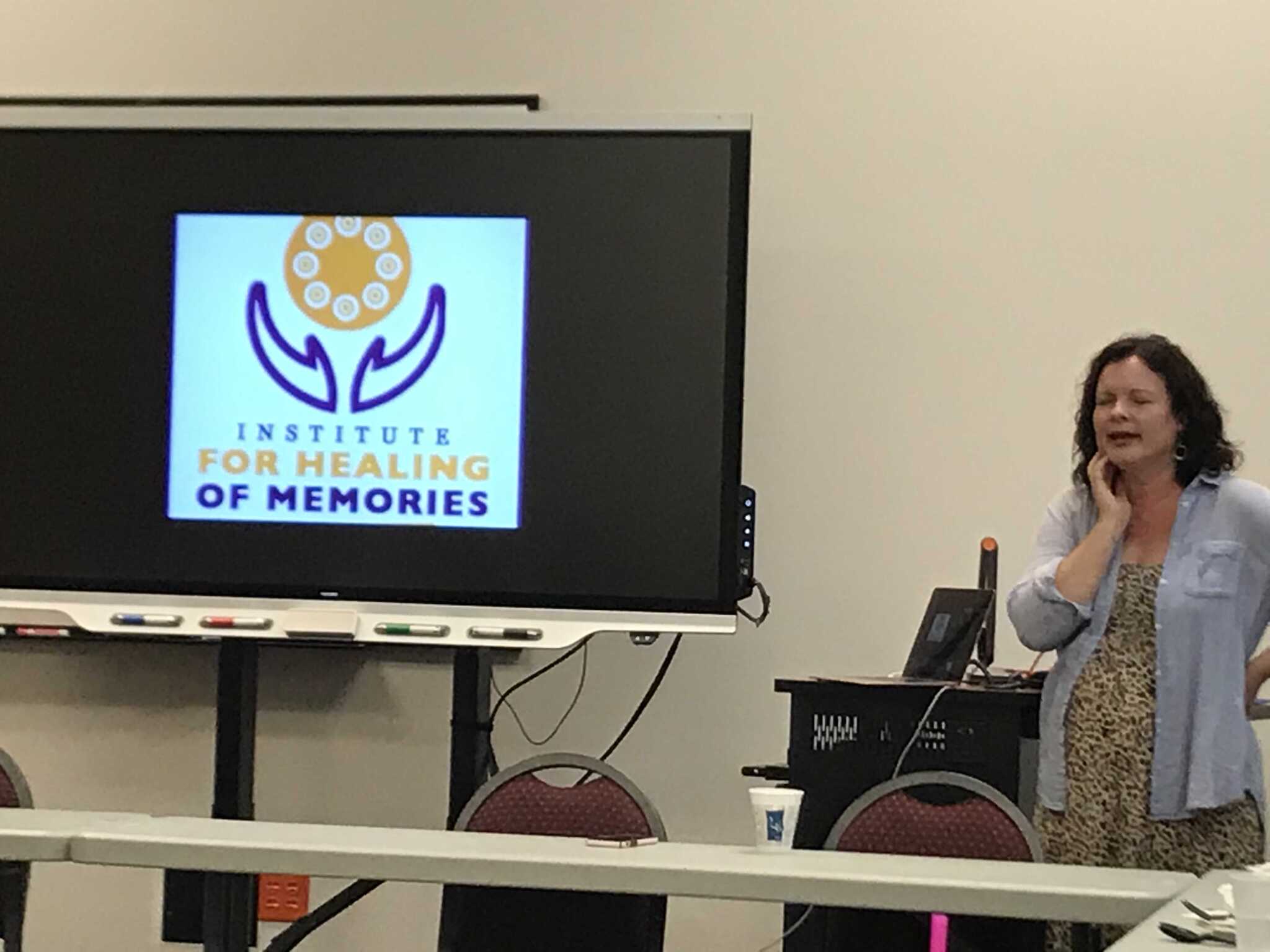 Michelle led the trauma debriefs on all the university campuses during the "Fees Must Fall" protesting and her talk will be on Trauma in South Africa.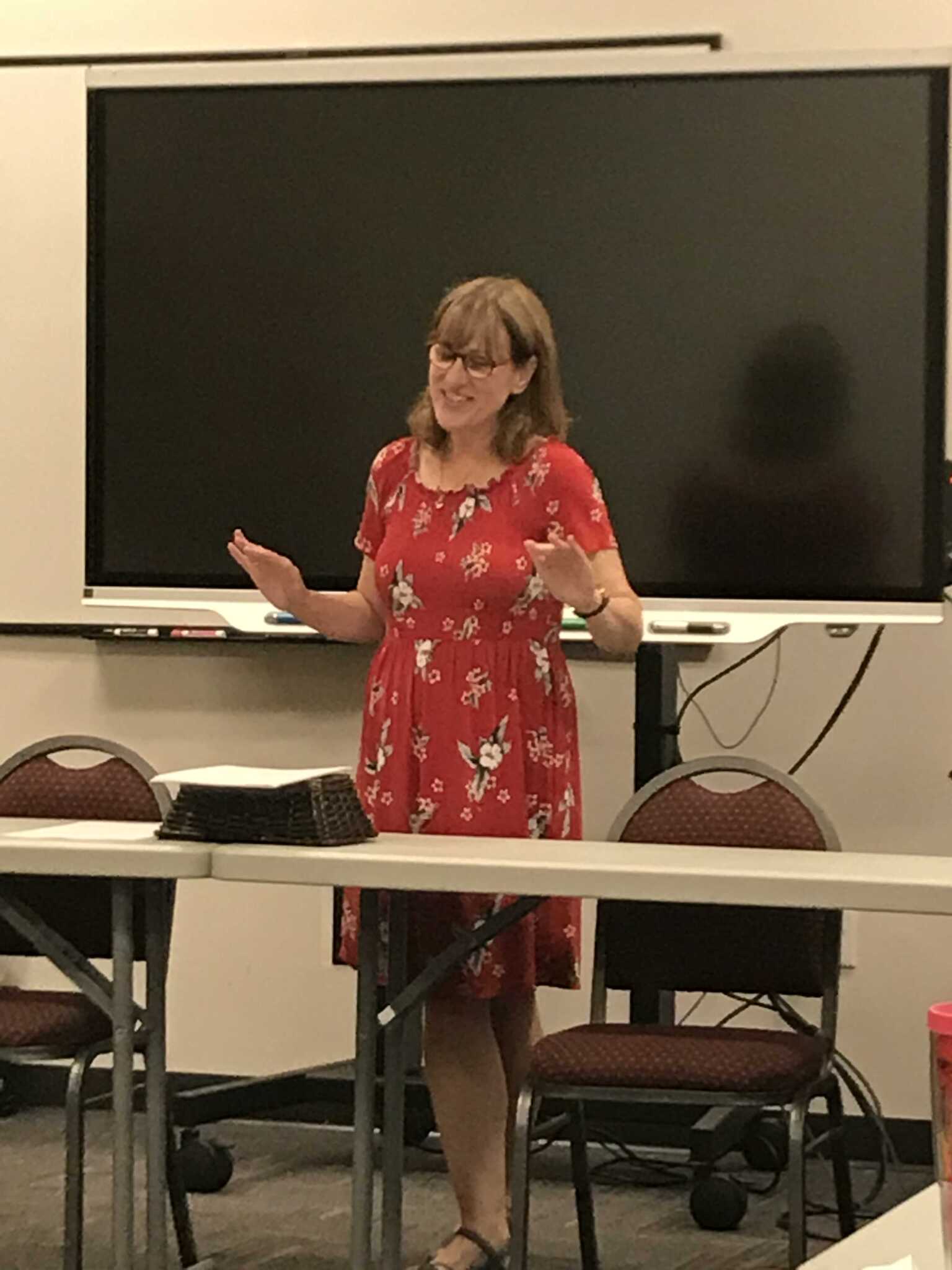 Alison spoke about listening to each other's story to make the person feel understood, valued and important.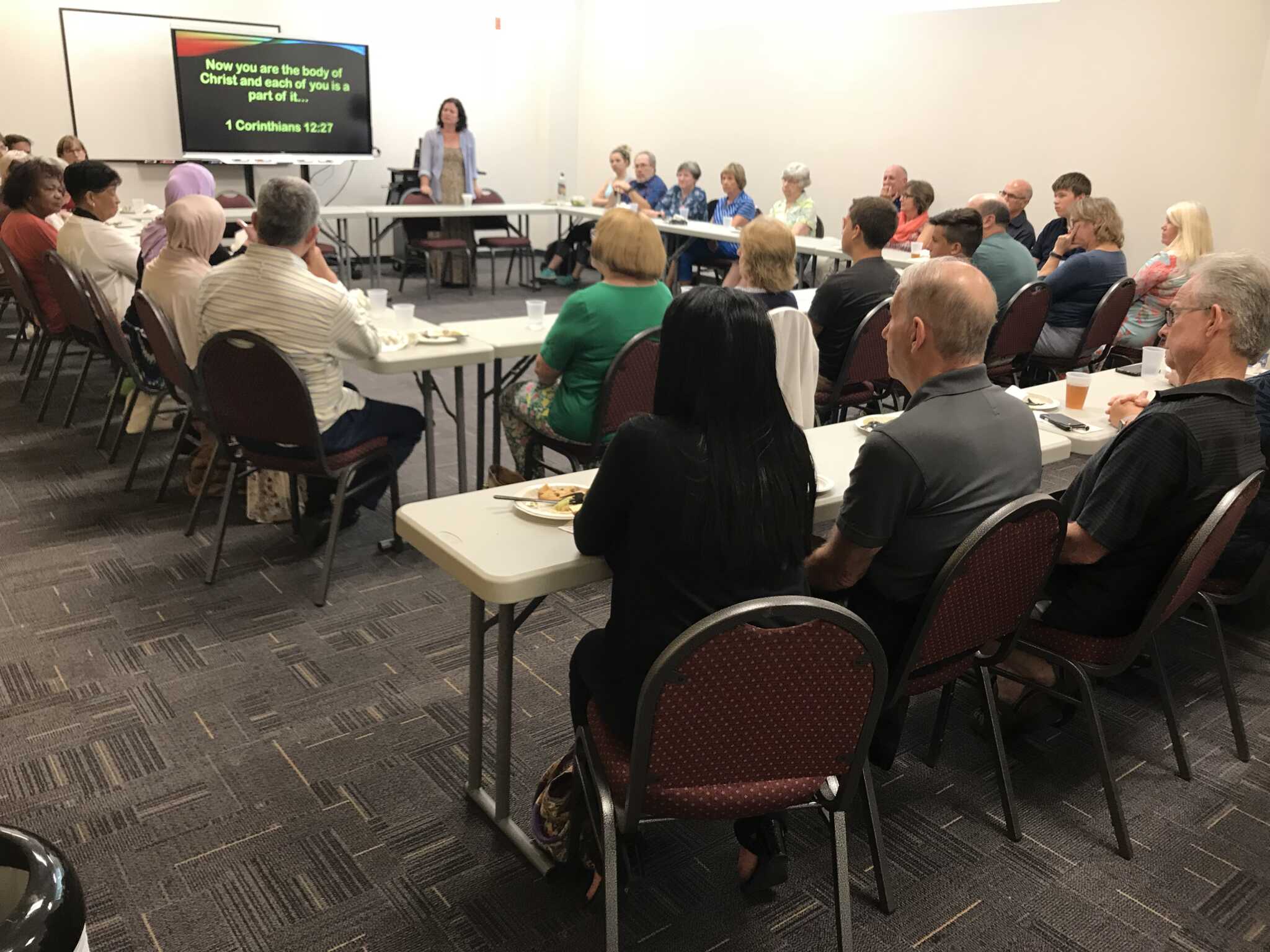 Mission Teams

St. Luke's sends out a variety of mission teams each year some for a weekend and some for up to 10 days. We refer to these as our mission experiences because these are much more than a trip lasting for a short period of time. The mission experience starts long before you leave and changes your life after you get back. Preparation time is required for all of our longer mission experiences and the sessions include spiritual formation, our mission theology, cultural and historical perspectives, and team dynamics. St. Luke's sends teams to each of our six mission partners, disaster sites, and other appropriate locations as leaders arise.
Microfinance: United Methodist Micro–Finance Connection

For as little as $25, you can help a low-income individual in Malawi or Mexico start a small business and change families' lives!  You may give directly in someone's name, get a gift card for that hard-to-buy-for person so they can then decide how to spend, or give a gift as a family or group of friends as part of your holiday tradition.  For more information on United Methodist Microfinance,
Click Here
.