By the power of the Holy Spirit you will be my witness in Jerusalem, Judea, Samaria,
and to the ends of the earth   Acts 1:8
IMPORTANT MESSAGE:
Following the recommendation of Orange County and the City of Orlando officials, regarding COVID-19 (Coronavirus) containment and with the safety of our congregation and community as our highest priority, effective Sunday, March 15, St. Luke's campus will temporarily suspend in-person meetings and public worship on campus. This is out of an abundance of caution and in an effort to decrease the usually large number of guests on campus daily.
We are, therefore, having to postpone some upcoming events and serving opportunities or having to transition certain groups who meet, to connect remotely, to ensure continuity of the ministry area. This will also affect the upcoming mission experiences as well.
If you have any questions or concerns, please feel call 407.876.4991, ext. 285 and leave a message. We will get back to you as soon as we can.
For the latest updates, follow us at: www.facebook.com/stlukesorlando.
Thank you for your understanding and for helping ensure the health and safety of our community. Stay safe!
COVID-19 Impact on Global Mission Ministries

Agua Viva
Work has stopped to protect workers and community. Travel is canceled until at least the end of May.
ZOE Empowers
Teams traveling to ZOE locations are canceled through at least the month of May.
ZOE Empowers Virtual Presentation

Want to know more about the Zoe Empowers youth empowerment ministry?
St. Luke's Global Mission is anchored on Acts 1:8 (But you will receive power when the Holy Spirit comes to you, and you will be my witnesses in Jerusalem, Judea, Samaria and the ends of the earth).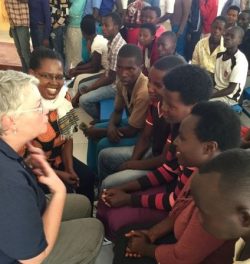 Now more than ever, the global nature of COVID -19 pandemic ties us closer together in our fears, dreams and hopes. It's also a unique opportunity to witness to each other with our sisters and brothers through our global partners.
Please join us in a virtual conference call led by Zoe Empowers CEO, Gaston Warner, from the comfort of your home!
Gaston will be discussing this innovative orphan empowerment model in general, but will also be providing inspiration as we see what these extremely vulnerable youth are doing to protect themselves from COVID-19, for they are already working with each other. Even more amazing is how these youth are working in their communities to share the information and resources they have received with other community members including the elderly.
Zoe Empowers is s three-year empowerment model which provides 8 general inputs in a holistic fashion, working with extreme poverty in 7 program countries (Rwanda, Zimbabwe, Kenya, Tanzania, Liberia, Malawi and India). This program empowers these orphans and vulnerable children to become economically, socially, and spiritually strong. St. Luke's UMC has partnered with 6 empowerment groups and 549 orphans and vulnerable children over the past 5 years. In addition, families and groups within St. Luke's have partnered with an additional 17 empowerment groups and 1376 orphans and vulnerable children. That is a total of 22 empowerment groups and approximately 1925 orphans and vulnerable children who have had their lives changed forever by the generosity of St. Lukers!

We are excited to share why we find this ministry one of the best, long-term solutions to ending poverty.
Thursday, April 16 at 2:00 p.m. EST.
Please register in advance for this 1-hour presentation and Q&A meeting, by clicking the link below:

You will be sent details on how to connect to this life-changing online or call-in presentation. The presentation will also be recorded that can be viewed at a later date, if this time does not work with your schedule.
After registering, you will receive a confirmation email containing information about joining the meeting.
If you have questions, contact Amy Winslow, Director of Missions at awinslow@st.lukes.org.
Upcoming Mission Experiences for 2020 
 Agua Viva, Costa Rica Mission Experience – July 11-18, 2020  Date-TBD (due to COVID-19 Precautions)

Did you know that 664 million people on the planet do not have access to safe, clean drinking water? That is one in ten people. Agua Viva is helping communities not only get access to water, but to set up a long-term maintenance system for this precious water source. With your help, we can improve the quality of life and health of these communities.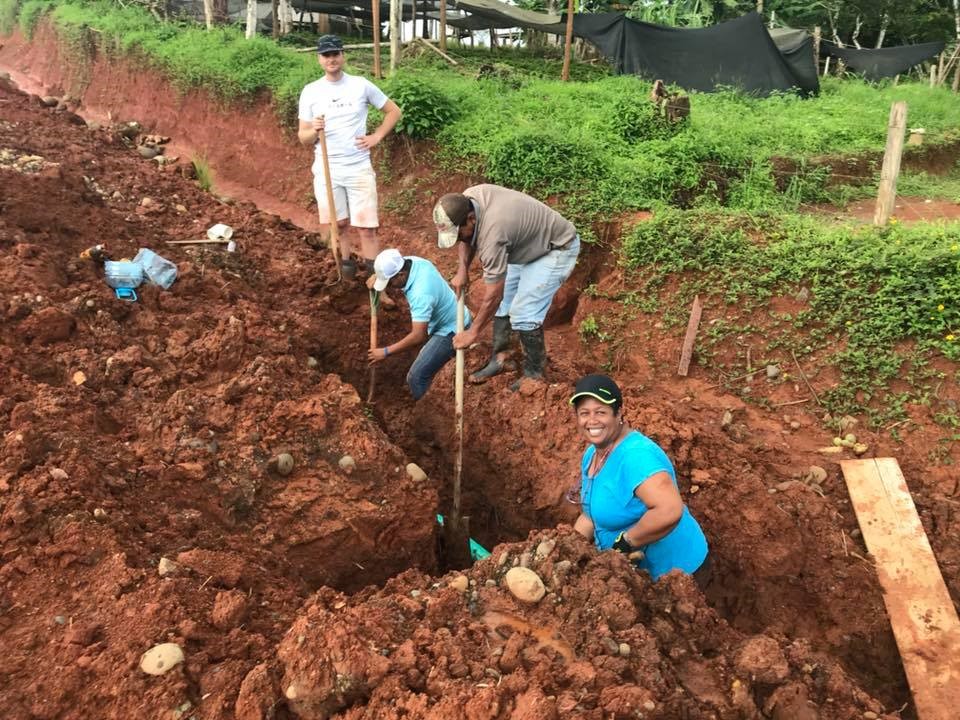 Agua Viva Serves leads sustainable, clean water projects in Costa Rica. St. Luke's will work alongside the community to connect pipes, dig ditches and bury pipeline to bring water to remote areas on the Nicaraguan border. All of the community sized projects include a co-op component to continue to maintain the systems for the future.  Agua Viva partners with communities to build a board of directors and begin collecting money to build a maintenance fund for ongoing operation. Learn more about this life-saving organization at http://avs.ngo/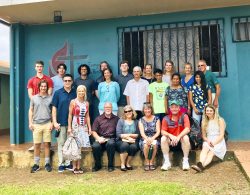 Travel to Los Chiles, Costa Rica to work alongside the community to lay pipe, bringing clean water to rural areas along the Nicaraguan border.
May 23-30, 2020 or July 11-18, 2020   – Date TBD (due to COVID-19 Precautions)
Saturday – travel to Costa Rica
Sunday – Worship at the Los Chiles Methodist Church, visit the town and possible boat tour
Monday to Thursday – work with the community to connect pipes, dig ditches and bury pipeline. At least one day you will work with students 16 to 25 years old who are learning English to improve their job options.
Friday – Day in La Fortuna tourist area (activities will be an extra cost – sign up for ziplining, horseback riding, chocolate or coffee tours)
Saturday – travel home
Total cost of the trip: $1,500 which includes airfare, in country travel, food, lodging. (Friday excursions and shopping are at your own expense).
Register for this trip with a deposit of $300 by March 20. HURRY to save your spot. This trip can accommodate 15 volunteers.
Payment Schedule
March 20                             $300
April 17                                $600
May 15                                 $600


To inquire about scholarships, contact Amy Winslow at awinslow@st.lukes.org or 407.876.4991, ext. 297.
Read Max's blog capturing the whole week of the team's experience from 2018 here.



    Rwanda Mission Experience – July 22 to 30, 2020 -Date TBD
Experience child-led community transformation through empowerment model program for vulnerable and orphan children. This ministry is Restoring Hope in Africa.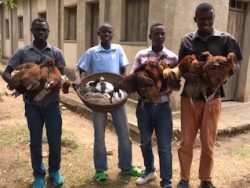 A ZOE Trip will provide you with the experience of a lifetime! You will meet the in-country staff members and the incredible young people who are being empowered to move beyond charity. You will see and experience how the ZOE model is changing lives socially, economically, and spiritually.
On a trip, you will visit with and learn from young people who are engaged in each stage of the ZOE program. You will be inspired and challenged to embrace forgiveness and reconciliation from the stories of the children who willingly give their "first harvest" to people in the community who might have hurt and abused them.
When traveling with ZOE, you will encounter heartache and joy, tears and laughter, desperation and dancing, sadness and singing — and you will return home with renewed hope as you are inspired by the stories of the young people who are moving from poverty to self-sustainability.
Total cost of the trip is $1250 plus airfare
Registration deadline:
Friday, March 20. Deposit of $500 due at that time.
Payment Schedule
March 20                              $500
May 15                                 $750
Flight information will be given to you to book on your own.


For more information regarding the trip, please contact Amy Winslow at awinslow@st.lukes.org
Global Missions


     ZOE Empowers – Hope Partnership
Give the gift of hope and empowerment to vulnerable children in Zimbabwe
How often do you get to "buy" hope?
The Zoe Empowers Core Team is selling Shares of Hope so that a new empowerment group of 60-100 children can join this innovative and highly-effective youth empowerment program. Our new empowerment group will be formed in Zimbabwe.  Shares are $330 paid upfront or over 3 years.
Please help us Restore Hope for youth in ultra-poverty and watch them lift themselves from extreme poverty to sustainability over the new three years.  See the Zoe Empowers tables outside worship venues starting October 6 for pledge forms and to shop our marketplace of crafts made by amazing Zoe Empowers youth.
You can give today!

or to make a pledge
Completed and signed forms and payment may be returned to St. Luke's UMC, Attn: Peggy Caverly (Missions Team).
For more information about ZOE, visit Zoeempowers.org
REPORTS: ZOE Ministries Working Groups

Abanyamurava "Brave" Empowerment Group, Rwanda
For information about the St. Luke's January 2016-2018 ZOE "Brave" Empowerment Group,
please click on the link below.
This empowerment group was funded with a portion of the Advent offering in December 2015.
*     *     *     *     *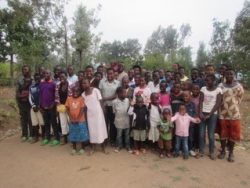 Abakoranabushake "Committed" Empowerment Group
2017-2020
This empowerment group was funded with the 2017 Tree of Hope Campaign

*     *     *     *     *
For information about the ZOE "Love" Empowerment Group, Cyeya, Rwanda
please click on the link below.
This empowerment group was funded by St. Lukers and the Missions Budget.

*     *     *     *     *
For information about the ZOE "Love" Empowerment Group, Kigarama, Rwanda
please click on the link below.
This empowerment group was funded by a portion of the Lenten Offering this year.
*     *     *     *     *
For information about the
Urumuri "Light" Empowerment Group,
Partnered with St. Luke's UMC – Children's Ministry and United Methodist Women

January 2018-December 2020
please click on the link below.
*     *     *     *     *
With your help during Lent 2019, we were able to partner with a new group.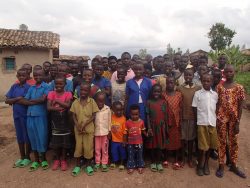 For information about the Duterimbere "Progress" Empowerment Group, please click on the link below.
For additional information about the ZOE Program, visit their website at www.zoehelps.org.
*     *     *     *     *
Check out the first few monthly ZOE newsletters!
ZOE Prayers of Hope cards
Please visit st.lukes.org/journey-with-jenn to read the blog from Pastor Jenn's visit to Rwanda in 2016.
Cuba 2019 Mission Experience

Small teams will travel to Melones, Cuba in August and November 2019. More details to come.
Contact Amy Winslow at awinslow@st.lukes.org for information
Report on Nov. 2018: Four St. Luker's traveled to Melones, Cuba over the Thanksgiving break to meet Pastor Ramon and his family. Our sister church is blessed by this dynamic new pastor who has already brought 170 members of the community together for a healing service and has many ideas to engage the community in the church. Top priority of our meeting was meeting Felix, the construction lead for the new church which  should start construction in the spring. Our construction expert Patrick Ziegler reviewed the detailed plans while our own Luky Nova made sure that we all understood each other!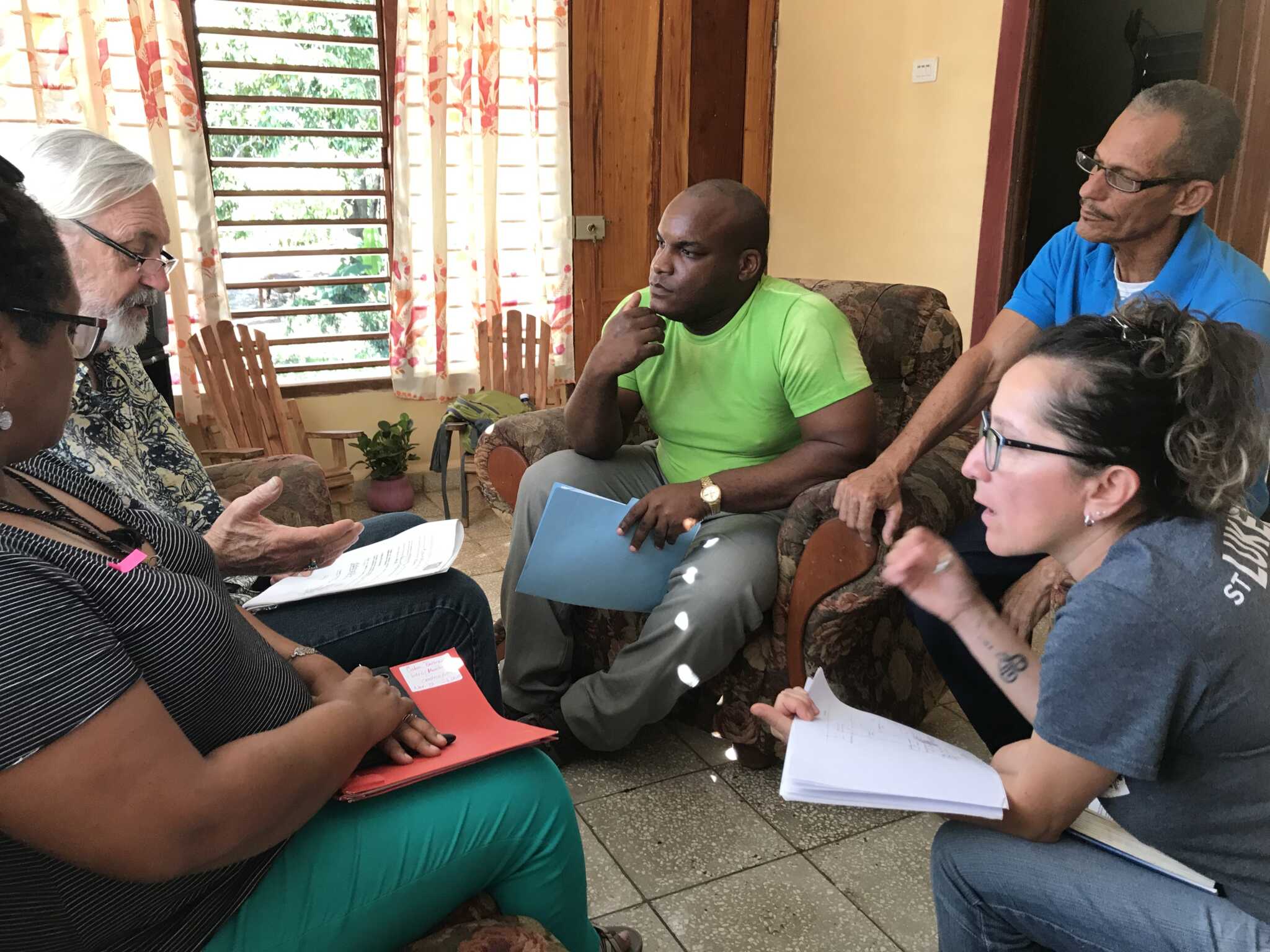 Keep our sister church in your prayers as this exciting year of building approaches!
To read more about our visit, click the link below.

REPORTS: 2018 Mission Experiences to ZOE & Agua Viva

"Whom shall I send, and who will go for us?"
I said, "Here am I. Send me!" Isaiah 6:8
Are you being called to serve others far from home?
Experience a St. Luke's Global Mission trip.
ZOE Mission Experience to Rwanda, June 20-28, 2018

Last summer, we had a team of 14 people visiting our ZOE partners in Rwanda. On this mission experience, they will see child-led community transformation through this empowerment model program for vulnerable and orphan children. This ministry is Restoring Hope in Africa.
To follow their mission experience to Rwanda, please click on the link below

For more information, contact Amy Winslow at awinslow@st.lukes.org.
*     *     *     *     *
Interfaith Ministry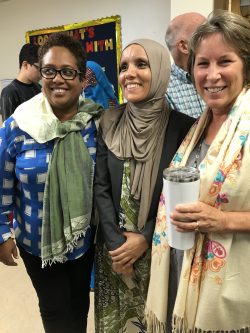 Iftar June 2018 with the Islamic Center of Orlando
Interfaith ministries at St. Luke's engages people to bridge religious and cultural differences. We provide opportunities for us to meet our neighbors of other faiths to promote peace and understanding. Through this connection, we are able to work together for the good of our community and the world. Watch our event calendar for interfaith events.
For more information or to be involved in this ministry, contact Amy Winslow, Director of Missions at awinslow@st.lukes.org or 407.876.4991, ext. 297.
Noah's Pudding event, April 2018
The Atlantic Institute shared NOAH'S PUDDING with St. Luke's on Sunday, April 15.  Stories and the pudding were shared as a way to embrace diversity and build tolerance for differing beliefs, and traditions. The Atlantic Institute Central Florida is an independent, non-profit organization whose goal is to facilitate dialogue and bridge cultures  from multiple regions of the world.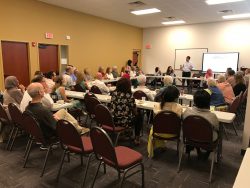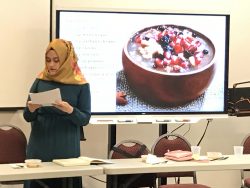 Belfast, Northern Ireland

St. Luke's relationship and friendship with the Methodist Church in Belfast goes back to 1997. Out of this relationship came the opportunity to have Owain Campton from Belfast, as an intern with Missions. Currently, Belfast South Methodist Church, led by Rev. David Campton, and St. Luke's are exploring ways to do studies together in order to deepen our relationships, hear perspectives from another part of the world, and grow together spiritually.
Branches United Methodist Mission and Community Center, Florida City


Branches supports children and youth from low-income and migrant families by providing an after school program, youth ministry, and community outreach. This ministry with a big heart is a beacon of hope in Florida City. St. Luke's sponsors missionary, Kim Torres, Director of Grow and Climb ministries.
Methodist Church,  Melones, Cuba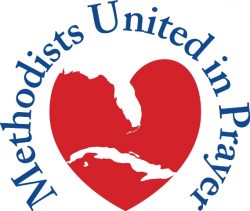 Through the Methodists United in Prayer, a Florida United Methodist Conference initiative with the Cuba Methodist Church, St. Luke's has a mission partner in Melones, Cuba. In spite of years of oppression and scarce resources, the Methodist Church in Cuba is thriving and growing. Our relationship has centered around assisting them in building a house for their pastor and planning for a new sanctuary. They are currently worshiping (many times a week) under a thatched roof. They in turn share their tremendous  faith and help us to grow in our relationship with God. It is a great and growing friendship. Small caravan teams will travel to Cuba this year to celebrate the building project of a new sanctuary for this growing congregation. Estimated time of travel is August and November. If you are interested in joining one of these teams, contact Amy Winslow at awinslow@st.lukes.org.
Missionaries

Missionaries are individuals who are called to serve God in a unique cultural context. These persons are willing to leave their own environment and share Christ in a new communities through their roles as teachers, church planters, preachers, doctors, community developers, agriculturalists, area financial executives, counselors and attorneys. Their primary roles include strengthening and renewing Christian congregations and communities; alleviating human suffering; and seeking justice, freedom and peace. St. Luke's is currently supporting the following missionaries.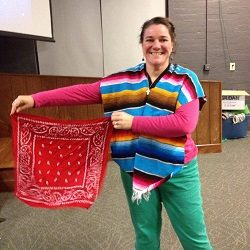 Kim King Torres
Serving at Branches, Florida City, Florida
Kim King Torres is a Church and Community Worker missionary with the General Board of Global Ministries serving as Director of Student Services of Branches, Inc., a community center in Florida City, Florida that provides a broad range of ministries among children, youth, and families. Kim has been a covenant missionary with St. Luke's for more than a decade.
Branches is a holistic ministry with a focus on afterschool tutoring and enrichment, family literacy, a spring break camp (Oasis), and summer outreach (Summer Shade Day Camp). It provides ESOL (English for Speakers of Other Languages) classes and family empowerment experiences, often in partnership with the Miami-Dade Public Schools. Branches touches the lives of many children and youth, sometimes leading them to seek careers in ministry and humanitarian services.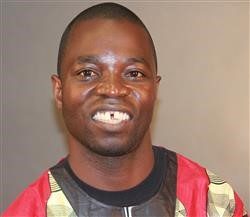 Charles Mulemena
Serving in Amazon Rainforest, based in Belem, Brazil
The Rev. Charles I. Mulemena is a missionary with the General Board of Global Ministries of the United Methodist Church, serving as coordinator of the Council of Christian Churches in the Amazon Rainforest, based in Belem, Brazil. The council serves the ecumenical community of churches in the Belem area of Pará State, located in the northern part of Brazil and part of the Amazon Region.
Charles has been involved in both national and international mission, which has given him experience in cross-cultural relations and led him to enter full-time missionary service. Charles and his wife Barbra are passionately involved with the Children's Project called "RENASCER CRIANCAS" in 2 of the poorest urban communities (IcuiI & Vila da Barca) of the city of Belem. This project helps poor kids by giving them an opportunity to be true kids like any other by putting them in schools, providing them with educational support, feeding them and spending time with them every Saturday.
Charles is from Kitwe, Zambia and is an elder of the Zambia Annual Conference. He was pastor of Grace United Methodist Church from 2007 to 2013, and also director of the New Life Center, a United Methodist facility beginning in 2009. In 2011 through 2013, he was chair of the Kitwe District of the Council of Churches in Zambia. Charles received a diploma in theology and mission in 2007 from the Trans-Africa Theological Seminary located in Zambia, and also holds certificates in church administration and psychological counseling.
Charles is married to Barbra Chola Mulemena, and the couple has four young children: David Kayiji, born in 2010; Lubanji Chibumbu, born in 2014; Nkundeji Kalumbu, born in 2015; and Kuwaha Mapalo, born in 2017.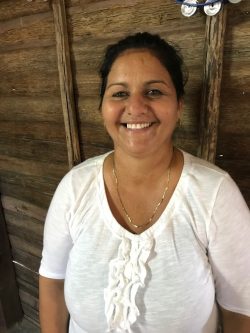 Deymi Cruz Moreno
Serving in Melones, Cuba
Deymi Cruz Moreno is a missionary working with the United Methodist Church in Melones, Cuba. She has worked at the church for about 15 years, working along side Pastor Ramon bringing the people from the village to a closer walk with Jesus.
Deymi became a missionary because of the transformation she had in her life and she wanted that for everyone. She has committed her life 100% to Christ and is ready to help the church in any way.
Deymi works at the El Cerro mission where she teaches a disciple class on Tuesdays and preaches on Thursdays. The rest of her time is spent with Ramon's ministry in Melones, where she helps him lead worship in prayer and song as well as with general day-to-day work around the property including taking care of the pastor's children, cleaning the church, and cooking.  Her greatest love is preaching.
Deymi and her husband live next door to Ramon and Yanaris. She worships with her mom, Rene, daughters Gretel and Susanna. She loves her two grandsons, Gretel's boys Jeymi and Josua.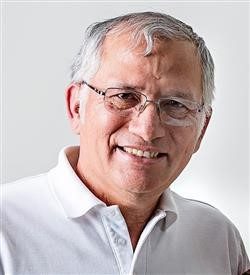 Miguel Mairena
Serving in Puebla, Mexico
Miguel Mairena is a missionary with the General Board of Global Ministries of The United Methodist Church. Miguel and his wife Nan McCurdy serve with Give Ye Them to Eat (GYTTE) in Puebla, Mexico.
Give Ye Them to Eat was founded in 1977, as a social outreach project of the Methodist Church of Mexico to combat hunger and poverty in the rural sector. The primary goal of "Give Ye Them to Eat" is to strengthen the capabilities of marginalized people and communities to meet their basic needs, and to determine and sustain a just and integrated development process so people can achieve the full promise and potential of their life as a child of God. Participatory methods and development tools are used to create conditions in which change can take place from within the communities. GYTTE uses people-centered approaches to development. It is through their various programs that this goal is achieved.
Miguel is the newest partner in the UMC Missionary Outreach Program at St. Luke's.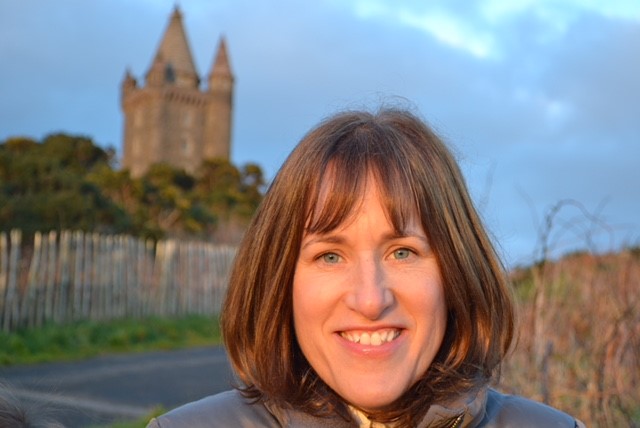 Alison Gilmore
Serving in Skainos, Belfast, Northern Ireland
Working for Peace and Justice in Northern Ireland
Alison Gilmore is a missionary of the General Board of Global Ministries assigned as a counselor at the East Belfast Mission in Belfast, Northern Ireland.
Global Ministries and East Belfast Mission have a long partnership in providing a Christian witness to peace, justice, and tolerance in the areas of unemployment, poverty, and social and political tension. One of the mission's newer services is a counseling center that seeks to offer emotional healing resulting from years of conflict in the area. The 170-year-old East Belfast Mission, which has a worshiping congregation of some 200, sees itself as a center for many efforts to care for and support the poor and marginalized.
*     *     *     *     *
Rev. Michelle Shrader (Cape Town, South Africa) and Alison Gilmore (Belfast, Northern Ireland) were here on July 5, 2018 to share their experiences as our UMC missionaries.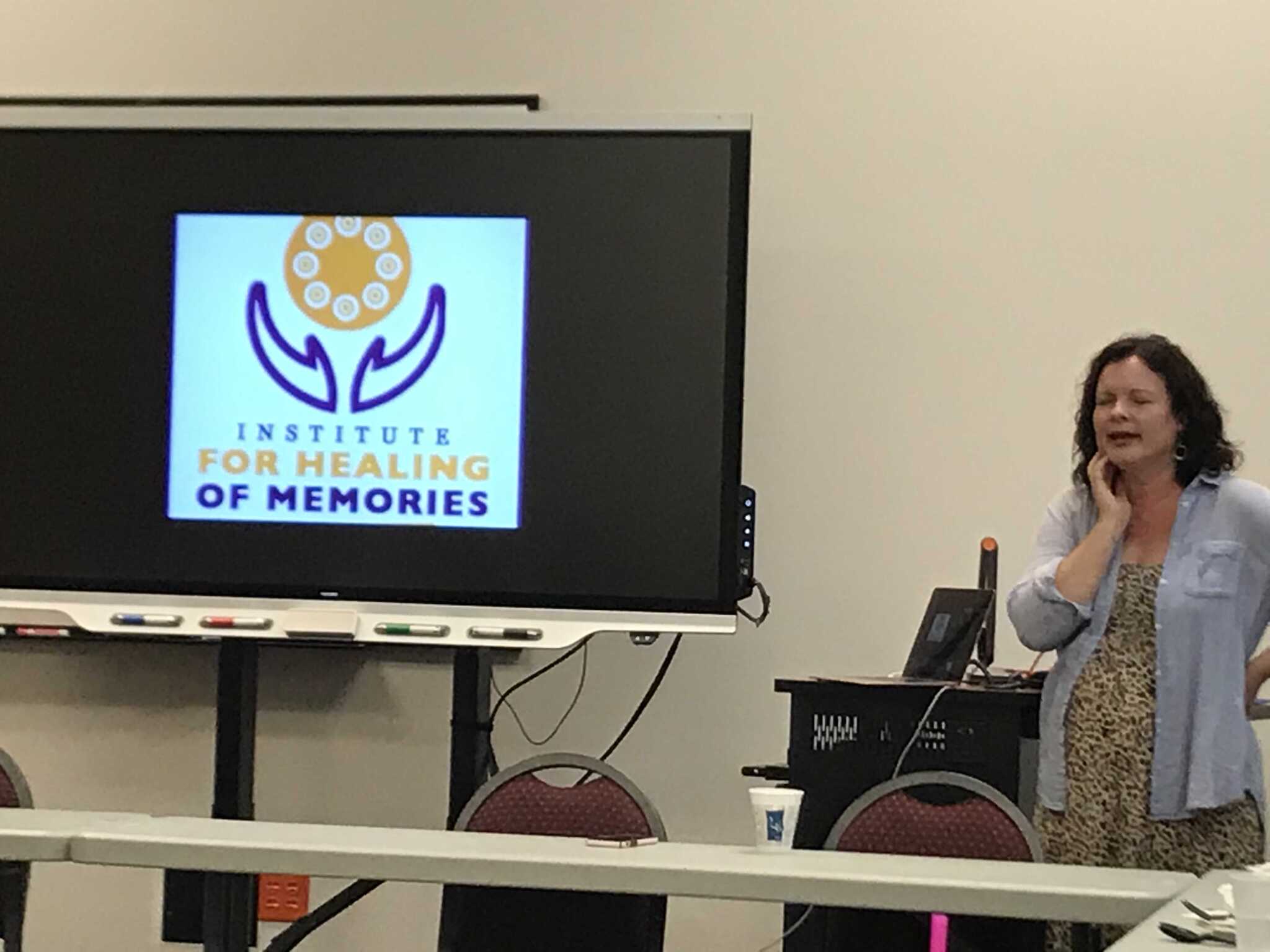 Michelle led the trauma debriefs on all the university campuses during the "Fees Must Fall" protesting and her talk will be on Trauma in South Africa.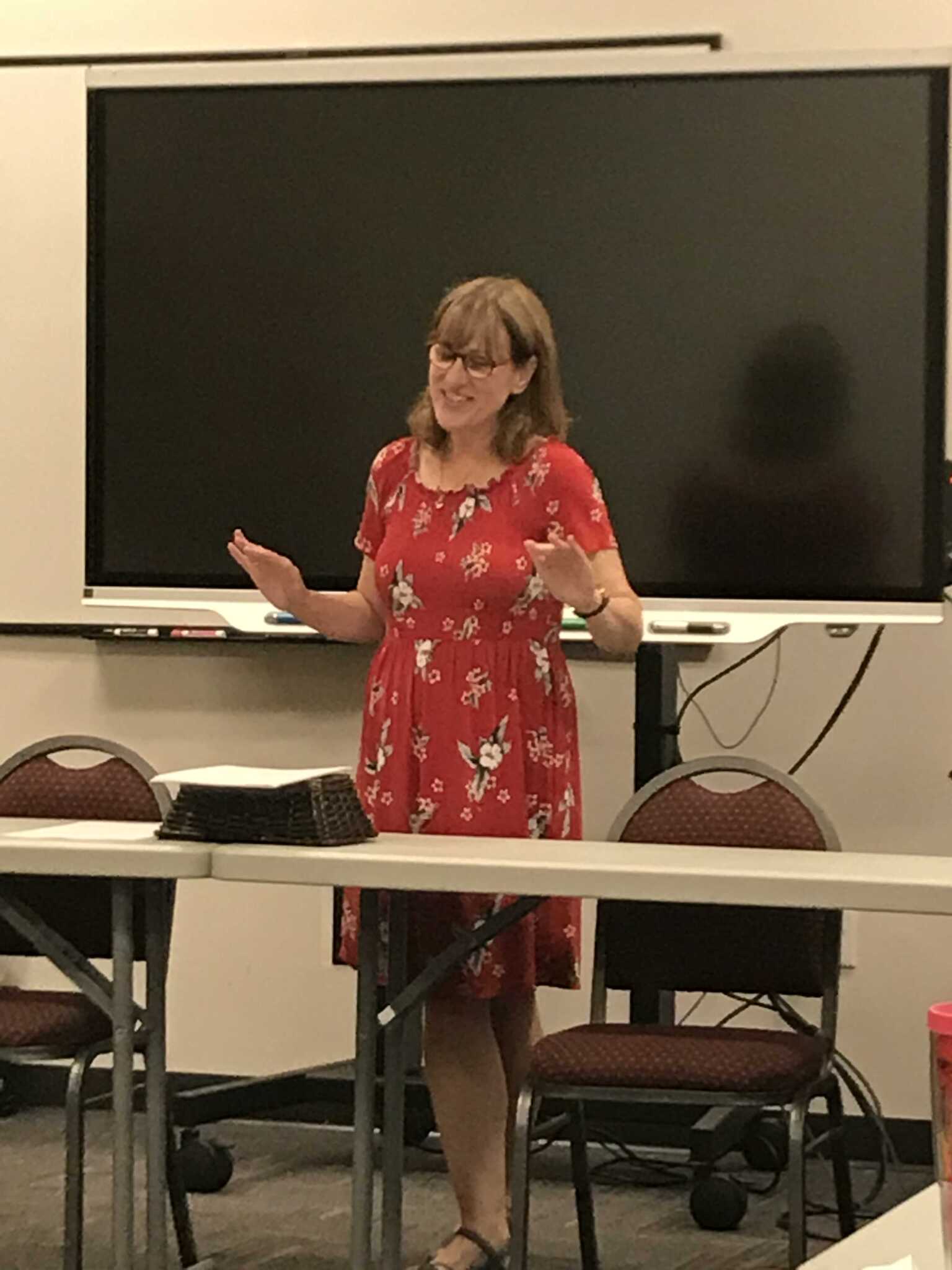 Alison spoke about listening to each other's story to make the person feel understood, valued and important.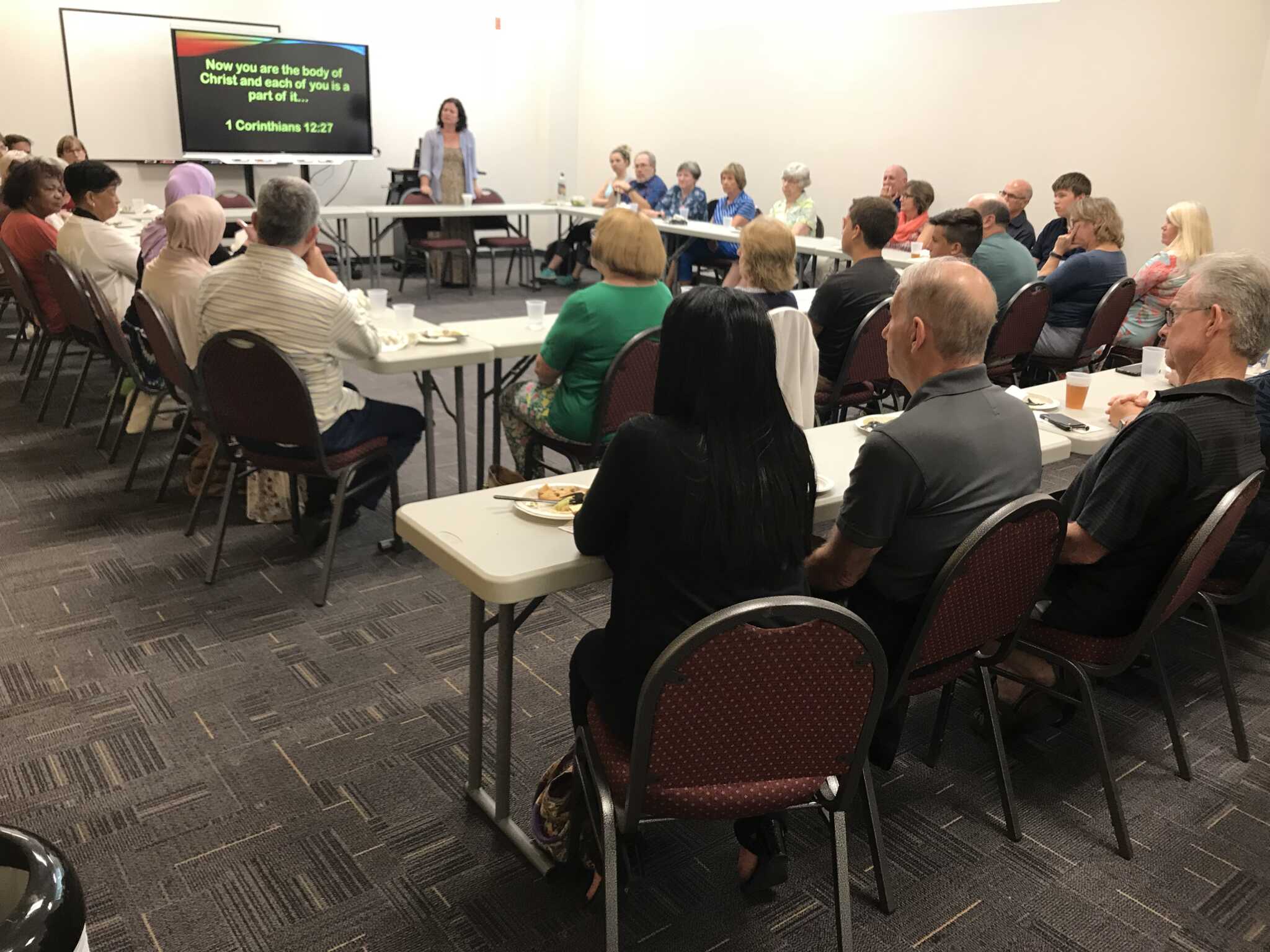 Microfinance: United Methodist Micro–Finance Connection

For as little as $25, you can help a low-income individual in Malawi or Mexico start a small business and change families' lives!  You may give directly in someone's name, get a gift card for that hard-to-buy-for person so they can then decide how to spend, or give a gift as a family or group of friends as part of your holiday tradition.  For more information on United Methodist Microfinance,
Click Here
.