Grow It Forward Farm Dedication, Saturday, October 3

You can help! Click Here for current need – Melaleuca MULCH Needed!

MULCH Needed for Micro Farm
Our Grow It Forward micro farm is tilled, irrigated, rows and walkways created and seeds planted. Now we need your help! Each walkway is lined with plastic to repel weeds and now we need mulch.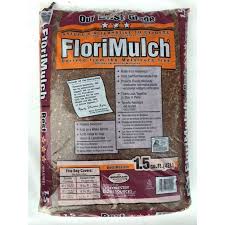 Lowe's carries Melaleuca mulch (natural, not dyed) and we need over 100 bags.
Be a part of the Food Sovereignty movement! Donate mulch or get your hands dirty Tuesday, Thursday and Saturdays from 8:00 a.m. to 11:00 a.m.. Visit the farm on campus back by the old Shepherd's Hope building. Restoring Hope, one life at a time.
Empowering Communities to Grow Their Own Food
St. Luke's has a Micro Farm on campus!
In 2018, our congregation voted to impact Family Homelessness and Childhood Hunger. This can only be achieved through long-term, sustainable programs allowing the community to step forward and own it! Our micro farm is a pilot program we hope will GROW throughout the community! Here is what it takes: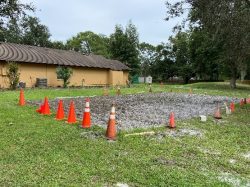 LAND
Organizations have land that can be used to grow food. St. Luke's has committed a 30' X 50' plot of land to grow vegetables. Our micro farm is located on the back (east) side of campus near the old Shepherd's Hope offices.
Roslyn and son, Jackson team up to help us on dig day
COMMUNITY INVOLVEMENT
Volunteers from the congregation and community will work side-by-side with the Grow Orlando team. Our Farm Coordinator is Frank Bailey, president of Grow Orlando. Frank hires at risk youth who gain life, work and financial literacy skills through plant cultivation by providing jobs in urban farming.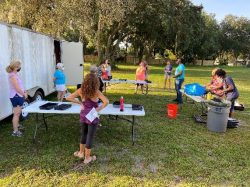 BUILDING A BUSINESS
Grow it Forward will sell what we grow! Our collaboration with Grow Orlando invests directly into the youth and their growth. They in turn will bring these skills back to their community which lacks healthy and affordable food choices such as fresh fruits and vegetables, largely due to a lack of grocery stores and healthy food providers. We are helping to invest directly into individuals and their growth so they can help themselves, their families and their neighbors.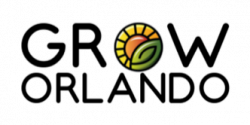 SPONSORSHIP
Pammies Sammies is our first corporate sponsor, committing to purchase many of the "fruits of our labor"! The Grow it Forward concept aligns perfectly with Pammies Sammies goals of enriching communities through local farming and healthy food.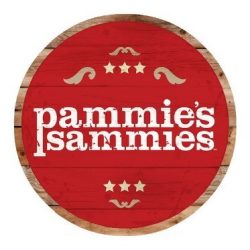 HELP UP GROW
Grow it Forward needs your help! You can donate your time or your resources to empower communities to grow their own food and turn this pilot program into many micro farms throughout the community.
To volunteer on the farm, contact Amy Winslow at awinslow@st.lukes.org
or sign up for a shift on Tuesdays, Thursdays or Saturdays, from 8:00 a.m. to 11:00 a.m.


To donate to help Grow it Forward, click on the link below:


Choose the "Restoring Hope" fund from the dropdown box.