St. Luke's and Mosaic Church are the lead organizations bringing Jobs Partnership to East Winter Garden. This 12-week class offers Lifeworks, which is a boot-camp for life and work, with practical, Biblical teaching that transforms the lives of the chronically under-employed and volunteers alike. Across Florida, 45% of household struggle to afford the basic necessities of housing, childcare, food, healthcare and transportation. The Jobs Partnership prepares students for gainful employment. The Coaches (pictured below) help the students develop a Career Pathway with connections to Community Resources, Educational and Employer Partners of the program.
Ryan Kane, Yvette Desrosiers-Alphonse, Randy Sullins,
Roslyn Burttram, Steve McIntosh,
Andrea Batchelor, and Jason Marberry.
Classes started February 26 with graduation slated for May 29. The fall class will be offered on St. Luke's campus for members of our congregation and our neighbors in the surrounding area. For more information, contact Amy Winslow at awinslow@st.lukes.org or 407.876.4991, ext. 297.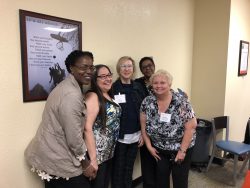 St. Luke's leaders: Site Coordinator Yvette Desrosiers-Alphonse  (left),
Head Coach Lee Grande (center), and Team Leader  Dorathy Nevitt (right),
are pictured with Beverly Henry-Brown from Jobs Partnership and the class Administrator.