Monday, February 8, 2016
This morning we experienced an election in the city of Butare. Given the political season we find ourselves in, we certainly had no idea what to expect. A curious group of us walked downtown with a guide to catch a glimpse.  Our guide, Prince, graciously taught us about the political system and was able to help us go inside the soccer stadium where the elections were being held. Shops are closed on election day and schools bring everyone 18 and older to participate. The social workers of ZOE even went to the villages to ensure the working groups could attend. The election is held between a certain time frame and everyone must stay in the stadium until the process is complete.
Since this was a district election the process seemed similar to a caucus. Neighborhoods were called down to the field where as a group they were given instructions. When the election official would signal over the speakers, the candidates would stand on the sidelines with their backs to their neighborhood. Quietly and efficiently, people would line up behind their candidates, who were not allowed to turn and look. Election officials would then count the lines to determine who received the most votes. At a signal the neighborhood would come back together as one "group" and the candidates were allowed to turn around. Then the winner was declared – with rejoicing, but also a wonderful sense of camaraderie.
It was very civil and even joyous, everyone greeting one another and in great spirits. We asked how officials would know whether people voted in the wrong neighborhood. Prince then explained the power of community in Butare. He said "because everyone knows each other – you would know if someone was in your group that didn't live in your neighborhood."
Prince shared so much…but I'll save that for this summer's sermon series!! Trust me – again…Acts 2 community is alive and well in Rwanda! We have so much to learn from our newest brothers and sisters.
We met another Vincent today. Vincent is three years out of ZOE and is one of the rock stars of the empowerment program. He rode to Butare to see us on his motorbike. Besides his motorbike business, Vincent currently has multiple income streams. He makes 90,000 a month profit on his motorcycle alone (after medical insurance, food and other bills) which adds up to about 1454.00 USD a year. While this doesn't sounds like much to us, it's more than a teacher's salary in Rwanda.
Since graduating the program, he is married, has two children (one named after Greg Jenks, the founder of ZOE – that's how important this program is to him) and has been able to afford to build a "modern house" complete with electricity that runs on solar power.
We met other graduates of the program today as well. Three young men who own a charcoal store and work with eleven others who are in the charcoal business as well. Some make the charcoal, others sell in the villages for 4500, while these three sell in this store for 7500. They take turns two going home on bicycle three hours away to rest at 4:00 p.m. and returning at the crack of dawn to open the shop and relieve the one who spent the night. These eleven graduated in 2011 and were a part of Scott Davidson's first working group. They have been able to build houses, get married and start families.
These young people each said if we had met them in the beginning – hungry, ill, dirty, desperate – we would not recognize them by what we see today. It's resurrection – someone coming to life because they were believed in and loved. I have been trying to think of scripture or a story that speaks to all I've witnessed today. The thing is everything I have witness is the essence of the message of support God called the Old Testament people to, the essence of the gospels, and the spirit of the early church. But I also keep hearing the Epiphany scripture from a couple of weeks ago from Luke 4 …"he unrolled the scroll and found the place where it was written, 'The Spirit of the Lord is upon me, because he has anointed me to proclaim good news to the poor. He has sent me to proclaim liberty to the captives and to set a liberty those who are oppressed…Today this Scripture has been fulfilled in your hearing."
Sunday, February 7, 2016
Written by Ann Eppinger – Zoe Core Leadership Team 

Today, we ventured several hours from Butare, leaving paved roads far behind. The unpaved major roads were filled with Rwandans who walk almost everywhere that they go . These dirt major roads disappeared into dirt minor roads until we were crossing a bridge of logs onto a narrow dirt path. Our extraordinary bus driver drove along a mountain ledge to reach a banana cooperative and an opportunity to understand how a working group stays together after their formal graduation from the ZOE empowerment program. We were truly reminded that Jesus traveled far to reach the unreachable, and we began to understand that ZOE does walk in the steps of Jesus in this way. I am proud that St. Luke's is standing alongside ZOE in its ministry to the least and forgotten.
The past few days, we have learned how clever and hard working these ZOE working group members can be when given opportunity. Entrepreneurship classes are the rage in our high school and colleges right now; but just today, we found ourselves in an entrepreneurship lesson, as taught by teens who just a few years ago were living in extreme poverty and with very limited education. We watched these kids literally go BANANAS!  The Zoe working group members (who graduated from the three-year program two full years ago)
still run this banana cooperative started early in the empowerment process. The Rwandan government granted this group the right to farm this land, as long as they continue to function as a group business. The land is provided for free, but the ZOE kids must farm it themselves and if they lease it to others outside their working group it will revert back to the Rwandan government.
Over the past 5 years, they have subdivided this land into various parcels for the use of each member, functioned as a group with an elected chairman, learned basic farming techniques, cultivated a customer base that includes both retail and wholesale customers, and developed a financial arrangement whereby the working group members deposit a set portion of every sale into a savings account for the benefit of this working group. But that was not enough for these kids. They began to work with a new hybrid banana plant that was larger than the norm and resistant to certain diseases, and which gives them a marketing advantage. The seedlings of this hybrid banana have been in demand so that they began a line of business selling these seedlings. And finally, when clients would not pay them the going rate for their bananas in a effort to take advantage of their vulnerable status, they began to make banana juice as an alternate use of their product when they did not like the banana prices they received. This banana juice has been very profitable.
The banana juice business is a must for you juicers in the congregation, although I must tell you that is highly labor intensive and frankly, a whole lot of work. The project members pick the bananas when still green and bury them in mounds of dirt, arranged so that a fire can provide smoke to heat the bananas. Four days pass until the bananas are ready for juicing. Juicing is done in a long, hand-carved wooden trough. Bananas are peeled, water is added, and long grasses are balled up and used to laboriously begin to press the juice from the bananas. It is an incredible upper body workout for anyone who loves to find new and creative ways to exercise. When almost nothing is left of the bananas, the banana juice is strained through a grass filter into a large jug for storage, transport and sale.
Through a ZOE interpreter, our young entrepreneurs could discuss supply and demand principles, without ever having opened an economics textbook.   And the plan to "buy low – sell high" just came naturally to these bright young minds. They have an intuitive sense likely developed in part from a life on the streets.
All kids have other businesses in addition to this banana cooperative, in an effort to hedge against crop losses. None wish to be hungry, homeless, hopeless or abused ever again.
These ZOE kids have used their group funds for a variety of income-producing projects, including what they call a "merry-go-round" deal where they go around the circle of members giving each the same product (a goat, a chicken, etc.) until they start over again. They have given grants for other projects pitched to the membership. At the same time, they have pulled new vulnerable children into their working group and allowed them to learn from them and share in profits.
The final "wow" for us what that these ZOE working group members, just teens, work in relationship with the local community, many of which were gathered around watching the banana juicing demonstration. They hire local people to be watchmen over their property at night, weed the land, and buy cow mature from them in order to fertilize their banana cooperative. They sell seedlings to them at reduced prices. These former outcasts now can hold their heads high as valued and important members of the greater community. Just look at the crowd in the distance, gathered to watch our working group meeting. ZOE has supported these teens, these teens have supported and raised up each other, and the teens have supported and raised up their entire community.
The chairman of this working group, Vincent, has, with ZOE's assistance, become a teacher. He has fallen in love, married and had a child. John made friends with his two-year old son and it was wonderful to see this young child adore and keep his beloved father in his sight at all times.  Vincent, while orphaned in his youth, has with ZOE's education, love and support built a strong and loving family. Even though his salary as a teacher is greater than what he can earn as a working group member, he continues to be a part of this first family of his, providing his time, mentoring ability and leadership stills.
ZOE inspires these former extremely vulnerable children to live in hope, alive with the possibilities of a life with family and community. We continue to see the power of living within community and how the early church thrived by sharing, worshiping, and supporting one another. We continue to experience the power of what God has invited us to be a part of here in Rwanda.
Saturday, February 6, 2016
Today was the hardest but most joy-filled day. We had the privilege of meeting two of the three working groups St. Luke's and St. Luke's families have agreed to support. (The third group is going to be in the same "cell" or community but is just being recruited.) Our groups are located around the area north of Butare. The two groups represent 52 households and currently 115 orphaned, vulnerable children. We had the opportunity to meet the leaders of the households who range from 15-20 years of age. I will be honest, I did not know what to expect, or how I would react. We walked into a school room filled will young people on benches, dressed in their best clothes. They were crammed in this small space and they looked as if they did not know what to expect either.
We walked to the front of the room and the chairperson of the group stood and welcomed us through Epiphanie's translation. Then they had us stand with them as they sang a song of welcome and gratitude for our visit, followed by the most beautiful prayer by one of the young men named Thacien. It was at that very moment I looked up and was overwhelmed by this feeling as if I had known these young people all my life. They come from a different world with different experiences, and yet, I felt as if we were in a community of St. Luker's in the middle of Rwanda. These 52 strangers suddenly became a part of our church family.
We spent the next two or three hours with them. The working group was recently identified by ZOE and are only in their fourth meeting of a three year process. They have begun to share their stories with one another, their fears and frustrations, but also their dreams. Six brave young people stood among us and shared their stories. It was not sharing to be heart-string pulling or manipulative, it was a time that allowed them to continue their own healing processes. The more they share their story, the less claim the hurt has on them and the more hurt is replaced by hope. The chairperson explained they knew they could share their stories with us because we are their friends and we will support and pray for them.
Each was timid as Epiphanie translated. The deeper and more pain they revealed, the more quiet they became as they told stories of abandonment, abuse, hunger for days on end, sickness and a desire at times for God to just spare their suffering and let them die. One boy kept clutching his stomach and when Epiphanie asked what was wrong, he admitted he hurt not only from hunger, but from recently having malaria. Malaria has broken out again in Rwanda because mosquito nets have come in under or untreated. At one point Jean Baptiste was able to get together money to find the medicine, however, did not have enough money for food and the medicine made him ill. These are the difficult choices these young people have to make, not only for themselves, but their siblings and sometimes a disabled parent for whom they, at ages 17, 18, 20 years old are now responsible. Most work day labor jobs in exchange for food, but the food is often not enough to feed their siblings, so they go hungry. One who's father had mental illness, which is discriminated against heavily in these villages, was called "Mad Girl" and shunned as an outcast.
But these young people have dreams. They dream of owning a cow, a home, being able to sell food in order to have enough food for their family. They want to send their siblings to school and live in safety. For us these seem like small dreams, but for them each dream is a road to empowerment and being able to feel like a human with dignity. Choking back our own tears, John stood and shared what he tells his students at Palm Lake Elementary. He told them to have PRIDE: Purpose, Respect, Integrity, Determination and Excellence. Later one of the young men stood and said how inspired he was that someone thought he could live out those words. I welcomed them as part of our St. Luke's family on your behalf and told them they were beautiful, brave, and loved by God. I also shared our saying at St. Luke's – "it's not the same without U", and let them know that now we included them as a part of the "U" of our community.
Ann had a wonderful idea, which had led us to the market a few days before to find Rwandan fabric. We asked each of the young people to come forward and let us trace their hands and sign their names so we could bring it back to you.  This was the turning point. All of the shyness quickly disappeared as they each came forward and placed their hands on the fabric. We smiled and laughed with them, getting a chance to speak to each of them personally, offering handshakes and hugs. Our friends on the team took selfies of them – allowing them to see themselves smiling. We shared cokes and bread with them and some of their little siblings who had been peering through the windows the entire time. There was laughter as I taught them how to fist bump and we made them laugh for pictures. Community was built, sorrow turned to joy, struggle and fear to hope and promise. They gave us thank you drawings to bring back home to you. We sang another song, I wept through a prayer for them (not surprising to any of you), and then the leader shared one last word. "We thought we were below humans and that God didn't care about us. But today you have showed us that God is real and loves us. We can live our dreams."
The Gospel according to St. Luke was written for the outsiders, the outcasts, the forgotten, the widows and the orphans. It shows a Jesus walks with, eats, touches, and heals those who are the least and the last and continually lifts up the poor and marginalized as the blessed, for to such belongs the Kingdom of God. This is what St Luke's was named for over 30 years ago. This idea is the foundation for everything we do, our purpose, our core values, and the foundation of the 4D World Changing Idea to Meet Jesus on the Road and lift children out of poverty and the way we serve with dignity. In the same tradition of all the powerful mission work we have been a part of in our history, in the same hope with which we work in our own city and East Winter Garden, today we started a new journey of empowerment, walking alongside these young people to help them reach their dreams. We will support them, learn from them, pray for them, support others if we can and consider them a part of who we are as a congregation. Today, we again, lived into our namesake and lived out the gospel, letting these children know God's love for them is real. I was so proud to represent you in this heart altering moment. Well done, good and faithful servants.
P.S. Here's the truck we promised a picture of and an apology. This truck was actually purchased by our Mission Endowment Fund. Blame it on my head not my heart, or jet lag, which could be the case as well. Inside the truck are John, Epiphanie and Germain, one of the amazing social workers! They are so thankful for this vehicle and the funds donated to purchase it.
Friday, February 5, 2016
What an amazing day. I have so many stories to share of how ZOE works I hope you will bear with me. This morning we traveled about an hour into the northern provinces of Rwanda. Kigali is the capital of Rwanda and has 1.3 million residents in a space of approximately 300 square miles. As you drive through the city it's easy to see the growing disparity between the wealthy and the poor. There have been moments when the atmosphere of the streets, its beautiful landscaping and walls leading to gated homes, feels like parts of Miami. Within these areas are upscale hotels, golf courses and restaurants. However, turning the corner, as you look over the valley of a pristine park, rising up another hillside are tightly packed, single story houses representing the slums with poor sanitation and lacking clean water.
As we drove north, the Land of 1000 Hills, turned into the land of mountains, where every possible piece of land is used in the most creative ways for agriculture. The highway eventually ended and we found ourselves on clay colored, winding roads with travelers on foot or bike carrying water jugs, bamboo, bananas and any other number of things to sell or purchase from markets.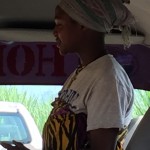 The first stop was at a very busy market place where we met three girls from the working group Ann Eppinger and her husband Scott Davidson began supporting in 2014. This group, led by Solange, age 20, have a thriving sweet potato business.
These girls wake at 4:30 am to pack their produce and send them to market through people they have hired to carry the product on bikes. The girls ride the bus for thirty minutes, talking to their customers on cell phones they have been able to purchase in order to increase their customer base. With their first profit, Solange bought a cow for 8000 RWF (Rwanda franc) which equals about 100 USD. Owning a cow actually returns a better investment than putting money in the bank so the cow is now worth 120,000 RWF. She owns seven hens, which again, is quite the investment for the owner. All of this has allowed her to not only pay herself but also support her sibling and three other children in the village. Her partner in business, Clementine, 17, has bought a cow and goat, and begun a saving system. She has medical insurance for her six siblings, who each attend school. Lillian, 14, began her business project with bananas and avocados. Her profit allowed her to buy into the sweet potato business and start a bank account.
Each of these girls just two years ago were living as beggers on the streets. "Now I am strong" Lillian shared, "I don't do any business with men, because I make my own money." Later in the day we caught up with these three remarkable young ladies in their working group which sustains around 60 children. They gave Ann a wonderful basket of fresh fruit others had grown as a thank you. They sang a song of thank you to us for the work of ZOE. At 18 when joining ZOE, Solange was a shy, withdrawn girl who had suffered the death of her father at age 7 and had been living on the streets. Today she is a confident business owner taking care of others. All day, Ann had a glow of pride and radiance at seeing how far these children had come.
The next stop was to a village farther north. We passed a couple of secondary schools on the way and again, our bus was quite the spectacle. Children in their school uniforms would chase the bus yelling "muzungus" (white people) waiting for a wave or a smile. As we entered this small village, it reminded me of a set from an old western where Clint Eastwood would walk out at any moment. Red dust surrounded small buildings situated around a center square. We met Delphine (19 with three siblings) and Dative (20) who are in business with a young man from their working group. These entrepreneurs are incredible and some of our St. Luker's would love to hire them! They each had their own successful business for which they were sharing rent for a business fee of 15,000 RWF. They pooled their resources into one enterprise in order to rent this little canteen where they run a cinema, charge cell phones and sell a variety of sodas, sweets and homemade sorghum juice, donuts, cakes and porridge. They received a micro finance loan from ZOE after sharing a business plan to charge people to watch TV for movies, sports games and other events on cable. They had discovered the nearest TV was miles away and could make a considerable profit if they purchase the TV and prepaid satellite needed. Being one of the only places of electricity, they open at 5:30 in the morning in order to charge cell phones and feed people on their way to work. They stay open late, allowing the male to run the canteen for security. In the last year they have added to the business by participating in Mobile Service Money Transfer through Kigali. This service works like Western Union. People in Kigali can wire money to the village via cell phone. People come to the canteen to exchange a pin number for cash, and the owners receive a fee from the bank.
There was such pride as they related their ability to support their families and their dreams of becoming sorghum distributors. Not only have these girls bought cows and pigs, but one of them has bought a plot of land which she has hired 4 men from her village to farm. These men were those who had abused her and considered her nothing just three years ago. By giving them a job and paying a fair wage, they are seeking reconciliation. Delphine began the program thinking she had a heart condition, but after seeking medical help, it was determined she was struggling with depression. "With all of these things we are thankful to God first, and then to Zoe. You put us on a high level and we have never spoiled our talent. (referring to the parable of the talents.) We not only help our siblings, but other children in our village. I am strong and my depression is gone away." Their business cares for ten other children providing food, clothing, schooling and insurance.
For the last stop we traveled higher into the mountains. Here we met three young women part of a neighborhood of work teams representing 51 households and 151 OVS (orphaned, vulnerable children) supported by Duck UMC. They owned a sorghum business which they distribute and sell locally. Two of them prepare the sorghum grain, and one grinds it into flour and creates the juice. (which is apparently a hot commodity, because it becomes either a sweet syrup or alcohol.) During the three day fermenting process they sell bananas, donuts and avocados so business continues. These young women are able to gain a profit of 8000 RWF a day, which is a 60% profit over their expenses. Together they support 18 other children –15 are siblings of their own, and three from the village. Watch Delphine thank Duck UMC for supporting her…
We ended the day traveling to the working group of the three girls where they had a First Fruits ceremony to thank Duck UMC. We were able to see them participate in the first harvest of their Irish potato crop. They sang and danced for us and presented the supporting church with their "tithe" the first fruits of their farms – eggs, squash, carrots and potatoes. They prayed for us and gave God praise for their community of brothers, sisters, and the mentors who helped them. The joy and laughter of these children was contagious. I was overwhelmed with the scripture from Acts 2:42 describing the power of community in the early church: "All the believers were together and had everything in common. They sold their possessions to give to anyone who had need." These children are the incarnation of God in community. They take what God has given them, work hard and invest in their community. They take care of one another, provide work for adults and help young people stay in the rural villages to make them stronger.
For me today was two fold. It was seeing the power of ZOE and how empowerment leads to sustainable lives. It is the same model of empowerment we are using in East Winter Garden. Making a community strong through empowering people, supporting with resources needed, and stepping back so they use their creativity, vision and God given talents to create a sustainable life. These young girls have so much to teach us about entrepreneurship and diligence, but also the difference it makes to have someone believe in you and your dreams. Which is what the power of the church was supposed to be about in the first place – sharing the good news of God's love that allows someone to believe in themselves again.
Tomorrow we head to Butare in the South, where we will meet our working groups. It will be very different as these children will be in the beginning stages of moving from "beggars to bosses." Please be in prayer for our newest St. Luke's friends and for us as we prepare ourselves to experience their lives.
Thursday, February 4, 2016
Dear St. Lukers,
Greetings from Kigali, Rwanda! After more than 24 hours of traveling, our team arrived in Kigali at 7:30 p.m. Wednesday night. It was quiet the adventure, but we missed one of our team members as Mariam Mengistie was not able to travel because her visa documents were held up. The team of five is now down to three of us – Ann Eppinger, John Stiles Williams and myself. Jean Pierre Ndahayo, who has been with Zoe since 2008, met us with a warm welcome and drove us to our hotel in the brand new Toyota truck Zoe purchased through the gracious gift from our own United Methodist Women. We will make sure to get a picture with it in the daylight for another blog!
This morning we were greeted by Epiphanie Mujawimana, the founder of the Empowerment program of Zoe. (For more on Zoe and the staff click here) Epiphanie has an amazing understanding of her community and what these vulnerable children need in order to accomplish moving out of poverty and into sustainable living. She speaks about the children with the love of a mother, willing to do whatever it takes to empower them to succeed. Her passion for her country and these children is contagious.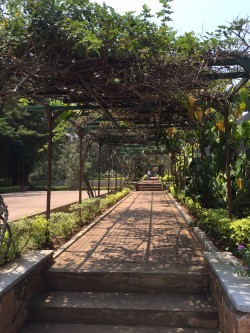 Our morning of learning was spent at the Kigali Genocide Memorial Centre. (For more information, click here) For two plus hours we walked in silence, listening and viewing the history of the atrocities that occurred in April of 1994, when nearly 1 million Tutsi's were tortured, beaten and slaughtered in a calculated, planned ethnic cleansing by the Hutu's. This Centre is the resting place of more than 250,000 of the victims. Many of these men, women and children, were killed in the churches where they sought sanctuary.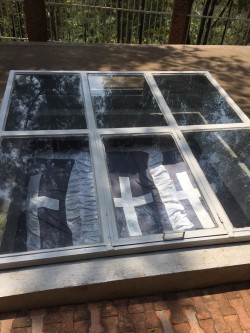 The purpose of the Centre is to pay honor to those who lost their lives and the families who survived them, explain a country still suffering from the horror (much of the HIV/AIDS pandemic traces it's history to this event), and serve as a stark reminder and education of how very easily something like this can and has taken place around the world. The morning was sobering and helped us understand the history of the racism and division which began after WWII when Belgium colonized the country after taking it from Germany.
As we ate lunch with Epiphanie, she shared how history has marked itself within Rwanda as "before genocide" and "after genocide." People do not talk about it easily, it's hard to believe something like this happened only 20 years ago. In fact most sentences people would begin, to answer one of our questions, would just end in the middle – with emotion hanging in the air, and tears welling up in the eyes. The beauty of the Centre is that it brings together survivors to tell their stories; (which help to counteract those that still deny the event ever occurred) it allows healing and reconciliation. The hope is found in the stories of learning opportunities offered for young people to help them understand themselves not as "hutus" or "tutsi" or any other category of people, but Rwandans. One people, anxiously looking toward a new vision of unity and hope.
We spent the afternoon in a local market area where it was obvious for many reasons that we were tourists. What an amazing experience! The sights and sounds were tremendous. The downtown marketplace is full of Rwandans, selling their wares, welcoming one another, and the atmosphere is vibrant with color of exquisite fabrics and baskets, music and a sense of community.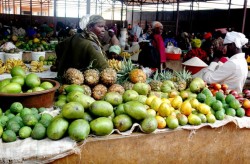 Everywhere we went There was a sense of "neighborhood;" people greeted the Zoe staff members on the street. The traffic alone kept you on your toes, as four lanes looked more like six, and motorbike taxi service sped in and out of lanes passing everyone. We even managed to find a "hometown friend" in one of the indoor shops, proving again that when you're from Orlando, you are never really far from home when you travel. (Market image credit here.)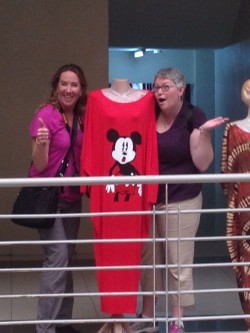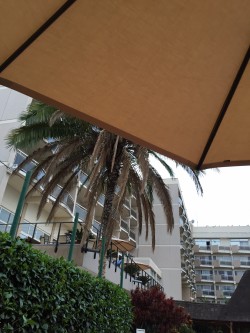 Our evening was spent at the famous Hotel Rwanda, officially named Hotel des Mille Collines. The Hollywood movie "Hotel Rwanda" was based on true story of over 1,200 refugees who sought refuge here during the genocide. However, as is often the case, Hollywood stories are not always reality, and the hero of the movie, was not a hero in real life according to survivors who have shared their stories.
As we sat by the lovely pool, waiting for the team from Duck UMC in Outer Banks NC to arrive, I was struck by the juxtaposition of today and 20 years ago. Today it's a beautiful upscale hotel again, sitting high up on a hill. (Rwanda is known as the land of 1,000 hills, and having walked many of them today, I can say this is not an exaggerated slogan.) The landscaping of the hotel hides the tightly packed houses below and all you see on the horizon is the mountains. If you didn't know the history, one would never imagine this hotel had been reduced to a refugee camp for more than a month. How quickly we can paint over the past for those of us who did not experience the pain. If the walls could speak, I wonder what stories they would have shared.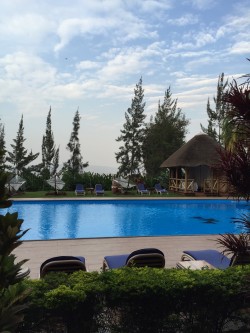 Tomorrow we leave to travel north to visit a working group adopted by one of our families a few years ago. We will be able to visit and see how these young people, who are close to graduating from the ZOE program, are doing, and hear their stories. We are so excited to visit the children and experience their spirits.
But I cannot forget today and all we've learned. Deep within I continue to hear a holy whisper telling me there is something powerful to learn on this trip situated between our two sermon series of Epiphany (yes, I see God's irony even here in the word) and Lent where we will study Jesus final words on the cross. As I listened today to stories of survivors how they are learning to seek reconciliation and teach peace, I thought a lot about our country, and the division growing among different culture and racial groups. As I walked around the three Fountains of Unity, Division and Reconciliation, and walked through rooms holding bones of victims and remnants of garments, rosaries and children's shoes found in the rubble, all I could hear was Jesus words "Father, Forgive them."
As I read the stories of children killed in their mothers arms, or as they shouted "pray for us God" and were killed in horrific ways, all I could hear were the words of Christ "My God, why have you forsaken me." As I listened to some of the early stories of the vulnerable children we are supporting and the extreme poverty and isolation they have lived in, I remember the words Jesus spoke "woman this is your son, and this is your mother."
I think I'm understanding the word Simplify and hearing God's values of love Jesus spoke in his final moments in an entirely new way. I do believe God has brought us here to teach us something about these children, but also about ourselves and how God wants to build us as disciples through our partnership in Rwanda. I pray you will journey these hills with us, if not physically one day, then spiritually…
Grace and Peace,
Jenn.
Tuesday, February 2, 2016
Pastor Jenn and a small team of St. Lukers left Orlando International Airport and after several connecting flights landed in Kigali, the capital of Rwanda. In 1994, Kigali was the scene of the Rwandan Genocide. The mission team will tour the Genocide Museum while in Kigali. Local time in Rwanda is nine hours ahead of Eastern Standard Time. Please keep this team in your prayers as they travel through the country and explore mission opportunities with Zoe.