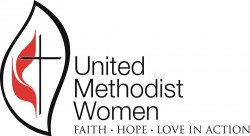 Come grow spiritually through worship, Bible study and prayer • Celebrate the person you are becoming in Jesus Christ • develop meaningful and lasting relationships • share who you are and your gifts • take action and make a difference in your community and the world.
Who are we?

A Community of Women…
We are women, who find meaning in our church and want to combine fellowship with study, worship and outreach opportunities. We are women with gifts to share with others. We seek to realize our own sense of purpose and commitment to God within a supportive community.
Joining this group of committed women is a unique opportunity no matter who or where you are in your life. It's an opportunity to move in harmony with other women, who have been responding to this Purpose for over one hundred years.
If you are interested in becoming involved and need more information, please email the UMW at umw@st.lukes.org.
Upcoming Event – Great Exchange

UMW Great Exchange
The United Methodist Women will host their annual UMW Great Exchange on Saturday, July 14, 2018 at 12:00 p.m. in Building C, 2nd floor, in the Attic. Bring clothing and household items to put on the exchange table. Go home with NEW things for your wardrobe and home.
All are invited to make their favorite covered dish to share and bring the recipe. Enjoy this luncheon, while sharing friendship and fun for an afternoon.
Also, please bring your new or very gently used purses for the "One Purse" fall project.
For more information about The Great Exchange, email umw@st.lukes.org.
Creative Opportunities

Crafters
No experience necessary! Crafters meet Tuesdays from 10:00 a.m. until 3:00 p.m. at the West Oaks Mall. Bring a bag lunch and come join the fun!
UMW Canning/Preserving
Jellies, pickles, salsa, tomato sauce and okra are some of the "yummy" items that will be lovingly prepared to be sold at the UMW bazaar next November.  We will teach you to preserve and buy all the ingredients.  We are looking for participants and folks that would be called to organize this fun-filled ministry.  If you are interested, please contact umw@st.lukes.org.  Come join the fun!!!
Circles

Circles focus on fellowship and benefiting UMW Missions. Meetings are held in homes, at the church, or in other venues in the community. Circle members are invited to all UMW events and meetings. Find out which circle fits you best.
Faith – started in 1988, our "senior circle" awaits you with warm smiles and a caring embrace. The circle meets on the 4th Monday of each month at 1:30 p.m. in members' homes September to May. In the summer, we meet at the Village Inn.
Friends – a diverse group of women ranging in ages from 40 to late 60's, who come fro different professions and cultural background. The circle meets the third Tuesday of each month at 7:00 p.m. in members' homes from August to May.
Hope – a group of 55+ women who are interested in deepening their faith. The circle meets on the first Monday of each month in members' homes or at church from September to May. June-August, we meet for lunch at local restaurants.
Sarah – a group for 50+ women, who are committed to supporting missions of UMW and the needs of the St. Luke's Community. We meet on the third Thursday of the month at 9:30 a.m. in the Special Events Dinning Room in Bldg. C (September to May)
Sisters in Faith – is for women of all faiths and it is very much like a covenant group. We meet on the fourth Tuesday of the month at 7:00 p.m. in at St. Luke's Building C Room 200-201.
Mom Connection is an exciting, fun, supportive St. Luke's Cluster Group for mothers. From pregnancy to preschool to empty nesters, all moms are welcome. For more information email the group. 
Annual Fall and Holiday Bazaar

This event is an annual tradition at St. Luke's and a highlight of the holiday season. The women of St. Luke's spend all year making crafts and preparing for this fun festive event. All proceeds go to missions. This event is typically held the second weekend in November. The 2017 Bazaar raised over $25,000 for missions.

Over 14 different shops for you to do all of your holiday shopping at great prices!
Forty Fourth Annual Conference Annual Meeting

Other Upcoming Events and things to look forward to:

UMW Great Exchange
In the spring, the United Methodist Women come together to share a luncheon while sharing friendship and fun for an afternoon. All are invited to make their favorite covered dish to share and bring the recipe. Participants bring 1-4 items that are new or like new to "exchange", and the fun begins when others try to be the first to choose your item.
*   *   *   *   *   *   *
UMW Annual High Tea
Take Time for Tea 2018 was enjoyed by many on Saturday, May 5. There were homemade delicacies, themed and decorated tables, and wonderful fellowship!  We even had a boutique shop at the tea for interested shoppers. And how wonderful it was to see so many wearing their spectacular hats!
*   *   *   *   *   *   *
UMW Spring Retreat
We recently hosted our St. Luke's woman's Spring retreat, entitled "Joy is a choice", on Saturday, April 21.
Our feature guest speaker was Ann Joyner, a published Christian author. She shared her faith journey, how she has found joy along a rocky path and ways for Christian women to celebrate joy every day. Retreat guests also enjoyed a continental breakfast, the retreat program, craft activity, catered lunch, and a copy of Ms. Joyner's book.
It was a day to grow in your walk of faith and meet new friends!!
*   *   *   *   *   *   *
UMW Conference & Fellowship Event
This Conference was recently hosted on Thursday, September 28, 2017.
There was a time of fellowship prior to a presentation by our featured guest and speaker, Marla Silliman, Senior Executive Officer at Florida Hospital for Women.  Marla discussed how women are different from men at the cellular level as well as how that impacts everything from the affects of medication to hormones and depression.