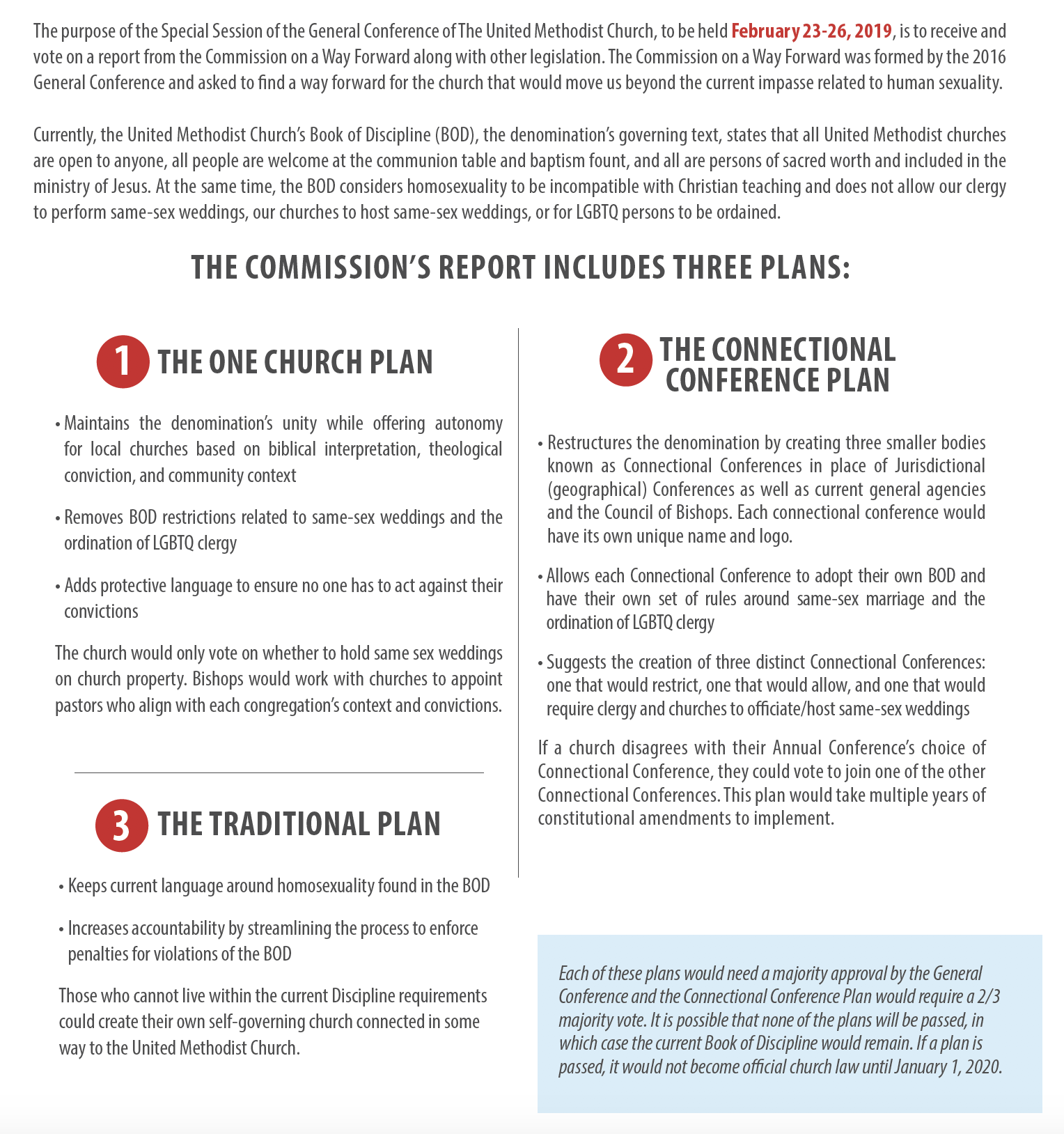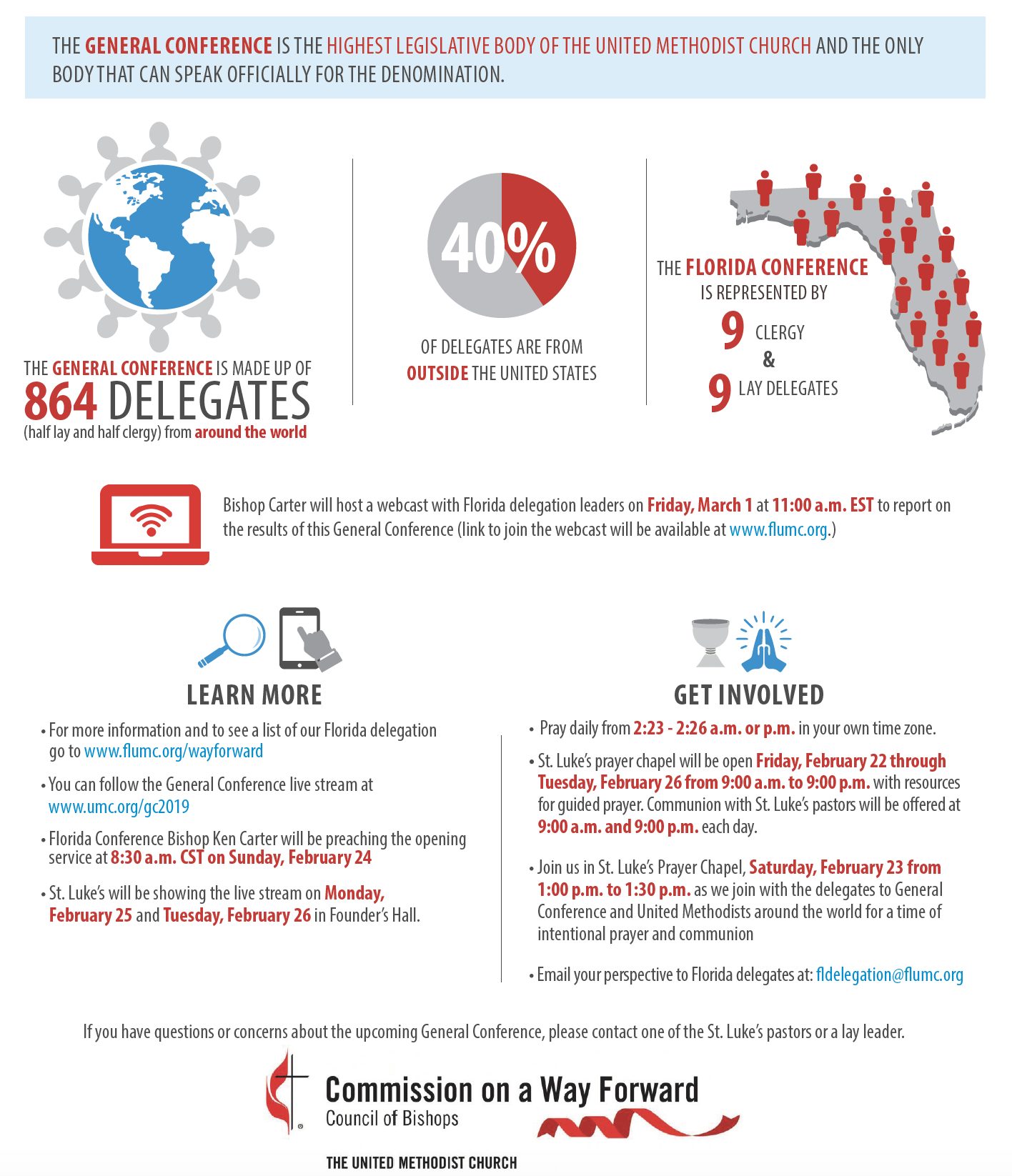 Click here to download/view the PDF version.
By the Numbers
• The General Conference is made up of 864 delegates
• 40% of delegates are from outside the United States
• The Florida Conference is represented by 9 clergy and 9 lay delegates
The Commission's Report Includes Three Plans:

The One Church Plan
• Maintains the denomination's unity while offering autonomy for local churches based on biblical interpretation, theological conviction, and community context
• Removes BOD restrictions related to same-sex weddings and the ordination of LGBTQ clergy
• Adds protective language to ensure no one has to act against their convictions
The church would only vote on whether to hold same sex weddings on church property. Bishops would work with churches to appoint pastors who align with each congregation's context and convictions.
The Connectional Conference Plan
• Restructures the denomination by creating three smaller bodies known as Connectional Conferences in place of Jurisdictional (geographical) Conferences as well as current general agencies and the Council of Bishops. Each connectional conference would have its own unique name and logo.
• Allows each Connectional Conference to adopt their own BOD and have their own set of rules around same-sex marriage and the ordination of LGBTQ clergy
• Suggests the creation of three distinct Connectional Conferences: one that would restrict, one that would allow, and one that would require clergy and churches to officiate/host same-sex weddings
If a church disagrees with their Annual Conference's choice of Connectional Conference, they could vote to join one of the other Connectional Conferences. This plan would take multiple years of constitutional amendments to implement.
The Traditional Plan
• Keeps current language around homosexuality found in the BOD
• Increases accountability by streamlining the process to enforce penalties for violations of the BOD
Those who cannot live within the current Discipline requirements could create their own self-governing church connected in some way to the United Methodist Church.
Each of these plans would need a majority approval by the General Conference and the Connectional Conference Plan would require a 2/3 majority vote. It is possible that none of the plans will be passed, in which case the current Book of Discipline would remain. If a plan is passed, it would not become official church law until January 1, 2020. 
Learn More

• For more information and to see a list of our Florida delegation go to www.flumc.org/wayforward
• You can follow the General Conference live stream at www.umc.org/gc2019
• Florida Conference Bishop Ken Carter will be preaching the opening service at 8:30 a.m. CST on Sunday, February 24 
• St. Luke's will be showing the live stream on Monday, February 25 and Tuesday, February 26 in Founder's Hall.
Get Involved

• Pray daily from
2:23 – 2:26 a.m. or p.m.
in your own time zone.
• St. Luke's prayer chapel will be open Friday, February 22 through Tuesday, February 26 from 9:00 a.m. to 9:00 p.m. with resources for guided prayer. Communion with St. Luke's pastors will be offered at 9:00 a.m. and 9:00 p.m. each day.
• Join us in St. Luke's Prayer Chapel, Saturday, February 23 from 1:00 to 1:30 p.m. as we join with the delegates to General Conference and United Methodists around the world for a time of intentional prayer and communion.
• Join us for a time of prayer and healing on Wednesday, February 27 from 6:00 to 7:00 p.m. in the Sanctuary as we pray for our church and the denomination.
• Email your perspective to Florida delegates at: fldelegation@flumc.org
Bishop Carter will host a webcast with Florida delegation leaders on Friday, March 1 at 11:00 a.m. EST to report on the results of this General Conference (link to join the webcast will be available at www.flumc.org.)
If you have questions or concerns about the upcoming General Conference, please contact one of the St. Luke's pastors at 407.876.4991 or a lay leader.
Frequently Asked Questions
How will this impact St. Luke's?

While the outcome of the special session of General Conference is yet to be seen, there are a number of principles that are central to St. Luke's DNA and these tenets will remain the same regardless of what happens at General Conference. These foundational pillars include:
Our Purpose: Building the Kingdom By Building Disciples
Our Vision: That the believers of St. Luke's United Methodist Church will reach as many people as possible in Central Florida introducing them to eternal life in Jesus Christ. Together, we commit to worship, connect, and grow as Disciples, to serve in building the Kingdom of God.
Our Core Values: At our center is the love of Jesus Christ.
We value Christ-Centered:
Acceptance: We recognize that Christ's love has no boundaries.
Hospitality: We welcome all to share Christ's love through help, hope, and healing
Community: We claim a sacred place where Christ's love unites all to support and care for others while nurturing a personal relationship with God.
Discipleship: We believe we are called to be living representatives of Jesus Christ and bring others to know God's mercy, justice, grace, and love.
Service: We respond to Christ's love and God's call, by sharing our time, talents, tithes, spiritual gifts, and resources.
We will live out these core values through the following ministry areas:
Worship: "Worship the Lord with gladness" Psalm 100:2
Worship is an opportunity for the people of God to gather to proclaim the revelation of God in Jesus Christ and be shaped and formed as we offer ourselves before God's presence. We will provide worship to reach a variety of people through the same message of God's word with different styles of music, art, and learning experiences.
Connect and Care: "Love one another" 1 John 4:7
St. Luke's will help people grow in their Christian faith so that they may live to be whole and complete in Christ. Through our Cluster ministries, we offer opportunities for connection, care and communication based on interests, life stage or geography. People will also have the opportunities to connect with the life of St. Luke's through "Discover St. Luke's" and "Partnership" classes that offer teachings on Christianity, Wesleyan Theology, exploring the Bible, St. Luke's culture, and more. Servant ministers will serve as Christ's disciples to provide love and care to those in need, in sickness, and in sorrow.
Grow: "Grow in grace and knowledge" 2 Peter 3:18
St. Luke's will provide opportunities for worship and spiritual growth that will help develop mature disciples of Jesus Christ. Utilizing St. Luke's Holistic Discipleship Framework, we will provide opportunities for individual growth, and both small and large group spiritual formation studies for children, youth, and adults. These ministries will encompass the total person: body, mind, and spirit.
Serve: "Do justice: love kindness: walk humbly with God" Micah 6:8
St. Luke's success in Kingdom building will be measured by the extent to which gifted, committed, and enthusiastic disciples of Jesus Christ are in a habit of serving in faithful obedience to God's will, both on campus, in the world, and in the community and with our community partners while witnessing to God's mercy, justice, and love.
Commit: "All things work together for good" Romans 8:28
St. Luke's will provide the informational, technical, and creative expertise to help all ministries of the church function effectively and with ease as they Build the Kingdom by Building Disciples. Each St. Luker's is invited to use their time, gifts and resources as a commitment to the ongoing work of the church both on our campus and within the community.
Whose Thoughts Matter?

At St. Luke's, everyone matters. Your voice, your thoughts, your presence, your heart…you matter. If you have questions about the Way Forward Commission, the three proposed plans, General Conference, or anything else, please don't hesitate to reach out to one of St. Luke's pastors or lay leaders. You can call the church office at 407.876.4881,
email the church office by clicking here
, or share your thoughts via a paper or
online connection card
(can be shared anonymously).
Submit a question about St. Luke's next steps following the UMC General Conference.

Click here
to submit a question about St. Luke's next steps following the UMC General Conference.
The Heart of St. Luke's Panel Discussion Video:

Pastor Adam Hamilton of Church of the Resurrection in Leawood, Kansas talks addresses his congregation following the UMC General Conference.

St. Luke's Combined Worship on March 3, 2019

A Statement from St. Luke's Church Council

Click here
to view A Statement from St. Luke's Church Council
Pastor Jenn's Video Message Following General Conference:

Pastor Bill's Video From the "Bible Says What?" Class: