Restoring Hope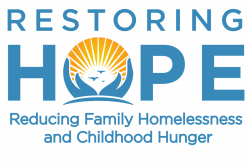 Your celebration offering restores hope for families facing homelessness and job loss, and children who don't know where their next meal will come from.
The PROMISE of hope:
$150
gives a family access to secondhand furniture
$350
connects utility services for a family
$1,500
covers rent for one month
$5,000
moves a family out of a motel and into their
own home
The COMFORT of a warm meal: 
$45
buys non-perishable protein-rich food items for
4 days for a family of 4
$70
provides a Bag of Grace for a family of 4
$350
sponsors an interactive and fun healthy
cooking class for 20 food insecure youth
$3,000
sponsors a year of non-perishable food items
and healthy snacks to high school students
The HEALING power of stability:
$40
changes car oil for a low-income car owner
$150
refurbishes a used laptop for virtual connection
$1,500
closes the transportation gap for a family
without a car
$3,000
compensates youth farmers from difficult
backgrounds to work on St. Luke's micro farm
The PRESENCE to thrive:
$120
sponsors entrepreneurship class for a low-income
individual
$2,500
sponsors 60 adult students in 12-week Jobs
Partnership classes
$5,000
starts a micro farm in a low-income community
$25,000
starts an 18-month Circles program for 15
adults and youth
How to give:
Tap "Give" on the homescreen of the app or click on the Give link below and select "Restoring Hope" from the dropdown menu
Note "Restoring Hope" in the memo line of your check, and drop it off at the church office.

The "Restoring Hope" initiative is part of the St. Luke's 2020+ Vision
Advent Offering

Your consistent percentage giving and tithes ensures the continued operation of vital facilities and ministries through the St. Luke's Operating Budget.
The PROMISE of ministry stability:
| | |
| --- | --- |
| $280 | pays for one day of property/liability insurance coverage |
| $1,400 | cleans the entire campus for one week |
| $2,160 | pays for toilet paper for one year (a precious resource these days) |
| $12,500 | pays for one month of electricity/gas for the entire campus |
The COMFORT of connection:  
| | |
| --- | --- |
| $20 | pays for a subscription for one Zoom room to facilitate an online class/support groups |
| $180 | pays for 12 adults to attend one GriefShare cycle |
| $800 | covers the cost of one funeral for a loved one |
| $3,650 | staffs one week of tech support for online worship |
The HEALING of discipleship:
| | |
| --- | --- |
| $50 | provides two kindergarteners with new Bibles |
| $150 | purchases curriculum for one spiritual formation class |
| $1,500 | buys a laptop for a ministry staff member |
| $8,000 | provides Sunday School curriculum for infants-5th grade for one year |
The PRESENCE of Christ's love:
| | |
| --- | --- |
| $25 | sponsors one family to attend a socially-distant St. Luke's event/gathering |
| $550 | covers registration for a community event booth for St. Luke's to meet our neighbors |
| $1,000 | pays for congregational assistance with bills, counseling, scholarship, or life help |
| Priceless | Worship that transforms the soul |
Give your gift in worship, in the church office, tap "Give" on the homescreen of the app, or click on the Give link below and select "Operating Budget" from the dropdown menu.

Vision 2020+ Restoring Hope
Ending Family Homelessness!
Be Part of the Solution!
As part of our Vision for Restoring Hope to impact family homelessness and childhood hunger, we are looking at ways that we can help make this vision a reality.
We can do this, but it will take all of us!
Please watch this video and share it with others too!
Contact Amy Winslow email or call 407.876.4991, ext. 297.
Restoring Hope FAQ 

How will my gift help children and families?

Your Restoring Hope Offering will go to:

moving working families from motels, storage units, and over-crowded houses into their own apartments
closing meal gaps for children facing hunger and who don't know where their next meal is coming from
connecting families with Jobs Partnership, Circles and other empowering programs.

How many children and families will be served? 

With your gifts…

60 families who are homeless at Maxey and Mollie Ray Elementary Schools (St. Luke's Educational IMPACT partner schools) could gain stable housing.
1,400+ food insecure youth at Olympia High School could focus on their studies instead of worrying about having enough to eat.
50 young people in East Winter Garden will have consistent access to nutritious food options.

How can I Restore Hope for children and families?

Mail your gift to: St. Luke's United Methodist Church (c/o Finance Office) 4851 S. Apopka-Vineland Rd. Orlando, FL 32819
Tap "Give" on the home screen of the app
Click/tap the "give" button below or visit st.lukes.org/give and select "Restoring Hope" from the dropdown menu.

Restoring Hope: Housing

Stable Housing – St. Luke's partners with 30 families from Maxey Elementary and Mollie Ray Elementary Schools. These families are precariously housed – living in motels or doubled up in over-crowded houses. Since June 2019, we have 12 families we have helped move into their own rental units.
Restoring Hope: Nutrition

Food Security – This initiative has two areas of focus: teen hunger and building a county-wide network to end hunger. In partnership with Olympia High School and Second Harvest, St. Luke's is providing healthy snacks and fresh produce to students through a student-run Titan Market Place.  St. Luke's is also one of 5 lead organizations which is bringing together organizations, advocates, government agencies, businesses and higher education institutions to build the Central Florida Alliance to End Hunger.
Restoring Hope: Empowerment

Empowerment  –
Once families are stabilized through the transition of becoming renters, we begin to connect them with empowerment programs such Circles and Jobs Partnership. These programs prepare participants for long-term stability and change the trajectory of multiple generations.
New Computer Ministry
We are helping to get computers to families who need them in this time of distance learning and remote working. This includes repurposing and refreshing used computers as well as building new low-cost computers. Click on the image below for more information.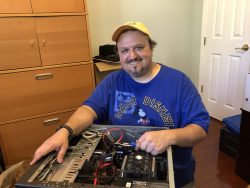 Computer Dads Make a Difference!
New Car Ministry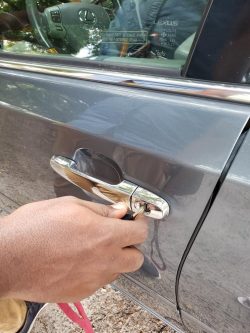 Contact Amy Winslow email or call 407.876.4991, ext. 297.