St Luke's Youth Ministries has created a Christ Centered Community where we welcome and accept others, connect with friends, are rooted and grow in our faith and, understanding of self, and use our gifts and leadership to serve others.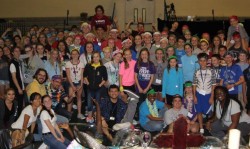 ABOUT ST. LUKE'S YOUTH MINISTRY

Mission Statement:
St. Luke's Youth will:
Embrace Life: learn to embrace life and all it has to offer, having fun, taking risks, laughing often and recognizing all of life is a gift from God.
Know Christ: understand their relationship and commitment to Christ
Own Faith: Build their faith with understanding of Creedal theology, Christian Character, Wesleyan heritage and St. Luke's Core Values
Value Self: Value their sacred worth, understand their gifts, passion and leadership and be prepared with life skills and independence.
Be Community: create a community with one another that reflects the core values of acceptance, hospitality, interdependence and respect both within youth and school.
Create Change: embrace the call toward social holiness and learn and participate in asset based, partnered ministry to cultivate their call and witness. 
For more information about our Mission Statement, click here.
Subscribe to Youth Newsletter

<iframe src="https://app.e2ma.net/app2/audience/signup/1811978/1770239/" width="510″ height="500″ frameborder="0″></iframe>
WEEKLY YOUTH SCHEDULE

Sundays:
9:30-10:30 AM- Sunday School- 5th- 8th grade students are invited to dive deeper into the parables on Sunday mornings. Meet in the Attic and then students will split into groups based on age.
 5th and 6th Grade MERGE: A collaborative ministry between Children's and Youth Ministries designed specifically for 5th and 6th Grade where activities connect scripture with everyday life. Meet in the Attic of Building C from 9:30 a.m. to 10:30 a.m. Email Zac Burke for more information.
9:30-10:30 AM- Sunday School- High School: Join us in C-205 as we col-lab-orate for discussion of the Old Testament and New Testament. Email Caryn Royer for more information.
6:00-8:00 PM- High School Youth Group- 9th-12th grade: Join us for Sunday night dinner ($5), games, and discussion as students take control of their faith.
Wednesdays:
3:00-5:15 PM- After School Program: All Youth are invited to the Attic to work on homework, hang out with friends, and play some games. Contact Zac Burke with questions.
Volunteer opportunities are available for Juniors and Seniors to help with Middle School homework and studying.  Email Caryn Royer to volunteer.
4:30-5:30 PM- Praise Band: If you are interested in leading Youth Worship for Middle School and High School.  Looking for vocalists, drummers, guitars/bass players, etc.  Contact Steven Leonard with questions and to sign up.
5:15-6:30 PM- Wednesday Night Dinners: Come get to know St. Lukers of all ages for a delicious dinner before we move into our separate groups.  Register online.  Meals are $6 for youth.
6:30-8:00 PM- Middle School Youth Group- 6th- 8th grade: Students are invited for fellowship, worship, games, and discussion on how faith impacts their lives and those around them.  Meet in the Attic.
6:30-8:00 PM- High School Small Groups- 9th- 12th grade: Meet in the Attic for praise and worship with the Youth Praise Band at 6:30 PM and at 7:00 PM head to :
C-201 for Animate: Faith is a study about what it means to be a faithful Christian.
C-205 for Creedo a study about why we still use the Apostle's Creed in the 21th century and why it is central to our faith.
YOUTH PRAISE BAND

If you are interested in leading Youth Worship for Middle School and High School.  Looking for vocalists, drummers, guitars/bass players, etc.  Contact
Steven Leonard
 with questions and to sign up.
Praise Band practices on Wednesdays from 4:30-5:30 PM.
CONFIRMATION

Confirmation at St. Luke's is a spiritual formation journey for students in 8th through 12th grade. St. Luke's encourages all eighth grade students to register for confirmation. ​The curriculum is designed with eighth grade students in mind but small groups are offered for High School students as well. The confirmation program uses a combination of large group presentation and small group discussion. Students will learn through guest speakers, a retreat, and visiting places of worship. Once all classes are completed, class members will have the opportunity to choose whether to be confirmed as full members of The United Methodist Church. Those that choose to be confirmed will do so in a special worship service for confirmands and their families. Confirmation starts on Sunday, August 28, 2016. Confirmation service will be Sunday, November 20. There will be a quick parent information meeting on August 14, 2016 at 12:15 pm in the Attic. Classes will meet on Sundays from 4:00 p.m. to 6:00 p.m from August 28th-November 13th in the Attic.
Mark these Dates:
8/28: First Confirmation Class 4-6PM in the Attic
9/4: No classes  (Labor Day Weekend)
9/30-10/1: Confirmation Retreat at Warren Willis
10/16: Make-up Day: Students that need to make up a lesson are encouraged to come this day.
12/11: Confirmation Service (Note: There will be a Confirmation Service rehearsal. Time TBA)
Register here.   Registration is back open, sign up as soon as possible!!
PUMPKIN PATCH

The Pumpkins are coming!!  The pumpkins arrive
October 12, 2016 at 4:00 p.m.
  Come for music and unloading with dinner and treats provided after.
Pumpkin patch shift sign up will be available begin September 5, 2016. Click here to register.
MISSIONS (SERVING OPPORTUNITIES)

Student Volunteer Opportunities
St. Luke's always has opportunities for student volunteers. Email to find out how and where you can serve.
Want to help in worship?!
If you would like to join the youth usher/greeter team serving every 4th Sunday in Contemporary Worship, contact Andrea Whitman for more information.
Adult Volunteer Opportunities
There are always opportunities to plug in and serve with Middle School and High School students! Weekly opportunities on Sundays and Wednesdays, as well as single events and overnight trips. Email to find out how and where you can serve.
Clean the World: September 10- 9 am – noon
Orlando ROC
400 Pittman St. Suite A
Orlando, FL 32801
Join us as we work at Clean the World.
Clean the World is committed to maintaining an environmentally and hygienically safe recycling process. As the world's first and only high-volume soap recycler, we ensure that all bars of recycled soap are completely safe and will not harm the end user due to disease or pathogens.
After it is collected and shipped to a Clean the World Recycling Center, bar soap is first surface cleaned. The soap is then sterilized with a process that has been tested and validated by SGS North America. The sterilized soap is ground, and the soap grounds are inserted into a soap manufacturing line and pressed into new bars. The bars are boxed and wrapped on pallets for distribution to those in need all over the world.
Click here to sign up!
Coalition for the Homeless: November 19
Support St. Luke's partnership with the Coalition for the Homeless!  There are 3 options:
Baking at St. Luke's- 9 AM- 1 PM
Cooking at the Coalition (High School only) – 12-5 PM
Serving – 5-8 PM
Click here to sign up!

Join St. Luke's Youth Ministry as we learn together what it means to be a Christian and do the work of the church in this digital age.  How can we use social media to make a positive impact in the world aside from just posting pictures and liking statuses?  Save the date for October 14th- 16th, 2016. Cost is $125 plus transportation. Registration begins in early September. Click here to sign up!
RELEASE FORMS

Parents when registering your student for events please consider any concerns your student may have with an event. Please feel free to contact
Zac
 or
Caryn
 with your concerns.
If you are planning on attending an event we MUST have a recent Medical Form for the 2016-2017 School Year on file for your student. If you know you have not completed this Medical Release form you can print here: Medical Release 2017
PHOTO/VIDEO RELEASE:
Help showcase St. Luke's Youth Ministries to other parents and students, complete a photo/video release form. Photos/video may be used on this webpage, St. Luke's official social media sites, and approved promotional material.
STAY CONNECTED WITH YOUTH MINISTRIES

Zac Burke
, Director of Middle School Ministries
Caryn Royer, Director of High School and Young Adult Ministries
Luky Nova, Administrator for Grow Ministries
The Youth Ministries offices are located on the first floor of Building C, classrooms and the Attic are located on the second floor of Building C.
To subscribe to newsletters and devotion emails, please complete the form and click the green button below.
COLLEGE AGE MINISTRY

St. Luke's College Age Ministry is specifically designed to meet the unique needs of college-aged young adults (18-25).  The purpose of St. Luke's College Age Ministry is to meet young adults where they are at and assist them in nurturing their relationship with Christ in a loving community as they navigate the ups and downs of this life-stage.
During semester breaks, college-age young adults are invited to get together for social gatherings of fun and fellowship.  A summer 2017 Mission Trip is also in the planning stages to provide an opportunity for you to stay connected to church and each other in a meaningful way.  As always, college age young adults are welcomed and encouraged to attend Worship whenever they are in town. Please fill out the form below and email it back to lnova@st.lukes.org, so we can have your updated information.