St. Luke's Youth Ministries exists to REVEAL the Marvelous Nature of God to students in the greater Orlando area, GUIDE them into wholeness through Jesus Christ and DEVELOP them into spirit-led Disciples who impact their community, nation and world.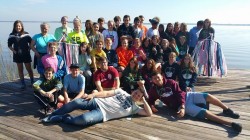 YOUTH GROUP

St. Luke's Youth Group is open to all Students in grades 6 through 12, and meets on Sunday nights from 5:00 p.m. to 7:30 p.m.
Sunday night Youth Group will include games, activities, music, nine square, small group discussion, large group message, and worship. 
We offer dinner during the small group time on Sunday night and students are asked to bring $5.00 to cover the cost of food. We understand that not all families can afford to pay for dinner so please don't let this be a reason that your student does not attend. Many families have offered to help offset the cost of these dinners so that all students will feel welcome and full.
YOUTH MUSIC

Sundays
Youth Band will start back in the fall.  Check back frequently for updates.
VOLUNTEER OPPORTUNITIES

Student Volunteer Opportunities
St. Luke's always has opportunities for student volunteers. Email to find out how and where you can serve.
Parent Volunteer Opportunities
Wednesday Interest-based Bible Study Leader: This adult volunteer will lead a group of youth in an Interest Based Bible Study on Wednesday evenings. This is a weekly commitment of approximately 90 minutes.  Click Here
Sunday Adult Check-In: This adult volunteer will welcome the youth to the UMYF night and check-in all students for attendance. This is a weekly commitment of approximately one hour. Click Here
Sunday Night  Small Group Leader: This adult volunteer will serve as a small group leader for UMYF night for either middle school aged or high school aged students. You will guide your small groups in discussions about the lesson. All lessons will be provided to a week a head of time. This is a commitment of two and a half hours every Sunday night. Click Here
5th & 6th Grade Merger Adult Help: The teachers of Merge need your help to support the growth of the Sunday School Class. Class is from 9:30 a.m. to 10:30 a.m. in Building C Attic. Click Here to sign up for a Sunday.
Sunday Morning Bible Studies – Adult Help
Sunday Morning we need more people in our 5-6 grade combined ministry called merge. This is a collaborative ministry between children's ministry and youth ministry.
We could use more people helping me co-teach 7 and 8th grade.
We need 1 more person to help out with 9-12
Click Here to get connected.
EVENT REGISTRATION

NOTE: There MUST be at least 10 students registered for each event. If we do not have 10 students we will cancel the event.
Parents when registering your student for events please consider any fears or concerns your student may have with an event. During events ALL students must stick together and if one does not want to partake in the event then it makes it difficult for the others to have fun.
Sunday, August 9-Laser Tag: Click here to register
Meet us at Extreme Laser Tag from 6:00 p.m. to 7:45 p.m. on Sunday, August 9, 2015 for a night of fun!
$20.00 for two games of laser tag, pizza and drink!
Extreme Laser Tag
10930 West Colonial Drive
Ocoee, FL 34761
This is open to all rising middle school and high school students!
Feel free to bring a friend!
***Parents will be responsible for drop off and pick up of students***
Contact Caryn Royer with any questions email croyer@st.lukes.org or phone 407.876.4991 *296
If you are planning on attending an event we MUST have an recent Medical Form for the 2014/2015 School Year on file for your student. If you know you have not completed this Medical Release form you can print here:  Medical Release
NEWSLETTER AND YOUTH CALENDAR

Calendar: 
You can download and print this document the
Newsletter Calendar – June to Aug 2015
To subscribe to newsletters and devotion emails, please complete the form and click the green button below.
SUNDAY PROGRAMMING

Sunday Morning Small Groups for Middle and High School meets at 9:30 a.m.
 5th and 6th Grade MERGE: A collaborative ministry between Children's and Youth Ministries designed specifically for 5th and 6th Grade where activities connect scripture with everyday life. Meet in the Attic of Building C from 9:30 a.m. to 10:30 a.m. Email Zac Burke for more information.
 7th and 8th Grade Bible Study: Grow deeper in the Bible with your fellow students. Meet in the Attic of Building C from 9:30 a.m. to 10:30 a.m. Email Zac Burke for more information.
9th through 12th Grade: Build a stronger faith connection. Meet in the Attic of Building C from 9:30 a.m. to 10:30 a.m.  Email Caryn Royer for more information.
CONFIRMATION

Confirmation at St. Luke's is a holistic education and spiritual formation journey for students in seventh through twelfth grade. St. Luke's encourages all seventh grade students to register for confirmation. ​While the curriculum is designed with middle school students in mind we offer small groups just for high school students as well. During confirmation classes students will learn about different religions and what makes Christianity and in particular Methodism unique. The confirmation program uses a combination of large group presentation and small group discussion. Students will learn through guest speakers, a class retreat, and through visiting other places of worship. Once all classes are completed, class members will have the opportunity to choose whether to be confirmed as full professing members of The United Methodist Church. Those that choose to be confirmed will do so in a special worship service for confirmands and their families.
Details for this coming year's confirmation dates to be announced.
MEDICAL AND PHOTO/VIDEO RELEASE:

Both the Medical and Photo/Video Release forms have to be completed yearly. This is mandated by the conference.
Click here for the 2014:2015 School Year Medical Release
Help showcase St. Luke's Youth Ministries to other parents and students, complete a photo/video release form. Photos/video may be used on this webpage, St. Luke's official social media sites, and approved promotional material.
YOUTH STAFF CONTACT AND LOCATION

Zac Burke
, Director of Middle School Ministries
Caryn Royer, Director of High School and Young Adult Ministries
Peggy Caverly, Administrator for Grow Ministries
The Youth Ministries offices are located on the first floor of Building A, classrooms and the Attic are located on the second floor of Building C.