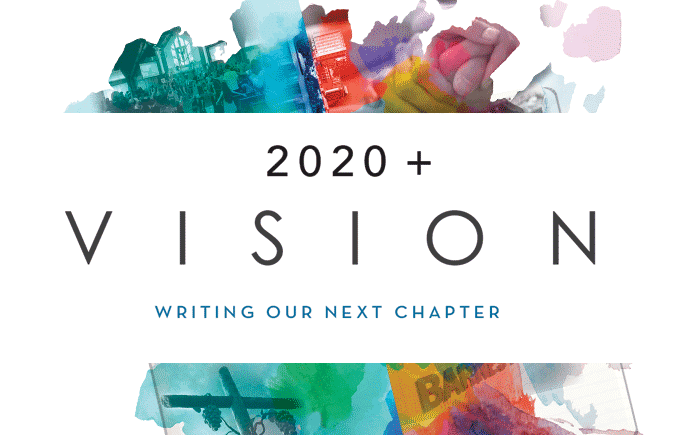 2020+ Vision Weekly Responses

Writing St. Luke's Next Chapter: 2020+ Vision

In 2011 we took our congregation through a visioning process we called 4D Vision for 3D people.
The 4D stood for the four-part Appreciative Inquiry process. Through worship and small groups, we were able to DISCOVER our strengths, DREAM about how our church gifts could meet the needs of our community, DESIGN our lives to help fulfill God's dreams and then create a five year strategic vision to create a DESTINY  of building the Kingdom in six world changing ways. For five years, staffing, resources, ministry objectives and new initiatives, COMMIT campaign and East Winter Garden Communion Transformation came about because of this 4D vision.
It's time to do some discernment again. Using the Appreciative Inquiry Process, we will listen to our congregation and community to glean your insight with the same four steps in order to Write the Next Chapter of St. Luke's story.
To get us listening and thinking as a community, during August the Visioning Team and I hosted a series of  Vision Listening Posts. Individuals, families, or as a small group, cluster group, or care group, you could sign up to share your thoughts around the 4D vision of the last five years. We invited you to read the 4D vision before each session and then a listening post scribe recorded notes.
Four questions were used to guide our conversation at every Listening post.
How does this vision and these strategies ignite your passion? What changes have you experienced because of these?
What commitment, change or response have you noticed in our congregation or community as a result of this vision?
If you started attending within the last five years, which of these strategies brought you in or draws you toward this community?
What did you expect to see over the last 5 years that you have not seen happen?
The notes from each listening post are here to help you understand what the congregation has been considering over the last five years about the work of our strategic vision. The vision team will use this data along with the answers to your questions in September and October to begin to create a strategic direction for the next 3-5 years. Those will be brought back to the congregation for confirmation the first of 2018. Ministry teams will then take each strategy and create measurable outcomes and objectives which will then be brought back to the congregation for a charge conference confirmation in early spring. Watch St. Luke's 3 Lead Pastors (Rev. Jennifer Stiles Williams, Rev. Dr. Bill Barnes, & Rev. Dr. Jim Harnish) talk about the church's past, present, and future as we get ready to write a new vision for the next 5 years.