Dear St. Lukers,
Twenty years ago this week.
You all know where you were on that beautiful, no-cloud-in-the-sky Tuesday.
You know what you were doing minutes after 8:46 a.m.
You know what you felt just minutes after 9:03 a.m.
Last week I was changing my seating for a Zoom meeting, and I moved something on the bookcase behind me that I had placed there haphazardly. I uncovered this picture.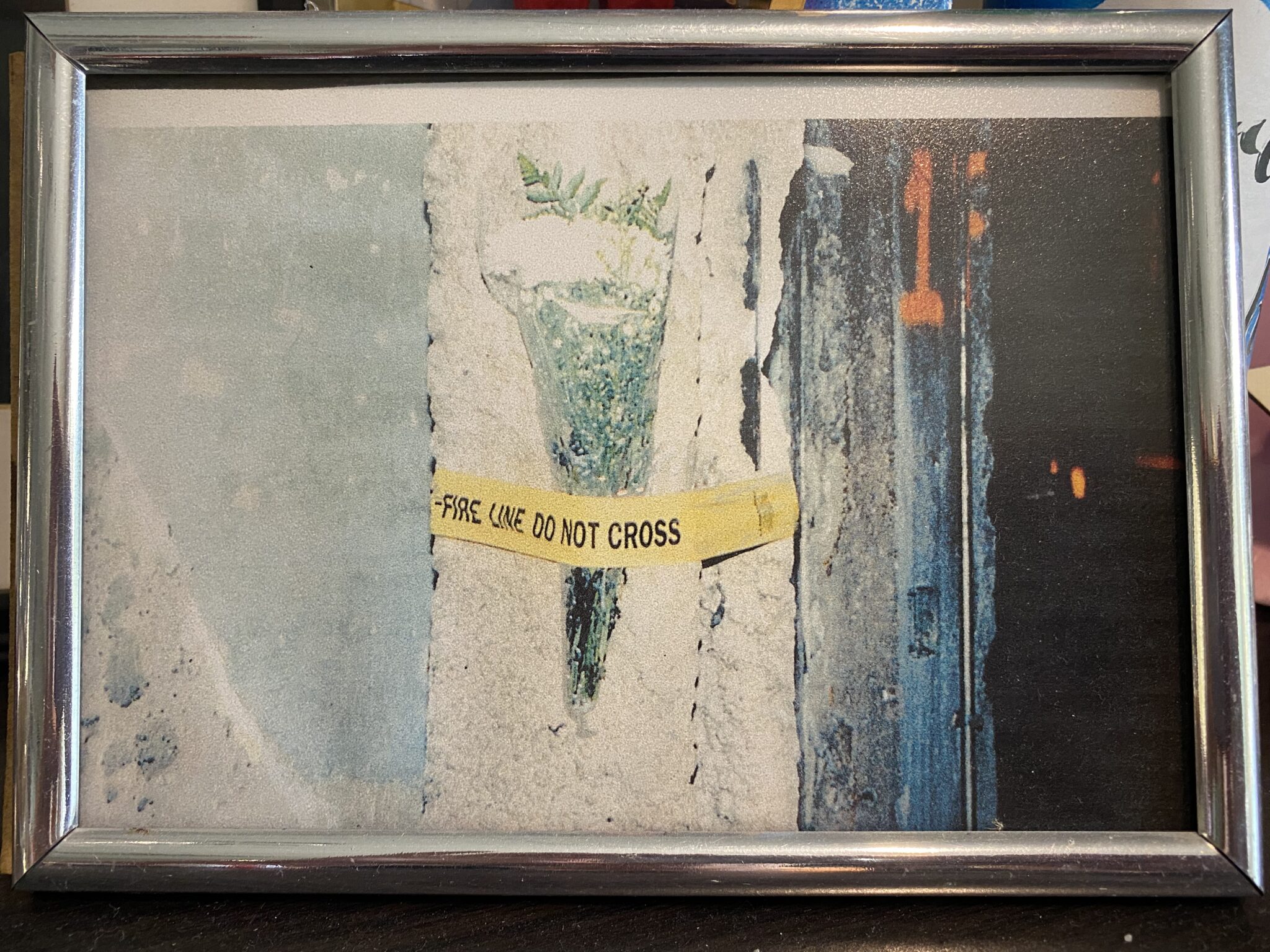 This picture was taken for me by a church member in Jacksonville who was a part of the ATF who offered search and rescue help at the Pentagon after it was struck on that Tuesday at 9:37 a.m. on 9/11. He sent me this picture of flowers he and his partners placed on a post in the rubble after they determined no more bodies would be rescued. It was his way of honoring the fallen in a tragedy that shook the world.
As I look at that picture from 20 years ago, I remember another picture I cannot find. The one we took when we received a private 3:00 a.m. tour of ground zero about six months after from a security guard. As we were walking back to our hotel we were walking around the fence in silence. We came upon this very nice man who answered questions about that day, he had been working. We told him we worked at a church as I took pictures of the beams that were left that formed a cross. He looked around and said, "come on in and get a closer look."
We walked around the platforms and I was struck by the pain, the brokenness and grief held in that sacred space. I prayed around the entire perimeter of the space, and asked God why? What happens to us to let us be so divided as one world to create such violence and destruction against other human beings? But I also remember how in those days after, as I led in a large church, in a large community – there was a sense of unity. At least for a little while, before we started to become afraid of our Muslim siblings, or divide back up politically. There was a brief moment, a Kin-dom moment, where our collective grief and sadness made us one, we looked out for one another, held each other more closely, held candles to push the darkness back with light.
I felt that collective spirit after Pulse here in our community and ironically, in the first part of 2020 as the world moved into quarantine. We were all in the same place, collectively turning to one another for support, encouragement, care. It's those moments when God, through our unified hearts is Revealing the Kingdom among us, this is both now and not fully yet. As I reflect on this week, I am even more impassioned that our role as the church is to help disciples learn, live and love God and God's story, in order to lead lives that ensure those Kingdom revealing moments don't just happen after or in the midst of tragedy, but become the norm we are creating in our communities. Every day. In the normal, routine of life.
Throughout the Bible, we read God wrote a story of relationship and community. God in relationship with Godself, Creator, Son, Spirit seeking to create relationship with humanity. Reading the stories of God and God's people throughout time, we see that every time a king, or a people turned toward self-interest (sometimes using God's name to rationalize the act) and turned away from the good of the collective people, it failed. Which is why this week in worship is so important as we look at the character of the Nemesis in David's life, realizing it is himself, his ego, his individualism. I invite you to read 2 Samuel 11 and listen or watch our Sunday night Learn Lecture to get some background. Pastor Jeremy and I will be tackling this tough text and this nemesis role we fight in our lives.
However you remember or commemorate 9/11, may the spirit of the collective unity we felt in those days that followed, sit with you not as a memory, but as hope. May it be a hope of what we have, the power through Christ to recreate in this world every day, when we awaken as his disciples who through our love and passion around his story, seek to lead our lives like Jesus.
Grace and Peace,
Jenn.