Dear St. Lukers,
Today marks the 50th anniversary of the assassination of Dr. Martin Luther King, Jr. at the Lorraine Motel in Memphis, Tennessee. Across the nation tonight at 6:01 p.m. CT, bells will ring to not only remember, but to reflect and look to the work of justice and rights still needed in our nation and world today.
In January, my sister, mother and I took the time to go on a Civil Rights tour in Atlanta and through Alabama. One of the stops was Montgomery, where I stood at the small Baptist church where Rev. King was appointed in his early twenties. It is literally blocks away and in the shadow of the State Capital and it was here that as a young pastor, Dr. King was a part of organizing the Montgomery bus boycott. As I stood at the intersection, I felt the weight of the bravery of these young men and women who fought for justice. I thought about how easy it is to be distracted and let justice and the work of equal opportunity be the job of "someone else."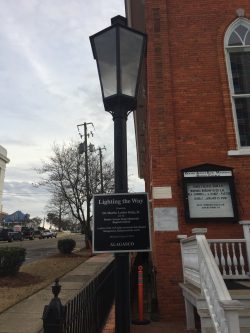 We are called to be IMPACTORS still today. The work is not over, the journey of civil rights is not finished. As real and resurrected followers of Christ, we are still called to allow the impact of Christ to use our lives to impact the world. Micah 6:8 reminds us of this call when the prophet says:
" He has told you, human one, what is good and what the Lord requires from you: to do justice, embrace faithful love, and walk humbly with your God."
Tonight, as the clocks turns for us to 7:01 p.m., why not let a bell ring, have a moment of silence, pay respects but also ask God – what is it I can do to be an impactor for you?
In his speech The Drum Major Instinct, given at Ebenezer Baptist Church in 1968, Dr. King adapted the words of J Wallace Hamilton. He said, "Everybody can be great … because anybody can serve. You don't have to have a college degree to serve. You don't have to make your subject and verb agree to serve. You only need a heart…" May our hearts answer the call of God, to continue the work of all those who have been brave before us.
With hope and peace,
Jenn.
Click here to read the full Weekly Update.