Dear St. Lukers,
The season after Easter and through May is always a big one here at St. Luke's. I am sure it is for you as well. We have classes ending, confirmation worship, the Child Development Center's Mother's Day tea, firming up plans for VBS and mission trips, the children's musical, UMW Tea, our production of Children of Eden, and much more. Every week of May has special things to acknowledge and celebrate in worship.
Last week we celebrated 25 Confirmands joining the church in an afternoon service. A great big "thanks" to those who came to support this incredibly important milestone in our young people's lives. A huge shout-out to Brandon Sangster and Antony Larry, our youth leaders, and all of the Confirmation Small Group leads for their work with these young people since January.
This weekend we celebrate the graduating seniors from high school and college. We have a great group of seniors headed off to colleges with amazing honors, and also headed out into the world of employment or graduate school. In speaking with many of them, you can see the excitement and anxiety in their faces. You remember what that was like, right?
This week in worship Pastor Corey and I will be sharing from another encounter with the Risen Jesus. It is one of my favorite stories as it shares a deeply intimate and relational Jesus offering Peter forgiveness but also a calling. As I shared last week Easter Resurrection is not simply the assurance of Christ risen and conquering death but demands our response of being on mission. As we celebrate all of our graduates, we celebrate the resurrection missions they are about to embark on, called by God to follow Christ into new relationships, communities and understandings of who they are created to become. Please join us in worship and prepare your hearts by reading John 21:14-19.
We will also have a preview of the Children's Musical "Faith News." You can still purchase tickets to come see a large cast of our St. Luke's youngest shine in this musical with a great message on Saturday, May 11 at 2:30 p.m. Again, this is your chance to show our children and their families support and build relationships as we seek for all adults in our church to B1of5.
By now I am sure the word is out regarding the Pastoral Appointments shared Sunday on Announcement Day. Pastor Jad and I are grateful for the calling by God to continue to minister with you for the next year. (Melissa as a Deacon is not in the itinerant system but will be continuing alongside us as a part of your pastoral team). Pastor Corey will be appointed as Lead Pastor at Pasadena Community United Methodist Church in the St. Pete area beginning July 1. This appointment is a wonderful opportunity for Corey, Carol and the boys, but we are certainly going to miss serving with him. As our first African American pastor, Corey has served St. Luke's and all of us with grace and passion as he has taught us how to continue to embrace the diversity of the neighborhoods we serve. Staff Parish is committed to our vision for a diverse clergy team to lead St. Luke's. We will be conducting an extensive search to find the right person who fits St. Luke's culture and theology, is passionate about our values and can thrive with flexibility and grace in our fast paced always changing ministry setting. You will have the opportunity to join us in a celebration of the entire Jones family in June and send Corey and Carol off with love. Details will be coming soon! We know the congregation will miss Corey, but I can't tell you the grief we have as clergy to be missing one of our Super Squad. We have been through transition, cancer, grief, national and local tragedies and creating an entire vision together. He will be greatly missed as the process person among us, the jokester on staff, and most of all as a friend.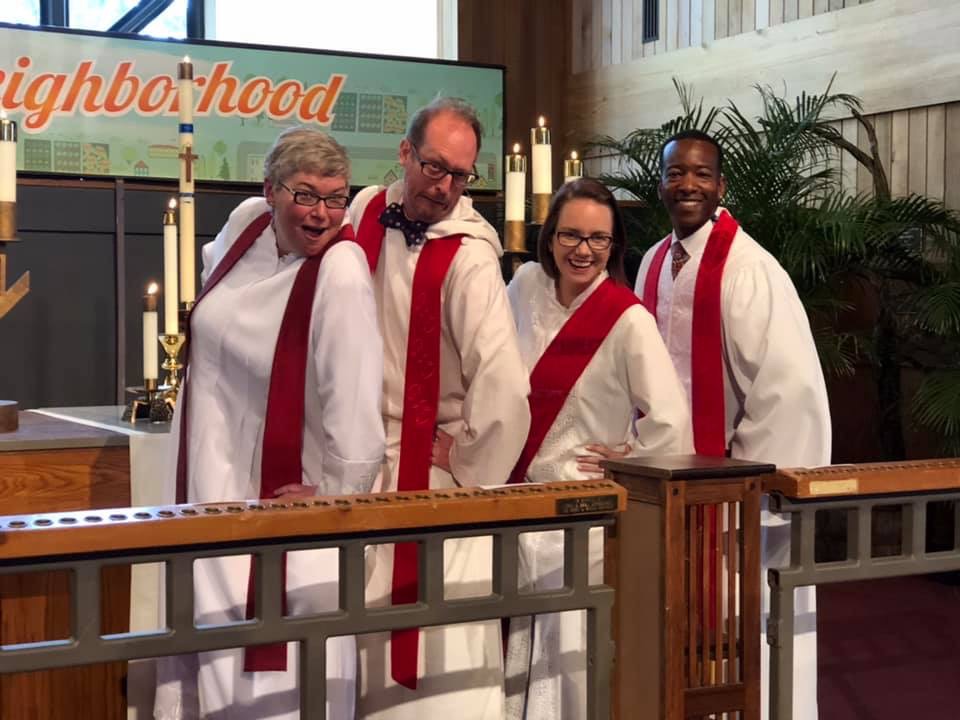 See you Sunday as we celebrate not only our children and graduates but the intimate call to follow Jesus through this amazing church, where St. Luke's is not the same without U.
Grace and peace,
Jenn.
Click here to read the full Weekly Update.