Published: 7/29/2021
In light of new guidance issued this week by the CDC, masks will now be required inside all St. Luke's buildings. The CDC recommends masks indoors in public places in areas of high transmission regardless of vaccination status. Orange County is considered a high transmission area according to the CDC, state and local statistics. St. Luke's is keeping the health and safety of our congregation and community as our highest priority by requiring masks indoors in accordance with the request issued by Orange County Mayor Jerry Demings and the Florida Conference of the United Methodist Church.
We ask that all St. Lukers, guests, staff, and vendors please wear a mask while indoors on the church campus and continue to social distance. If you haven't been able to, please consider getting your vaccination as we move through this challenging time.
Published: 5/27/2021
As St. Luke's continues to evaluate how best to connect with on-campus and online worshipers, starting June 6 on-campus Traditional worship will shift to 9:15 a.m. This will allow for a more personal online Traditional worship experience at 11:00 a.m. on St. Luke's Facebook page.
Published: 5/19/2021
Moving forward with St. Luke's Phased Campus Reopening Plan, we will embrace our core values of acceptance, hospitality, and community as we continue to offer grace and space for all our church family members and guests regardless of COVID-19 vaccination status. We recognize the diversity of our congregation in terms of vaccinations, comfort level with adjustments of guidelines, and the variety of reasons for choosing to return or not return to campus at this time. With these considerations in mind, we lean into a covenant of trust and empathy outlined in the Old Testament understanding of hospitality as "chesed." This expression calls our family of faith to love one another with the faithfulness and protection God offers to each of us.  
Effective immediately we will no longer require registration for worship. Capacity in each worship venue will be limited and seating will be on a first-come basis. Those who are fully vaccinated are not required to wear a mask on campus and are invited to participate in congregational singing in worship. Those who are not fully vaccinated (over the age of 2), are expected to continue wearing masks. For the time being, please continue to social distance on campus. 
Children are always welcome in worship at St. Luke's and families can choose to worship with children 11 and under for the entire worship service or until they are dismissed for Worship Enrichment. Families may also drop off children for a full hour of children's programming up to 10 minutes prior to the start of worship. For the health and safety of our youngest disciples, masks will be required in Buildings A and B. Those working with children 11 and under will continue to wear masks to protect children who are not yet vaccinated. 
We will depend on one another to live into these guidelines with care and courtesy for the needs of others as much as for ourselves. Thank you for following St. Luke's COVID-19 protocols as we seek to keep the health and safety of our congregation, staff, and community as our highest priority. 
Published: 5/15/2021
St. Luke's COVID-19 Task Force is carefully reviewing newly issued CDC, Department of Health, and local and state mask guidelines. In keeping the health and safety of our entire congregation, staff, and community as our highest priority, at this time we will continue to follow our current protocols for masks and social distancing. St. Lukers, staff, and guests please continue to wear masks and social distance while on St. Luke's campus.
St. Luke's Covid-19 Task Force will be releasing updated guidelines this week. Thank you for keeping our church family healthy and safe by continuing to follow St. Luke's COVID-19 protocols.
Published: 5/13/2021
Thank you to those who have been worshiping in person every other week to make space for all our church family and guests. We have reconfigured our worship venues to increase capacity while maintaining social distance between family groups. We have also followed the lead of our major theme parks and will no longer have temperature checks as you come in for worship. Masks will continue to be required. Please register to join us for worship on campus this Sunday by clicking here.
Published: 3/11/2021
St. Luke's will be adjusting worship service times starting March 28 (Palm Sunday) to the following times:
9:15 a.m. Contemporary in Founder's Hall
11:00 a.m. Traditional in the Sanctuary (NEW TIME)
Published: 2/9/2021
St. Luke's will resume on-campus worship on Sunday, February 14! When registering for on-campus worship, you can select one of two worship times:
9:15 a.m. Contemporary in Founder's Hall
11:15 a.m. Traditional in the Sanctuary
Registration opens Wednesdays at 9:00 a.m. weekly (children's programming available by registration).
Published: 1/5/2021
St. Luke's COVID-19 Task Force has been carefully monitoring Coronavirus cases in our area. As of January 2, the rolling fourteen-day average positivity rate in Orange County was 10% and climbing (a rate not seen since mid-July 2020). With the increase in local cases and percent positivity, and in keeping the health and safety of our congregation, community, and staff as our highest priority, St. Luke's is temporarily pausing on-campus worship.
This decision follows the guidelines set forth by the Task Force in 2020 and takes into account scientific data including:
Hospitalizations for COVID-19 are at, or approaching, an all-time high for Orlando Health and Advent Health systems since the onset of the pandemic (as reported to St. Luke's by hospital representatives)

Since Christmas, we have seen three consecutive days of greater than 1,000 positive cases per day in Orange County with over 1,200 new cases reported on December 31

The highest number of daily positive cases in Orange County has surpassed the worst month recorded back in July.
Published: 10/7/2020
Registration for St. Luke's 11:15 a.m. combined on-campus worship service in the Sanctuary will open on Wednesdays at 9:00 a.m. each week at www.st.lukes.org/worship.
St. Luke's will continue to offer a live online worship service at 9:30 a.m. each Sunday. If you feel sick, or if you are in a high-risk health group, please do not visit St. Luke's campus. Please monitor yourself closely for symptoms of COVID-19 to keep your neighbors safe. A completed Health Declaration Form is required upon arrival to St. Luke's campus or prior to participation in St. Luke's in-person ministries on or off-campus (the date and time of your submission are automatically recorded). A link to this form will be included in your registration confirmation email.
ON-CAMPUS WORSHIP FREQUENTLY ASKED QUESTIONS
Q: Is a new registration needed each week?
A: Yes, a new registration is required each week. Registration will open on Wednesdays at 9:00 a.m., and will close once the venue has reached its reservation capacity for this phase.
Q: How often can I worship on-campus?
A: While Sanctuary capacity is limited in this phase of St. Luke's Campus Reopening Plan, please consider a mixture of online and on-campus worship to allow space for all those wishing to worship on-campus.
Q: Is there a deadline to register for worship?
A: Yes. In this phase of St. Luke's Campus Reopening Plan, on-campus worship will be limited to 100 people. We ask that you fill out an online reservation form (coming soon) once registration opens each week. Registration will close once the venue has reached its reservation capacity for this phase.
Q: Am I reserving specific seats?
A: Registration does not include specific seats. When you enter the Sanctuary, a St. Luke's Worship Host will guide you to a seating area based on the number of people in your party. Please refrain from changing seats once you are seated. Please do not rearrange seating areas.
Q: Can I attend a service I didn't register for?
A: In order to accommodate as many worshipers as possible, in a manner that is safe for St. Luke's congregation and staff, we ask that you make every effort to register before arriving on campus for on-campus worship. Limited walk-in seating may be available but is not guaranteed.
Q: Do I need to cancel a reservation if I am not able to attend?
A: Yes, please email Luky Nova to cancel your reservation if you are unable to attend so that we can accommodate other on-campus worshipers.
Q: Will we be wearing masks?
A: Yes. Masks are required anytime you are on the St. Luke's campus for the safety of yourself and those around you. If you do not have a mask, one will be provided for you. If it is not possible for you to wear a mask while on St. Luke's campus for worship, please join us for online worship. Pastors and other worship leaders will also be wearing masks unless actively speaking or singing.
Q: What precautions is St. Luke's taking to help keep worshipers safe?
A: St. Luke's is taking the following precautions (based on guidance from the Florida Conference of the United Methodist Church and the CDC):
Limiting capacity – in this phase of St. Luke's Reopening Plan, the seating capacity in the Sanctuary will be limited to 100 people.
Taking temperatures at the door – each person entering the Sanctuary will get their temperature checked. Those who register a temperature higher than 100.4 will be invited to worship online.
Encouraging social distancing – please keep six feet between you/your group and others.
Managing traffic flow to worship entrances and exits – Worship Hosts will guide worshipers to and from seating.
Requiring face coverings – face coverings that cover your nose and mouth completely are required when on St. Luke's campus for anyone over the age of 2 (a face shield can be worn in addition, but not in place of a face covering).
Disinfecting and sanitizing regularly – the worship space will be disinfected regularly along with high-touch areas such as door handles; we have installed multiple hand sanitizing stations throughout our campus, please use these frequently as you pass them.
Promoting contactless greetings – please do not hug, touch, or get close to individuals who are not members of your household; alternative greetings include a smile, wave, nod, etc.
Arranging socially distant seating – once seated, we ask that you remain in that location for the duration of the service. Please do not rearrange seating areas.
Reducing unnecessary contact – high-touch items like Bibles, hymnals, offering envelopes, and Connection Cards have been removed from the pews and printed material will not be distributed. Please download the St. Luke's Orlando app to access supplemental worship materials.
Temporarily suspending refreshments – coffee and donuts will not be available. Please refrain from bringing outside food and beverages into the Sanctuary because consuming these items would require the removal of face coverings.
Q: Will we be singing in worship?
A: Due to the abundance of research on singing as a "super-spreading behavior" we will be asking you to not sing in worship. We invite you to worship through music by paying close attention to the words of the songs in a worshipful way, and you may whisper or hum under your mask, but we ask that you please do not sing. Our worship leaders will help you remember this, and our musicians will be spaced at additional distance in order to provide the safest possible environment for our musicians and congregation while still leading us in worship.
Q: Can I come early/stay after worship to visit with friends?
A: We miss seeing our church family, too, and wish we could stay for a longer visit, however we ask that for the health and safety of those on-campus, everyone please maintain six feet distance between yourself and other parties while entering and exiting worship.
When you arrive on campus, please follow the directional arrows to the main entrance of the Sanctuary, where you will be greeted by a Worship Host. A Host will check your temperature and ask about the number of individuals in your party before guiding you to your seat. Please follow all instructions from Worship Hosts and do not arrive more than 15 minutes prior to the start of the 11:15 a.m. service.
When the worship service is over, Worship Hosts will dismiss everyone row by row, and invite you to exit via designated exit doors. As you exit, we ask that you please not linger in the Sanctuary or in walkways so that we can expedite this new exit procedure.
Q: Will we be passing the offering plate/basket?
A: We encourage you to use online giving, give via the St. Luke's Orlando app (download it here) or contact Andrea Whisnant for help in setting up recurring giving. If you choose to give in person, offering boxes are available as you enter the Sanctuary. We will not pass offering plates during the service.
Q: Will restroom capacity be limited?
A: Yes, the restrooms in the Narthex of the Sanctuary will be limited to two people at a time.
Q: Will childcare or Sunday School be available on campus?
A: In this phase of St. Luke's Campus Reopening Plan, childcare and Sunday School will not be offered on campus. Look for all new age-appropriate lessons, events, and programs coming this fall to st.lukes.org/children.
Q: Will youth Sunday School be available on campus?
A: Youth small group meetings are resuming this fall. For more details email St. Luke's Youth Ministries or visit the St. Luke's Youth webpage.
Published: 9/24/2020 (an excerpt from Pastor Jenn's Weekly Update email)
"…New on moving forward on-campus…please watch your Weekly Update and special announcements in worship and on social media as we work toward bringing limited numbers of guests back to campus for an 11:15 a.m. worship service on October 11 in addition to continuing our online worship at 9:30 a.m. We are also working on a camp-meeting style, socially distant, outdoor picnic we hope to announce later this fall.
In order to attend anything on campus, including worship, there will be a reservation system. We want to start smaller than our social distant capacity in the Sanctuary (which is only 225 people) to give us time to practice guidelines, so we ask you to consider splitting your time between online and on-campus as you begin considering making plans. We will have videos next week to help you see and understand the guidelines which will include reservations and a health declaration form completed by Saturdays, masks, no congregational singing, and no gathering before or after worship. These are all guidelines every church is following across denominations based on the data and science for safely gathering. It will give you time in the space, and a chance to see faces, but remember, it will be different than what you may be thinking. It's a new day in how we gather and that includes how we worship. But as we have been understanding from Jesus, this is what it means to be disciples who seek to live for the good of all God's beloved. And we can do hard things.
Until then, may grace and love find you until we gather online for worship together this Sunday,
Jenn."
Published: 7/27/2020 (updated 9/3/2020)
St. Luke's Chapel Open for Personal Prayer
The Chapel in Building C is open Monday – Thursday from 10:00 a.m. to 2:00 p.m.
To help ensure the safest environment possible, please adhere to the additional precautions below:
Published on: 7/14/2020
Click the image below to watch a special message from St. Luke's Church Council leaders about our Phased Campus Reopening Plan:
---
Published on: 6/20/2020
Dear St. Lukers,
St. Luke's Campus Reopening Task Force met yesterday in response to the rising number of positive COVID-19 cases in Florida and Orange County, as well as the Mayor's decision to create an executive order requiring face coverings in public. While we see constant changes in virus confirmations and information, St. Luke's commitment to your health and safety remains our top priority.
Upon evaluation of data from the Orange County Health Department, the daily positivity rate percentage has moved from hovering around 5-6% over the last weeks to raising over the last three days to 15% on Friday. The average median age is also on a downtrend, meaning the average age has shifted to not only affect grandparents but now moving toward the ages of parents and caregivers of our children and youth.
The Task Force has requested we hold on moving to the first phase of hosting small in-person groups on campus until there is more consistent trend data. In the meantime, the Task Force and Directors will meet with two different healthcare providers on Tuesday to gain more information. The first meeting will be a walk-through of our facility to ensure spacing, sanitation, and ventilation are correct to provide the safest conditions possible. The second will be a meeting with a data analytics specialist who will provide further information on trends to watch. We will utilize information from these meetings as well as an agreed-upon dashboard of metrics to continue evaluating operating decisions for our church and outreach to the community.
Questions can be submitted to the Task Force by clicking here. We are grateful for your patience and understanding as we move through these times and we encourage you to pray for one another and take care of yourself and those around you.
With Hope and Healing,
St. Luke's Campus Reopening Task Force

Katy Slack Chair, Church Council
Jim Atchison, Vice Chair, Church Council
Jon Crump, Chair, SPR
Debby Zutter, Chair, Trustees
Warren Willis, Co-Lay Leader
Yvette Desrosiers-Alphonse,  Co-Lay Leader
Phyllis Van Dyke Thompson, Church Council member
Janet Burnley, St. Luke's member
Jennifer Stiles Williams, Scooter Leonard, Dawn Fleming, Melissa Cooper, Steve Schneeberger
---
Published on: 6/4/2020
St. Luke's Campus Reopening Task Force, which included staff, lay leaders, chairs of Trustees, Church Council, Staff Parish, and lay leaders from theme parks and local business, created a phased approach to engaging ministry on St. Luke's campus. The Task Force's recommendations were shared with Church Council on June 2, 2020.
The St. Luke's Phases were created with the grounding of:
St. Luke's Core Values: Christ-centered Love lived out in Acceptance, Hospitality, Community, Discipleship, Service
The three General Rules of the Methodist Church: Do no harm, Do good, Attend to the ordinances of God
St. Luke's COVID-19 Priorities: Safety and health, Connection and care, Financial strength and support
The recommendations help create a roadmap for staff and leaders to slowly and cautiously begin to offer on-campus ministry in addition to continuing ministries online. Precautions from resources like the Centers for Disease Control and Prevention (CDC) include:
Utilizing face coverings
Washing/sanitizing hands frequently
Providing additional hand sanitizing stations
Maintaining social distancing including seating in venues
Increasing sanitation practices after every gathering
Disinfecting areas of campus daily between noon – 2:00 p.m. and nightly
These precautions will be part of our new social covenant with one another.
In early May, St. Luke's solicited feedback on reopening campus by sending out a church-wide survey. The survey responses from St. Lukers were used in addition to other resources in preparing the phased reopening plan.
On Monday, June 8, St. Luke's staff members will begin returning to work on campus as needed in a staggered schedule. We will continue to encourage our most vulnerable staff to telework and those on campus will practice our new precautions of face coverings in common areas, social distancing, continued online meetings, and using new sanitation equipment and protocols.
St. Luke's first public phase will begin after the June 15 guideline from the Florida Annual Conference of the United Methodist Church and approximately 2-3 weeks after the first theme park opens. This first phase will include:
Opening the church office for limited hours by appointment only
Opening the Sanctuary during specific weekday hours for private worship
Welcoming small groups of 15 or less to gather on campus
You will notice signage about St. Luke's new campus protocols at the entrance to each building.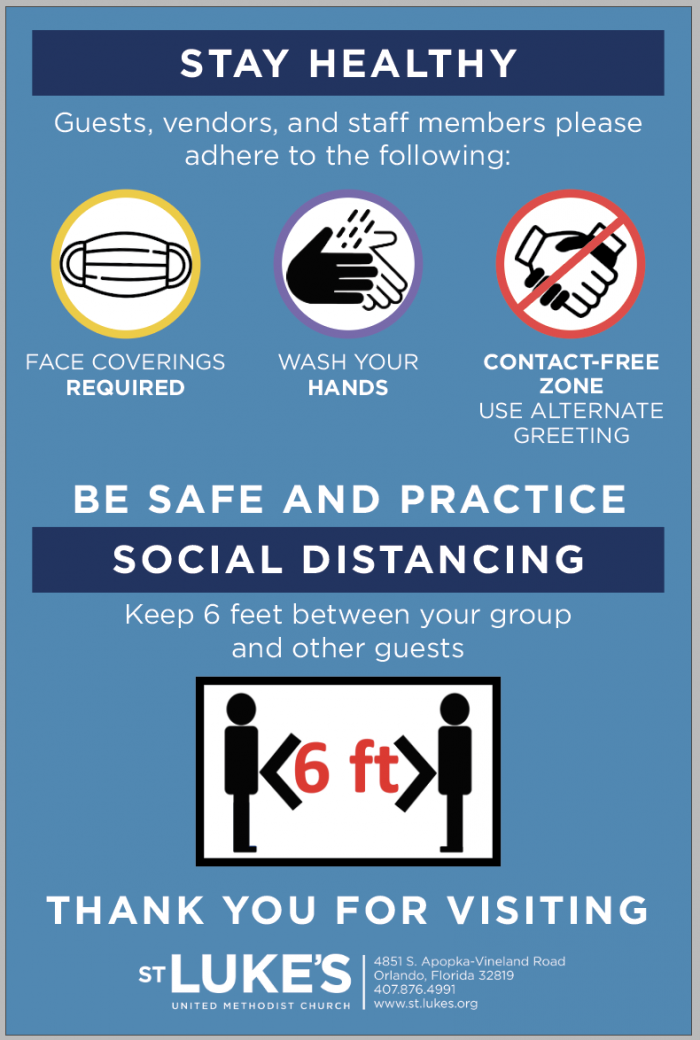 It is important to note that St. Luke's Phases are subject to change. Any spikes or concerning rise in rate of positivity will be used to revise and postpone the movement to the next phases.
We all want to know more about returning to on-campus worship, so members of the Campus Reopening Task Force have compiled resources and information to consider:
Arranging on-campus gathering spaces (worship venues, classrooms, etc.) in keeping with social distancing guidelines greatly reduces capacity
Reservation systems, asking communities to stay home and not participate, and the limitation of contact, diminishes our core values and what we hold dear about worship at St. Luke's
Research confirms singing and congregational singing spreads the virus more forcefully than speaking conversationally.
St. Luke's current online worship enables us to gather with the most people possible, utilize more people to represent St. Luke's diversity, utilize musicians and singers without limitation, allowing you, your family, friends, and those who are new to St. Luke's to fully sing, participate, and connect from anywhere in the world. Our goal is to continue to upgrade our ability to offer online worship and help you connect to worship together in neighborhoods or small groups.
For these reasons, we will not begin to gather for corporate worship on Sundays until the last phase. In Phase 2A, we will host designated times for you to gather privately in the Sanctuary throughout the week with liturgy, scripture, prayers, and pre-recorded music. We know sacred space is important and this may be helpful for your personal worship discipline. Days and times will be shared as we enter Phase 2A.
We will continue to update you as we move into each phase. Click here for an overview of St. Luke's Campus Reopening Phases.
St. Luke's is developing policies and procedures including this permission form for Children's and Youth Ministries. These guidelines along with St. Luke's phased Campus Reopening Plan are being reviewed by Andy Gardiner, Sr. Vice President for External Affairs and Community Relations at Orlando Health and Dr. Donald Plumley, Pediatric Surgeon with Orlando Health Arnold Palmer Hospital for Children.
If you have any questions or would like more information, please contact St. Luke's Leadership Team. You will receive a response within a day.
May we always hold true to those who prayer walked St. Luke's campus forty years ago before there were any buildings. May our number one concern be to uphold the sacred worth and value of every person who steps on these grounds physically, emotionally, and spiritually in the name of Jesus Christ.