Tichaona was 20 years old and had 14 year old brother he was caring for when he met Zoe Empowers.   Their mother had died in 2009 and his father in 2013.  They had lived with an uncle temporarily, but the uncle was overwhelmed with his own family so, Tichaona had decided to try to make a go of it on this own and had been laboring in the nearby fields for small amounts of pay.
He had his father's dilapidated homestead but the Zimbabwe/Mozambique cyclone in early 2019 destroyed it. Tichaona and his brother escaped when the roof collapsed.  They were living among chickens and puppies on a mat in the dirt in a damaged house nearby when Zoe Empowers found him.
Zoe Empowers was able to give him disaster relief and emergency food and clothes.   He was also given cement, a doorframe, window frames and roof sheeting.  From his empowerment group, he got help locating and moving rocks from the river bed nearby and from savaging bricks from his destroyed home.  He started making friends with other Zoe Empowers young adults.
Enter Solomon – who lived several hours away in Ruseppe, Zimbabwe.  He wanted to help during this natural disaster so he traveled to this area to help.  He is building this home for just a small amount over cost.  He will take about 7 days time.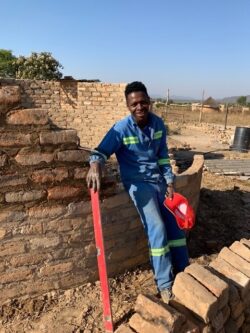 Tichaona and his brother amid construction: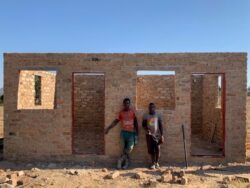 Tichaona had started rearing chickens as his first business and has a second grant as soon as his home is complete. He could not keep his second business safe from theft until he had a home.  His brother has returned to school with the help of his empowerment group funds.  They also received their birth certificate replacements that had been destroyed in the cyclone. Birth certificates are necessary to go to school and to own property.