Habitat for Humanity builds strength, security and self-reliance through homeownership. Join a team on the next St. Luke's Build Day to help build and revitalize homes in East Winter Garden.
Due to the continuing support from local community partners like St. Luke's, West Orange Habitat for Humanity is able to provide three new homes to three deserving families on Bethune Avenue in East Winter Garden in 2023! But, we need your help!
We're looking for Volunteers to come out and help with painting, wall building, wrapping, drywall, landscaping, caulking, cabinet/flooring installation, roofing work or other construction activities. Your service to building homes means transforming a blighted neighborhood into a thriving neighborhood and promoting the legacy of homeownership for these families for generations to come.
Come out and spend a Saturday giving back with Habitat for Humanity!
Build Date: Saturday, April 22, 2023
Time: 9:00 a.m. to approx. 2:00 p.m.
Location: 748 Bethune Ave., Winter Garden, FL 34787
Build days are scheduled from 9:00 a.m. to 2:00 p.m. but may end early, and you are welcome to leave whenever your other Saturday commitments require.
Volunteers must be 17 or older.
All tools and instructions are provided. No construction experience is necessary — you may even pick up a new skill or two while you partner with other St. Lukers to make a difference for families in our community.
Click on the Sign Up link below to register for the April 22 workday.

We have worked primarily on the rear two houses but take a look at this picture from West Orange Habitat on the progress being made on the front two houses!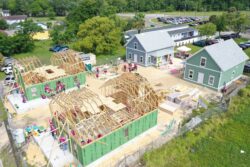 Habitat Mentors Needed

Habitat for Humanity is looking for Mentors to walk beside families for 9 months as their new home is being built. Mentors attend training, monthly Family Service Committee meetings and regularly check in with the Habitat family. If you have the gift of Mercy and Wisdom, this serving opportunity may be for you!
Mentorship means people who:  
Care about families and who are patient, instructive, compassionate and responsible
Can commit to about 9 months to walk with the family
Agree to attend one mentor training session, and a monthly zoom meeting with the family services committee meeting to update the committee on their family.
Mentors agree to: (these are just basics, more information is provided)
Attend a one-hour training session at their convenience and receive a training manual
Attend Family Service committee meeting/Zoom once a month to update on progress
Be the family first point of contact for West Orange Habitat following guidelines
Not to provide any monetary or in kind gifts to family
Regularly connect with the family by phone, in person, text, email for about 9 months
Pray for and positively impact the family with joy!
Walk the journey with the family to answer questions and ensure they complete:
200 hours of sweat equity (300 for a married couple)
Financial Literacy classes (we host/provide these for families only/no mentors)
Saving for a down payment
Maintain good credit – again, mentor training is provided for this)
For more information, contact Saniye Kazan at skazan@st.lukes.org.
For more information, contact Saniye Kazan at skazan@st.lukes.org.