Habitat for Humanity builds strength, security and self-reliance through homeownership. Join a team on the next St. Luke's Build Day to help build and revitalize homes in East Winter Garden.
It's an exciting time for West Orange Habitat for Humanity as they have just completed four homes and are beginning the next set of three homes in East Winter Garden. Families have been selected for these homes and are anxious to work alongside you, our volunteers, to build their own home and homes of others. Families qualify for Habitat by demonstrating a housing need (affordability, substandard conditions, overcrowding), their willingness to partner with us by investing 200 hours of sweat equity, attending financial education classes, saving for a down payment, and repaying a no-interest mortgage to Habitat once they close on their home.
We're looking for Volunteers to come out and help with painting, wall building, wrapping, drywall, landscaping, caulking, cabinet/flooring installation, roofing work or other construction activities. Your service to building homes means transforming a blighted neighborhood into a thriving neighborhood and promoting the legacy of homeownership for these families for generations to come.
Come out and spend a Saturday giving back with Habitat for Humanity!
Next Build Date: Saturday, October 28, 2023
Arrival Time: 8:45 a.m.
Build Time: 9:00 a.m. to approx. 2:00 p.m.
Location: 748 Bethune Ave., Winter Garden, FL 34787
Build days are scheduled from 9:00 a.m. to 2:00 p.m. but may end early, and you are welcome to leave whenever your other Saturday commitments require.
Volunteers must be 17 or older and be willing to sign and bring a volunteer waiver.
All tools and instructions are provided. No construction experience is necessary — you may even pick up a new skill or two while you partner with other St. Lukers to make a difference for families in our community.

After the October workday, our next workday will be December 9. Link coming soon!
We have worked primarily on the rear two houses but take a look at this picture from West Orange Habitat on the progress being made on the front two houses!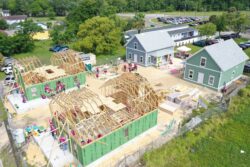 For more information, contact Saniye Kazan at skazan@st.lukes.org.