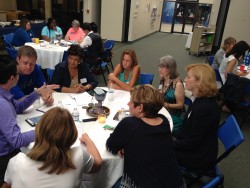 St. Luke's invites adults of all ages, no matter where they are in their faith to journey to grow deeper.  Whether you have been a part of the church for your whole life or are still trying to figure out what church is all about, we have classes that are selected to help your faith deepen and your relationship with God grow.
St. Luke's offers 3 different group types:
Sermon Studies: groups that meet to study the subject/theme of the current sermon series
Group Studies: group that meets to study the Bible, a specific curriculum, or other materials that are not connected to the topic of the sermon series
Covenant Groups: long-term groups that are closed not currently seeking new members.  Members partner together for faith walk and participate in Worship, Connect, Grow, Serve, and Commit.