About the Design of St. Luke's Memorial Garden
The Memorial Garden extends from the northwest transept of the sanctuary which may be used as a chapel for memorial services. The Window of Hope looks out on the garden making it a focal point for services in the chapel. The garden may be entered directly from the transept or by the sidewalk from the patio. The garden wall serves to protect the interior of the garden from Apopka-Vineland Road and is the wall upon which the bronze plaques are mounted. Four benches provide a place for meditation and prayer. The flagstone walk provides a natural beauty to the space. 
Bronze sculptor Don Reynolds was commissioned to design a piece of art based on the theme "They shall rise up with wings as eagles" (Isaiah 40:31). 
The Dedication Plaque expresses our gratitude to the persons who shared the dream of the garden and established it with their memorial gifts.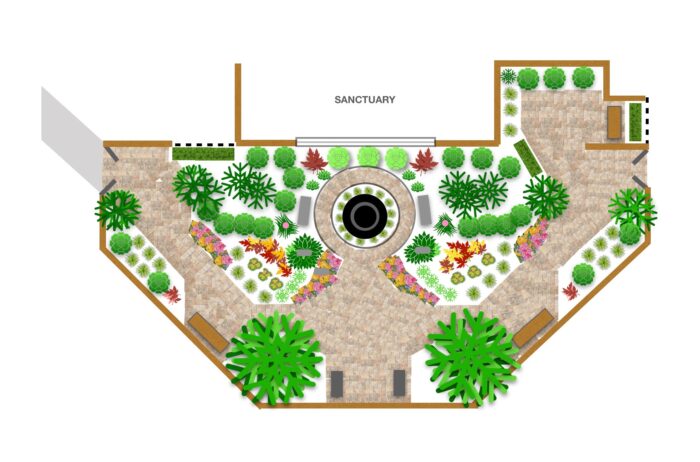 Interment of Ashes 
Following cremation, the ashes are buried directly in the soil in unmarked areas by one of the pastors with appropriate prayer and scriptures. Family members may be present and assist if they wish. Interment may be at the time of a Memorial Service or afterwards, depending on the arrangements for the cremation. To schedule interment in the garden, please contact the Care office at 407.876.4991 ext. 262 or email for more information. 
Funding of the Garden 
The garden has been built and will be maintained entirely through designated gifts. Memorial Garden interments and plaques are available to those people who consider St. Luke's their home church. Non-church partners (members) must have an affiliation with a church partner (member) to be eligible for interment and a memorial plaque in the garden.
The cost for memorialization in the garden is $375 for a single plaque and $750 for a couple's plaque for church partners (members). Single plaques for non-church partners (members) cost $750 and a couple's plaque costs $1,500 for non-church partners (members). The memorialization fee covers the cost of the bronze name plaque and provides for the ongoing care of the garden. Responsibility for the garden rests with the Memorial Garden Committee and the Board of Trustees. Arrangements may be made in advance and pre-paid at any time.
Reserving a St. Luke's Memorial Garden Plaque

Click the button below to learn more about reserving a St. Luke's Memorial Garden Plaque.

For questions about the Memorial Garden, contact St. Luke's Care Office.