Restore the hopes of children and families this Advent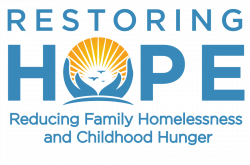 Advent is a season full of opportunities to allow God to weave our stories with the stories of people we wouldn't otherwise ever encounter. Through your advent offering this year, you can transform the lives of children and families in our Restoring Hope ministries. Will you help Missions continue restoring hope and supporting children and families facing homelessness, job losses and food/nutrition disparity?
With prices soaring, families are forced to make difficult decisions of prioritizing basic needs. Life-transforming programs such as Circles are needed more today than ever before to surround families with holistic resources to develop their resilience during these changing and uncertain times.
100% of your support will go to Restoring Hope Initiative. This will help us continue:
fill critical gaps for struggling families
stabilize youth and families economically, with housing and food security
provide leadership development opportunities to low-income families so they can transform their lives and communities
Give generously so that…
They LEARN new empowering skills
| | |
| --- | --- |
| $250 | Sponsors 5 student farmers' one week work at a Grow It Forward micro farm |
| $1,500 | Provides STEAM -related nutrition education for elementary students |
| $2,500 | Sponsors 30 adult students in 12-week Jobs Partnership classes |
| $8,500 | Sponsors 100 children in a one-year empowerment program |
| $25,000 | Starts an 18-month Circles program for 15 adults and youth |
They LIVE stable lives
| | |
| --- | --- |
| $40 | Changes car oil for a low-income car owner |
| $75 | Provides Christmas dinner for a family of four |
| $350 | Connects utility services for a family |
| $1,500 | Provides healthy snacks for elementary school students |
| $3,000 | Provides mentorship and empowerment programs to youth farmers from difficult backgrounds |
| $4,000 | Sponsors a year of non-perishable food items and healthy snacks to elementary school students |
| $5,000 | Helps move a family from a motel into their own rental unit |
They LEAD thriving lives
| | |
| --- | --- |
| $250 | Sponsors entrepreneurship class for a low-income individual |
| $2,500 | Provides 4 Circle graduates with Leadership Training |
| $5,000 | Starts a micro farm in a low-income community |
| $15,000 | Starts a co-op for residents in a low-income community to start their own businesses |

How to give:
APP – tap "Give" on the home screen of the APP
Online – click on the Give icon below and select "Advent-Restoring Hope" from the dropdown menu
Check – make checks payable to St. Luke's UMC, note "Advent Restoring Hope" in the memo line of your check and drop it off at the church office OR mail it to:
St. Luke's United Methodist Church (c/o Finance Office)
4851 S. Apopka-Vineland Rd.
Orlando, FL 32819
In person – give your designated gift in worship in the offering box or the metal lockbox outside the entrance to Building C
The "Restoring Hope" initiative is part of the St. Luke's 2020+ Vision
To learn more about the "Restoring Hope" initiative, click on the "Learn More" button below.