Updated 9/16/21, 12:00 p.m.
Find out what assistance programs you may qualify for, by using Orange County's new Centralized Eligibility Questionnaire. It only takes a few minutes.
Orange County Resources and updates

Health and health care

211 Referral Crisis Line
– 24/7 connection to community resources-text zip code to 898211 or
online chat
Orange County Florida Health – Florida Department of Health in Orange County
Orange County – COVID-19 testing and vaccination information
Orlando Health – Orlando Health patients, age 65 or older, are eligible to receive a free Covid-19 vaccine. If you want to receive a vaccine from Orlando Health, please click on the link to get information on scheduling an appointment Orlando Health Vaccine Info.
Center for Disease Control (CDC)– Global updates on COVID-19
Grace Medical – Services include medical, mental, dental, ophthalmology and spiritual care. Their requirement includes Orange County residency, no income in the past 6 months, no medical insurance and others. By appointment only. May need to call on 27th of each month at 8 a.m. to make an appointment, but please check details on Grace Medical website for current information.
Physical Activities Guidelines for Americans – Free resource with activities and guidelines for all ages.
Health Insurance Open Enrollment Flyer
Residents who have lost their health insurance or have experienced a change in income within the last 60 days may be eligible to qualify for a special enrollment period through the federal ACA Marketplace. Licensed health-care navigators from Covering Central Florida are available to provide over the phone, confidential assistance for the ACA Marketplace, as well as Florida KidCare. Additionally, the Primary Care Access Network in Orange County may be able to assist underinsured and uninsured residents with access, quality, and coordination of health care services.
Health Insurance Open Enrollment Flyer (Spanish)
Shepherd's Hope – Shepherd's Hope is a faith-based ministry providing free, short-term medical care for uninsured residents of Central Florida using volunteer doctors and nurses.  Shepherd's Hope operates at 5 locations in the Greater Orlando area that are open mainly in the evenings between 6:00 PM and 9:00 PM in donated clinic space. A list of centers and their hours of operation can be found on the website.
IMPOWER, a statewide behavioral health nonprofit, dedicated to the mission of "changing lives by protecting, counseling, teaching, and inspiring individuals and families to reach their full potential," is now offering no-cost mental health services statewide through Telehealth to children and adults who have been impacted by COVID-19.
Food

Cast Co-Op
–
The Cast Co-Op supports ALL central Florida hospitality industry workers impacted by the pandemic by offering a place to pick up groceries, pet food, or other life essentials. All hospitality workers affected by financial hardship are invited to complete an online
eligibility form
. Once approved and your needs are determined, "
Ear For You"
will reach out to schedule an appointment for you to visit.
Where is the Cast Co-op?  16744 Cagan Crossings Blvd. in Clermont, FL 34714
What are the Cast Co-op operating hours?  Sunday 12:00 p.m. to 5:00 p.m.; Wednesday 10:00 am. to 3:00 p.m., Friday 10:00 a.m. to 3:00 p.m.
Website:  https://www.castco-op.com 
Click below for YouTube video to learn more.


Disney Cast Member Pantry (by appointment only)
Who? Serving cast members in need of groceries during this difficult time.
When? Cast Member Pantry makes it quick and easy to receive free food essentials once a month per Cast Member. They handout groceries every Saturday, but appointments are required so they know how many bags to have on hand
What? You'll receive a reusable grocery bag filled with foods that are easily put together to make meals for 4, with breakfast and snack options as well. They take pride in putting food we all enjoy in our bags because we believe our Cast deserve the very best, and a little comfort too.
How? Make an appointment by emailing castmemberpantry@gmail.com and filling out the survey in the automatic reply. You'll then receive an email with a day and time for pickup.
Questions? Reach out directly here on Facebook by sending them a message. https://www.facebook.com/castmemberpantry/
OCPS Free Grab-and-Go– OCPS info on Curbside Meals Distribution (children 18yo and younger)
Fresh from Florida (more counties) – Free Breakfast and Lunch – this site lists Florida counties
Second Harvest Food Bank Food Locator
United Against Poverty – low cost grocery program
Aldi Home Delivery-Through Instacart (Online grocery order, delivery to your home)
Walmart Home Delivery – Ocoee Walmart (10500 W. Colonial Dr., Ocoee, FL 34761, 407-902-3983) – Walmart Orlando locations
USDA Food Group Recommendations – FREE US Department of Agriculture website for choosing the right foods based on age, weight, height, sex and activity level.
Healthy Eating – FREE online learning games on healthy eating and nutrition. Good for children and teens.
SNAP & Medicaid –As directed by Governor DeSantis, the maximum monthly allotment of Supplemental Nutritional Assistance Program (SNAP) benefits has been temporarily increased based on household size for April. Six-month recertification extensions have been granted to families scheduled to recertify in April or May for SNAP, TANF, and Medicaid benefits. No current recipients of Medicaid will lose benefits during the State of Emergency. For more on these programs, visit MyACCESS.
SNAP (Supplemental Nutrition Assistance Program) SNAP provides nutrition benefits to supplement the food budget of needy families so they can purchase healthy food and move towards self-sufficiency.To learn more about SNAP (food assistance program) and eligibility, visit: Click here to learn more about SNAP benefits.
Click on the image below to view flyer.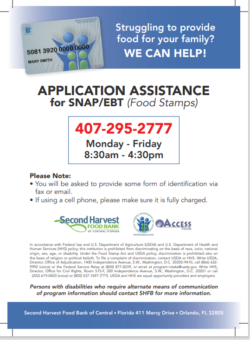 WIC (Women, Infants and Children)  WIC is a nutrition program for women who are pregnant or breastfeeding or who have recently been pregnant, infants & children under age 5.
WIC provides the following at no cost: healthy foods, nutrition education and counseling, breastfeeding support, referrals to health care, immunizations, and community services. To learn more about WIC benefits and eligibility requirements, click here.
TANF (Temporary Assistance for Needy Families) The Florida Temporary Assistance for Needy Families (TANF) program is designed to help needy families achieve self-sufficiency. States receive grants to design and operate programs that accomplish one of the purposes of the TANF program.
The four purposes of the TANF program are to:
Provide assistance to needy families so that children can be cared for in their own homes
Reduce the dependency of needy parents by promoting job preparation, work and marriage
Prevent and reduce the incidence of out-of-wedlock pregnancies
Encourage the formation and maintenance of two-parent families
To apply online, please visit Florida's online application portal.  You may speak with a TANF agent Monday – Friday (7:00 a.m. to 6:00 p.m.) at 1-866-762-2237 or 850-300-4323.
SNAP y Medicaid – A petición del Gobernador DeSantis, la asignación mensual máxima de los beneficios del Programa de Asistencia Nutricional Suplementaria (SNAP) se ha incrementado para el mes de abril basado en la cantidad de miembros del hogar. Se han otorgado extensiones de recertificación de seis meses a las familias programadas para recertificar en abril o mayo para los beneficios de SNAP, TANF y Medicaid. Ningún beneficiario actual de Medicaid perderá cobertura durante el estado de emergencia. Para más información sobre estos programas, visite MyACCESS.
Senior Resource Alliance – Get information about food, meals and nutrition programs and assistance for seniors.
Utilities

Duke Energy
–
Please check website for current suspensions and disconnection information. For assistance, please click on some of these Duke Energy resource links:
Duke Energy Payment Arrangements –set up payment extension or arrangement
Energy Neighbor Fund: – You can make an impact! A small gift (even a gift of just $1 ) goes directly to an individual or family
Duke Energy Updates (General COVID Information – Duke Energy response and updates to COVID-19
Medically Essential Program: Duke Energy's Medically Essential Program identifies residential customers who are dependent on continuously electric-powered medical equipment. Participation in the program does not guarantee uninterrupted electric service. The program does not automatically extend electric bill due dates, nor does it provide priority restoration.
Note: All of these pages are available in Spanish.
Duke Energy Customer Care Center can be reached at 800-700-8744.
OUC News/Utility Bill Payment Assistance – OUC – The Reliable One is offering immediate electric and water bill relief to residential customers who are eligible for Project CARE, the utility's bill-payment assistance fund supported by OUC, its employees and customers.
OUC– Please check website for current suspensions and disconnection information.
Orange County Utilities is committed to serving the residents of unincorporated Orange County and has temporarily suspended late payment fees for residential water and wastewater customers, as well as disconnections for nonpayment.
Internet connections

FCC Broadband Subsidies –
This program will provide eligible households with discounts of up to $50 a month for broadband service, and up to $75 a month if the household is on Tribal lands. It also will provide a one-time discount of up to $100 on a computer or tablet for eligible households according to the FCC.
Enrollment for $50-per-month broadband subsidies for US residents with low incomes or those who lost income during the pandemic will begin on Wednesday, May 12. Eligible households will be able to enroll in the program to receive a monthly discount off the cost of broadband service from an approved provider.
Please see the below article that explains the program and how households can apply:
https://arstechnica.com/tech-policy/2021/04/50-per-month-emergency-broadband-subsidies-to-become-available-may-12/
AT&T – qualifying limited income households at $10 month through Access from AT&T IP Flexible Reach.
Wifi Hotspot or Tablet Rentals – Orlando– City of Orlando residents can now check out free WiFi hotspots or tablets at Dr James R Smith  Neighborhood Center to connect you to: Employment search and networking, websites, training, digital resources, and more.
The devices are free and available to be checked out for two weeks at a time, with a one-week waiting period before your next opportunity to check out again. Residents must be 18 years or older and proof of city-residency (Not Orange County resident). For more details, and a full list of participating neighborhood centers, visit orlando.gov/freeconnect.  If interested, please visit the center Monday – Friday 9-5pm.
Job-Related

Florida Department of Economic Opportunity
–
website for unemployment application
Florida DEO Reemployment Assistance Resource Guide during COVID-19 -Resource guide for claimants regarding unemployment eligibility and information regarding the CARES Act and state/federal benefits.
Orlando Sentinel – List of employers who are hiring in Central Florida
Valencia Community College Accelerated Skills Training-Programs available at Valencia Community College. Grants are available for qualified students.
Orange Technical College – Skills-Based Training and classes available.
Disney World looking to hire hundreds at job fair
Walt Disney World is hosting a job fair next week to hire hundreds of people across custodial, culinary, housekeeping and food and beverage jobs, with several positions eligible for bonuses.
The job fair on Monday, Sept. 20, at the Coronado Springs Resort is part of Disney's efforts to hire 700 to 1,100 employees weekly by the end of the year, according to the company.  The event will be held from 8 a.m. to 6 p.m. at the resort's convention center.
Face coverings are required to attend. Under Disney's vaccination policy, new hires are required to be fully vaccinated for COVID-19 and must provide the company a copy of their vaccination card at least seven days before their start date.
Those applying to housekeeping and specific culinary jobs could be eligible for a $1,000 or $1,500 new hire bonus, respectively. The bonuses will be paid in two increments: employees will receive the first payment after working in their new roles for at least 90 days, and the remainder will be paid after 150 days, according to the company.
Hourly pay for Disney's culinary jobs starts at $15.40 and ranges to $20, while full- and part-time housekeeping positions start at $16 per hour and quick-service food and beverage jobs start at $14 per hour.
Lists of the full requirements for each role, and details on the available positions, are available on the company's hiring website.
https://jobs.disneycareers.com/search-jobs/job%20fair%20September%2015/391-28648/1?glat=28.53834&glon=-81.37924
The company is encouraging candidates to apply online before the event, but computers will be available for candidates to fill out applications during the job fair. For those who cannot attend, Disney is holding virtual interviews daily from 8 a.m. to 9 p.m.
DHS Hiring Webinars – The Department of Homeland Security's compelling mission draws candidates seeking to join a team that makes a difference in the lives of their fellow citizens. The threats and challenges facing the Department and the Nation are complex and constantly evolving. Now more than ever, DHS must recruit, develop, and retain a talented and diverse workforce.
DHS is seeking hundreds of qualified individuals to fill critical positions in cybersecurity, information technology, intelligence analysis, law enforcement, travel security, emergency management, business operations, mission support, and more. As part of our hiring efforts, we are hosting a series of webinars to provide information on the Department's mission, career opportunities, special hiring authorities, effective résumé writing, and creating a profile on USAJOBS. All webinars are open to the public.
To register for our webinars or learn more about our upcoming recruiting and outreach events, visit www.dhs.gov/homeland-security-careers/hiring-event. Please share this information with friends, family, and anyone interested in a rewarding career with the Department.
| | | |
| --- | --- | --- |
| Date/Time | Time | Audience |
| October 14, 2021 | 5-7 p.m. ET | Professionals, Students, and Recent Graduates |
| November 16, 2021 | 6-8 p.m. ET | Veterans |
| January 11, 2022 | 4:30-6:30 p.m. ET | Individuals with Disabilities |
| | | |
For more information on career opportunities at DHS, please visit www.dhs.gov/careers or contact dhsrecruitment@hq.dhs.gov.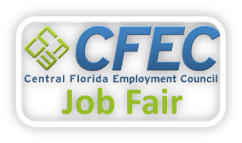 Central Florida Employment Council – Upcoming 2021 Job Fairs
2021 ANNUAL CFEC JOB FAIR POSTINGS
All Job Seekers Welcome! All safety protocols are in full affect for this event. Meet companies from the Central Florida region waiting to meet YOU. Find your next employer at Central Florida Employment Council Job Fair in Orlando, Florida-dates listed below. Thousands of career openings in various industries as well as employment resources on hand to assist your job search. PROFESSIONAL DRESS, bring resumes, free admission/parking, and no children, please. Registration and attendance information for our next job fair: https://www.CFEC.org/job-fairs. Questions call Christian HELP/CFEC at (407) 834-4022.
Name: Central Florida Job Fair
Date:  November 03, 2021
Time:  12:00 p.m. to 4:00 p.m.
Location: Central Florida Fair Expo Park, 4603 West Colonial Dr., Orlando, FL 32808
Registration and attendance information for our next job fair: https://www.CFEC.org/job-fairs. Questions call Christian HELP/CFEC at (407) 834-4022.
Job Opportunities list: List shared from Peak Consulting, Inc.
Housing & Rental Assistance

Summary of County Rental Assistance Programs:
To learn more and determine if you qualify Federally funded Rental Assistance Program, click on the county links below.
Rent Support for residents of Orlando 
WHEN:  Orlando households who have fallen behind on rent can apply for assistance through the city.  This support will help people who have experienced financial hardship, housing instability and have a household income below 80% of the area median income are eligible to receive money, funded by the U.S. Treasury as part of a COVID relief package.
LINK:  When the portal opens, applications can be found at orlando.gov/assistance
QUALIFICATIONS:  
1) Where you live – Only Orlando city residents qualify under this program. To qualify, you must provide proof of occupancy, which could be a copy of the lease or receipts on recent rent payments.  You will also need to provide identification for anybody in the household over 18, as well as proof of income.
Those who live outside of Orlando's jurisdiction, but within Orange County, can apply for a similar program at http://www.ocfl.net/EmergencySafety/Coronavirus/EmergencyRentalAssistance.aspx
2) Your income – Under the federal rules, a family of four must make less than $61,050 to qualify, and priority will be given to households who make less than 50% of the area median income — $38,150 — or where a family member has been unemployed for at least 90 days.
RENT PAYMENTS:  Families can receive money to cover past-due rent, and payments will be made directly to the landlord. Utility payments will only be made if they are part of the lease, according to the program's rules.
For a full list of documents needed, visit orlando.gov/assistance
OURFlorida.com – OUR Florida, or Opportunities for Utilities and Rental Assistance, is now accepting applications for families in need of aid, regardless of their city of residence, at OURFlorida.com. The program focuses on low-income renters whose household income is at or below 80% of the Area Median Income (AMI), which varies by county. The program will prioritize renters with income at or below 50% AMI and/or families who have experienced unemployment within the past 90 days.
Orange County FAQs: Eviction Protections and Housing Assistance – In order to help residents navigate tenant rights, evictions and other housing assistance information for COVID-19, we have put together some answers to frequently asked question on these topics.
FAQs: English | Spanish | Haitian Creole
Videos: English | Spanish
Orange County Eviction Diversion Program– In an effort to help curb the onslaught of possible evictions due to the COVID-19 pandemic, the Orange County Board of County Commissioners created the Orange County COVID-19 Eviction Diversion Program.  The $20 million program is funded by the Federal CARES Act monies allotted locally and the Florida Housing CARES Act – Coronavirus Relief Funds.
COVID-19 Rental Assistance, Orange County Application – This website states that new applications are not accepted as of Monday, April 20. Please return to the website for further information.
JFS Orlando Cares, new rental assistance –  A new rental assistance fund from the nonprofit JFS Orlando is offering help to residents of unincorporated Orange County.  The charity — formerly known as Jewish Family Services — has been awarded a $500,000 grant in CARES Act funds for the program. Called JFS Orlando Cares, the relief effort can provide up to two months of rent to qualifying residents. Residents don't need to be Jewish to apply.
"We know that a lot of people are desperate right now," said Heather Petrusky, the charity's assistant director. "But the last thing we want is to make people jump through these hoops for no reason, so we try to spell out all the requirements in advance." Applicants will need to provide a copy of their formal lease or rental agreement and submit a self-disclosure form on how they've been impacted by COVID.
To be eligible, applicants:
Must have lived in Orange County for the past 12 consecutive months and currently live in unincorporated Orange County.
Have income below 80% of the area median — which isno more than $40,750 a year for an individual or $58,150 for a family of four.
Must have lost their job or had their hours or income cut because of the pandemic's impact on the economy or because they were infected with the virus.
Cannot live in Section 8 subsidized housing.
Must be at least one month past due on rent.
Cannot be receiving rental assistance from another source — such as Orange County's CARES Act program or the Heart of Florida United Way — for the same months.
Funds will be distributed on a first-come, first-served basis.  You can apply online at jfscares.smapply.io/.
Osceola County COVID-19 Programs: Osceola County Resident Resources
Heart of Florida United Way – Rental Assistance
Mortgage Foreclosures and Rent Evictions – Orange and Osceola Clerks of Courts have been directed to suspend all actions related to mortgage foreclosure, residential eviction, and mortgage foreclosure sales. The Ninth Circuit's Order is not to be construed as relieving obligation to pay rent or mortgage. Residents seeking legal advice regarding their rights as tenants may contact the Legal Aid Society of the Orange County Bar or Community Legal Services of Mid-Florida.
Mortgage:  If you are having trouble making a mortgage payment your first call should be to the company that receives your mortgage payments each month. They may be able to arrange temporary mortgage assistance options, including a mortgage forbearance plan. A forbearance plan doesn't erase the amount you own, but it temporarily suspends payments until your hardship is over. https://www.fanniemae.com/here-help-homeowners
Transportation

Auto Insurance –If you are driving fewer miles because of a change in your work situation, some companies will reduce your premium payments.  Please contact your auto insurance company to learn more.
Credit Cards

Credit Card payments -Many companies are open to work with families who have experienced job loss due to COVID-19. Please check with your credit card company, if you are affected by job loss.
Childcare

The YMCA of Central Florida is offering Emergency Childcare to resolve that need and allow essential employees to continue to make a difference without having to worry about their children. At this time, childcare is for essential employees as defined by the Executive Order from Governor DeSantis. For additional information and to apply, please visit https://ymcacentralflorida.com/emergencychildcare/.
Pet Alliance

Pet Alliance of Orlando
– Originally the Orlando Humane Society, the Pet Alliance serves pet owners in Orange, Seminole and Osceola counties.
Pet Food Pantry: Sun, Tue, and Thurs from 12pm – 5pm in both Orlando and Sanford locations.
Affordable veterinarian services also offered – see website for details and locations.
Note: On September 15, there was a fire at the Pet Alliance which will curtail their ability to provide all services for a while.  Please contact them prior to driving over, to ensure they are fully open.
For a pdf version of the list, updated 9/16/21, 12 p.m.-Click Here.

St. Luke's Missions Ministry is providing this information as it is shared with us. Thank you for your patience and understanding as we are trying to navigate the information from these resources through this current COVID-19 situation. Please exercise caution in using this information and giving out your personal information as you would normally. We appreciate you letting us know if you find updated information or if you have additional information about available resources.
Please send updates or other sources of information to Amy Winslow at awinslow@st.lukes.org. We will update this list as information comes in. Please check back, as needed.
Thank you and be safe!