God has uniquely gifted you to be "on mission" for His Kingdom! We have many opportunities for you to serve and share the love of Christ with others. We encourage you to assess your spiritual gifts so you can serve where you feel the most passionate and use the skills that God gave you to make a difference.  Below are mission opportunities at St. Luke's where you can serve with your family and friends.
St. Luke's COVID-19 Update: 

Published: 2/22/2022
Update to on-campus COVID-19 policy: Face coverings are now optional while on St. Luke's campus. Please continue to wear a face covering if working with children under the age of 5.
Thank you for your understanding and for helping ensure the health and safety of our community. Stay safe!
Hunger Ministries
Gleaning

Produce Gleaning with Society of St. Andrew: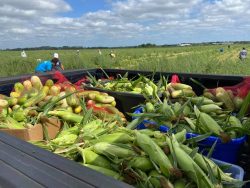 St. Luker's have been gleaning throughout these past years, which has helped to provide produce to our families who come weekly for food at St. Luke's, during the pandemic.
The Society of St. Andrew brings people together to harvest vegetables and fruits which would otherwise go to waste to support communities. In this pandemic, this ministry has become a critical source of much needed fresh produce for people who are facing food insecurity.
For information for gleaning dates and to sign up, visit the Society of St. Andrew's website at endhunger.org/volunteer. Click on "Florida" to see local shifts.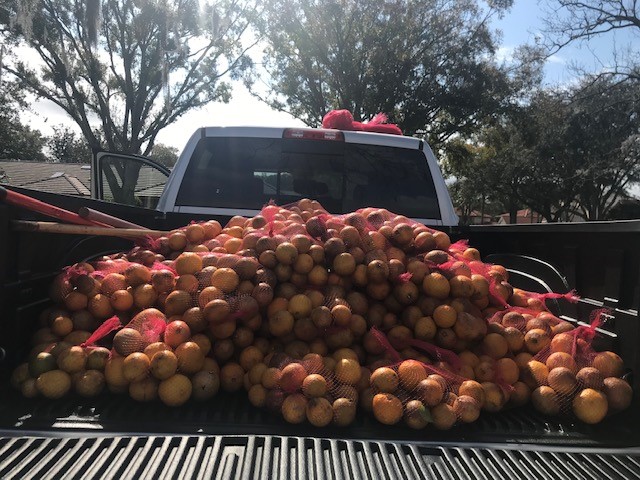 Citrus Harvest Gleaning: Once a year, St. Luke's gleans unharvested fruit off of local trees and donates it to the Society of St. Andrews to help hungry families in Central Florida.
Date: TBA
The team will usually meet at 9:00 a.m. to receive information and directions.  Gleaning is usually done within a couple of hours. We provide picking tools, fruit bags, and water bottles. Make sure to wear a hat, gloves and sunscreen.
Entry Level ministry opportunity
Open to all ages
No training required
If you have fruit trees in your yard or neighborhood that you can get permission to pick, please let us know by contacting serve@st.lukes.org.
Maxey Elementary School's Food Assistance

St. Luke's will help bridge the OCPS food chain supply gap by providing fresh produce and shelf stable products to our partner school, Maxey Elementary School.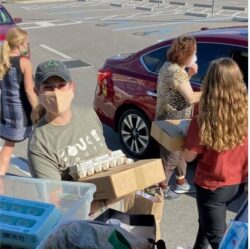 Food distribution takes place monthly for the Maxey Elementary families who have signed up for the monthly distribution.
For more information and to learn about volunteer opportunities, please contact serve@st.lukes.org.
Meals on Wheels

Meals on Wheels, during COVID-19
Volunteers are taking precautions to continue delivery of these critical meals.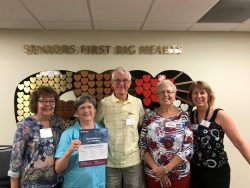 Did you know that 1 in 6 seniors may not know where their next meal will come from?  Volunteers are needed to deliver meals to seniors in the west Orlando area. Join a team that rotates a weekly delivery – you can serve once every 8 weeks OR every week.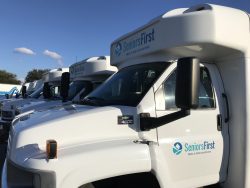 We can meet your schedule! Meals are picked up at 9:30 in the morning and are delivered to 7 to 10 at risk seniors. For more information or to attend an information session, contact serve@st.lukes.org.
Senior's First Emergency Food Pantry Wish List
canned veggies (corn, green beans, peas and carrots – NO extra large cans)
low sodium soups
small cans of beans
stewed/diced tomatoes
low sodium chili
small jars of peanut butter
tuna, chicken, turkey, spam
pasta
small alfredo or red spaghetti sauce
carton of shelf stable milk (parmalat) or powdered milk
small bag of rice
instant potatoes (box of individual pouches)
instant grits
instant oatmeal
fruit cups or low sugar cans of fruit
applesauce
raisins
protein drinks (ensure)
For additional information call 407.615.8988 or drodriguez@seniorsfirstinc.org.
Deliver directly to: Senior's First, 5395 LB McLeod Road, Orlando 32811
Click on the link below to read a recently featured article in
"Celebrate", A Magazine by St. Luke's United Methodist Church.
Meals on Wheels: Delivering Food and Friendships
(Volunteer Story, by Nan Slone)
Housing Ministries


Family Promise of Greater Orlando is one of our community partners who help to keep families together in the face of homelessness. During the COVID pandemic, Family Promise had families shelter in place at a hotel, and St. Luker's shared their hospitality by providing the evening meal and food donations for the families. During certain weeks, these families are housed at the Family Promise Day Center, located in Winter Park.
When families are housed at the Day Center or at a local hotel, we have the opportunity to provide meals to these families at the Family Promise Day Center. There is also opportunity to host overnight at the Day Center. If you are interested in being an overnight host, please contact Peggy at pcaverly@st.lukes.org for more information.
If you would like to sign up to provide meals for the Family Promise families, you may currently sign up directly with Family Promise by clicking on the link below.
January Family Promise Registration 


February Family Promise Registration 


For more information, contact serve@st.lukes.org.
(For more information about Family Promise organization, please visit their website at http://www.familypromiseorlando.org.)
West Orange Habitat for Humanity

Habitat for Humanity builds strength, security and self-reliance through homeownership. Join a team on the next St. Luke's Build Day to help build and revitalize homes in East Winter Garden.
Date: Next Build Day: Saturday, March 4, 2023 (This Team workday is for ages 17-25)
Time: 9:00 a.m. to approx. 2:00 p.m. (Depending upon work being done, end time may be earlier.)


No matter who we are or where we come from, we all deserve to have a decent life. We deserve to feel strength and stability day after day. We deserve to know we have the power to take care of ourselves and build our own futures. At West Orange Habitat for Humanity, this is what unites us. Through shelter, we empower. Our shared vision is a world where everyone has a decent place to live.  Our families work alongside volunteers to build their own homes and qualify by demonstrating a housing need (affordability, substandard conditions, overcrowding), their willingness to partner through sweat equity hours and attendance at financial education classes and their ability to repay a no- interest mortgage. Our ReStore also welcomes you to shop and donate and provides income to build homes and welcomes volunteers.
To learn more, please contact serve@st.lukes.org.
For information about West Orange Habitat for Humanity, visit westorangehabitat.org.
Child Empowerment Ministries


Educational IMPACT
Innovative Ministries with Parents, Administrators, Children and Teachers (IMPACT) at St. Luke's is a Partner in Education with three Title One elementary schools.  A trained corps of volunteers serve as teachers' assistants in classrooms, math and reading coaches, and as support for special events at Mollie Ray and Maxey Elementary Schools.  Shadow a St. Luke's IMPACT volunteer for a morning or volunteer for a Special Event to see if this is a ministry that resonates with you!  Spend some time in the classroom and see how you can help at one of St. Luke's three Partner schools.  There are a variety of ways to be involved in this ministry such as classroom aides, special events, Robotics team, Math Bee, Chess Club, Carnival, National Honor Society and 5th Grade Party helpers, and more.:
The commitment for math and reading is at least a semester and preferably the whole school year to provide consistency for the students.
Classroom volunteer – A minimum commitment of 9 months (a school calendar) for an hour per week.
Substitute classroom volunteer – Substitute regular classroom volunteers (when they can't serve).
Special Events Volunteer – at least 2 hours
Need to register with OCPS as an ADDITIONS Volunteer before serving.
What's it's like to be an IMPACT volunteer
Here's a message from one of our IMPACT volunteers.
Hi St. Lukers!
Joan Weninger here! My husband and I have been members of St. Luke's for four years. I've been asked to tell you why I enjoy volunteering at Maxey Elementary.
From the time I walk down the hall and into a classroom I feel joyful and grateful to have the opportunity to serve. I can't believe I'm doing the Lord's work! But that's the nature of God. Whatever you do in His name, the more He gives back and I sure feel it!
Children are always thrilled to have someone walk into their classroom who cares enough to spend the time to be a cheerleader for them. This past year and a half has put a cramp in my style but I'm looking forward to being part of the Maxey scene again this year, fully vaccinated, mask and all! So, who wants to give and receive some joy?
To learn more about being a part of the IMPACT program, please contact serve@st.lukes.org.
Mollie Ray Educational Impact Leader Needed
If you have a heart for school children and interest in leading a group of volunteers, we are in need of a lay leader for Mollie Ray Elementary School. The leader will work with the administration team to see how St. Luke's can help the school meet their goals.
To learn more about this ministry, contact Amy Winslow at awinslow@st.lukes.org or 407.876.4991 ext. 297.
 Go Full STEAM

Go Full STEAM is a non-profit community effort that supports four programs to inspire under-resourced youth through science, technology, engineering, mathematics, visual and performing arts – all guided by a single umbrella organization.
We use a unified approach through specific areas of interest to open new worlds of opportunity for students. Our goal is to influence children's lives by developing literacy, competency and a positive sense of self.
Go Full STEAM is comprised of 4 programs, Robotics Challenge, Arts After 5, Artworks and Math Bee.
Our 4 programs are different in their focused content, but they all share a common philosophy – to utilize science, technology, engineering, arts and mathematics (STEAM) as pathways for social change – for individual students and beyond. The programs provide active, hands-on activities that are responsively facilitated to promote self-expression, critical thinking, self-reflection, a sense of belonging, curiosity, motivation and individual autonomy.
Visit Go Full STEAM for more information.
Adult Empowerment Ministries
Inside Out Jail Ministries



Inside Out Jail Ministries (ISO) is a faith-based, non-profit, re-entry ministry helping those incarcerated in the Orange County Jail succeed in returning to the community.
Most of those incarcerated have non-violent charges. They've experienced broken homes, abuse, homelessness, human trafficking, and/or have mental challenges. When they're released, they go right back to what they know because they don't know what else to do.
ISO facilitates classes to prepare them for re-entry, provide resources for help on the outside as well as transition management for those wanting to go to substance abuse treatment. Volunteers are needed as spiritual mentors, pen pals, and at worship services.
*   *   *   *   *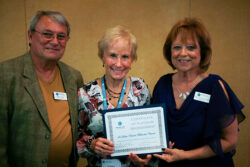 St. Luke's has been a mission partner with the Inside Out Jail Ministry (ISO) for many years!
Salley Martin was honored to accept a certificate of appreciation on behalf of our church at a recent benefit dinner!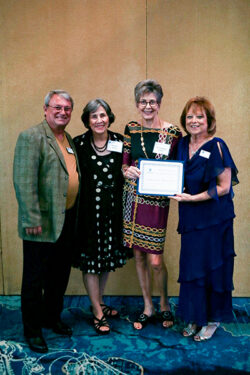 The United Methodist Women have also been strong supporters of the jail ministry.
Their representatives, Karen Brown and Rosemary Gates, were also presented with a certificate of appreciation for their generous donations. ISO prepares incarcerated men and women, upon their release, to successfully transition back into the community.
For more information or to volunteer, contact serve@st.lukes.org.
For more information about Inside Out Jail Ministries, go to www.isojm.org.
Jobs Partnership



St. Luke's partners with Jobs Partnership, a faith based organization that provides a 12-week, biblically-based, employability program for the chronically under-employed in West Orange County.
Coaches are needed to help adult students in the upcoming LifeWorks session. Classes are on Tuesdays or Thursdays.
Volunteer Orientation on Saturday, February 11, 2023
Because of our involvement with East Winter Garden, please consider serving as a LifeWorks coach at The Dream Center, but there are several other locations to serve on Tuesdays or Thursdays.
To learn more and to volunteer as a coach at The Dream Center or at one of the other locations, please click on the link below to register.

To learn more about Jobs Partnership, to see the LifeWorks Training Schedule and for information about becoming a Jobs Partnership student, please click on the link below and click on :


For more information, visit jobspartnership.org or contact serve@st.lukes.org.
 

Poverty Solutions Group



Poverty Solutions Group
(PSG) is a Central Florida collaborative organization committed to sustainable poverty reduction. Based on emerging best practices, PSG empowers individuals and households to achieve economic stability and engages the broader community to address systemic barriers that perpetuate community-wide poverty.
Visit Poverty Solutions Group for more information. Also visit Poverty Solutions Group Facebook.
Adult Health Ministries
   Shepherd's Hope

Shepherd's Hope
is a faith-based health care assistance ministry for the uninsured in Central Florida. Patients eligible for services have income at or below 200% of the poverty level, are uninsured and not eligible for government assisted health care programs. Doctors and nurses are needed as well as other volunteers who serve as eligibility specialists and hosts. 
Shepherd's Hope needs volunteers from 5:00 p.m. to 8:00 p.m. once a week on either Monday or Wednesday.
For more information, please contact serve@st.lukes.org.
To learn more about Shepherd's Hope, Click Here.
Intergenerational Serving Opportunities


Clean the World
Clean the World is a social enterprise with the mission of saving millions of lives around the world by recycling soap and hygiene products from more than 2,250 hotel and resort partners to children and families in countries with a high death rate due to acute respiratory infection (pneumonia) and diarrheal diseases (cholera) – which are two of the top killers of children under 5. Since 2009, Clean the World has distributed more than 22 million bars of soap in 96 countries.
Help sort donated hygiene products to be hygienically recycled.  This is a fun project for families and groups, There will be upbeat music and trivia games during your shift. Please car pool if possible, parking is limited. Wear comfortable clothes and shoes you can stand in for 3 hours.  Water is available but you might want to bring your own water bottle.  Minimum age to volunteer is 8 and youth ages 8 to 15 must be accompanied by an adult.
Morning and afternoon shifts available. Saturdays book up very quickly. They currently are booking three months in advance! To volunteer email volunteers@cleantheworld.org or submit a request at https://cleantheworld.org/forms/volunteer/.
For more information, please contact serve@st.lukes.org.
Clean the World is located at 2544 E. Landstreet, Suite 600, Orlando, FL 32824 (407.574.8353, www.Cleantheworld.org)


Second Harvest Food Bank
Second Harvest Food Bank of Central Florida is a private, nonprofit that collects, stores and distributes donated food to more than 550 feeding partners in six Central Florida counties.  Last year, with the help of numerous donors, volunteers and a caring, committed community, the food bank distributed nearly 64 million pounds of grocery products – the equivalent of more than 53 million meals – to partner programs such as food pantries, soup kitchens, women's shelters, senior centers, day care centers and Kids Cafes.  This is a good opportunity for families or groups.  Sign up to help sort donations in their warehouse or food pantry.  Volunteers have to be at least 10 years old with a chaperone who is 18 years or older in order to help out in our facility, 16 years old without a chaperone.  Closed toe shoes are REQUIRED.  Please wear appropriate length shorts that are not too revealing.
Saturdays book up very quickly. They are currently booking up to 3 months in advance. – Click Here to visit the Second Harvest Food Bank website to register.
For more information, please contact serve@st.lukes.org.
Second Harvest Food Bank of Central Florida is located at 411 Mercy Dr. , Orlando, FL 32805 (407.295.1066, www.feedhopenow.org)
UP (United Against Poverty, previously known as Community Food and Outreach) 

UP (United Against Poverty, previously known as Community Food Outreach) is a local organization that helps provide hunger relief, crisis care, public assistance, outreach, educational opportunities, and success training and employment programs.  One of the services they offer is a cost share grocery store.  This is a great opportunity for families or groups to serve together.  Volunteers help sort, organize and stock shelves. Volunteers must be wearing closed toed shoes, long shorts or pants, and a plain or appropriate t-shirt. Sleeveless shirts are not permitted for food safety reasons. Hats and headphones/ear buds of any type are not permitted. Children must be ages 10+ to participate.
Click Here to visit the UP Orlando website to register.
For more information, please contact serve@st.lukes.org.
UP Orlando is located at 150 W. Michigan St., Orlando, FL (407.650.0774, http://foodoutreachcenters.org/)
*     *     *     *     *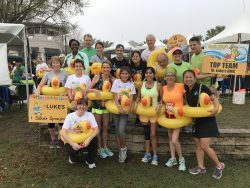 St Luke's went "Quackers" Saturday, February 17 at the United Against Poverty 5K.
We were awarded the top team for fundraising in support of UP Orlando, committed to inspire and empower people living in poverty to lift themselves and their families to economic self-sufficiency.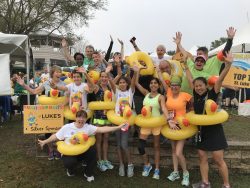 Donate Goods

Shalom Hygiene Kits
The St. Luke's Shalom Prison Ministry collects hygiene items for work release center.  They are always in need of the following hygiene products:
Toothpaste & Toothbrushes
Soap
Shampoo & Conditioner
Lotion
Have your group gather and pack travel size or full size toiletries in Ziploc bags to donate. Please bring hygiene bags to the St. Luke's front office for drop off (with a note identifying your group).
Dates:  Ongoing