There's something for everyone on Wednesdays at St. Luke's!

Weekly dinners go from 5:00-6:30 p.m. and include a main dish (vegan options available on request), side, and dessert with price per person ($9/adult, $6/child age 10 and under)
Reservations close on Tuesdays at 12:00 p.m. each week (limited walk-in space available!)
Dinner on October 5:
Dinner on October 12:
Dinner on October 19:
All are invited to our free Fall Family Fun Night from 5:00 to 8:00 p.m.! Come have dinner and enjoy pumpkin painting, live music, games, and more with your St. Luke's family! Click below to RSVP:

(NEW) Wednesday Night Worship at 6:00 p.m. in Founder's Hall
After dinner, everyone is welcome in Founder's Hall for a short time of worship before your evening classes, choirs, or Life Together Groups. We'll be joined by a variety of worship music leaders each week, and this time will also include prayer and liturgy.


Adults…
All adult classes and groups start at 6:30 p.m.
Wednesday Night Rewind – Watch the recorded Sunday Night Bible Study as a group and then participate in a live discussion with Pastors Jad and Jeremy in Founder's Hall.

Parenting Together – Join this group for fellowship and discussion with other parents after dropping off the kids for Wednesday night programming. We'll meet in the Smart Classroom of the Barnes Learning Center (above Founder's Hall) following Dinner & Worship (around 6:30 p.m.).

Sanctuary Choir Rehearsal – 7:00 to 9:00 p.m. in the Choir Room (upstairs in Building B) – all are welcome! Email Josh O'Dell with questions.

Youth…
Wednesdays (6:00 – 8:00 p.m.) we want to welcome our Middle School Youth to join us for Wednesday Night MIDPOINT (Youth Ministry Programming for Middle Schoolers)

Check-In at 6:00 p.m. in Founder's Hall for Wednesday Worship and make your way to the Youth Section. After that, we will head over to The Youth Center for MIDPOINT which will be a time for connection, high-energy games, a message, and discussion (split by Grade Groups and led by our team of Adult Leaders).
Please note: While High School programming is on Sunday nights, High School students wishing to attend on Wednesdays will have the opportunity to help lead younger children & youth in their small groups and rotations. Email Brandon Sangster at bsangster@st.lukes.org for more info about Youth Ministries. Email Lana Stevens at lstevens@st.lukes.org for more information on helping with Children's Ministry.

Children…
Elementary (1st-5th grade) will meet in The Treehouse, upstairs in Building C from 6:30 to 8:00 p.m.
Kids are invited to a time of fun, friends, food and faith. Each Wednesday kids will have a time of worship and engage in a Bible story. From there they will discover the Big Idea and how they can apply that idea through games, mission project and prayer. To learn more about Children's Ministry email Lana Stevens at lstevens@st.lukes.org
*Enjoy working with kids?* It takes many leaders to bring about our Children's Programming. We would love to work with you!  For more information on helping with Children's Ministry email Cassie Livingston at clivingston@st.lukes.org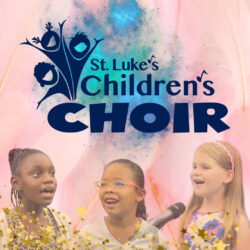 Click here for more information on Children's Choir! After our rehearsal, we will walk over to The Treehouse (previously The Attic in Building C) to join the rest of the children for programming.
6:00- 6:45 p.m. – Children's Choir Rehearsal
6:45-8:00 p.m. – join St. Luke's Kids in The Treehouse
Infants, Preschoolers, and Kindergarteners…
Childcare is provided for children 6 weeks to Kindergarten for adults attending Wednesday night studies. Check-in and pick-up will be in Building A, Room. 110. Registration is required (click the button below).

---
Sign up to Learn on Sunday nights at 6:30 p.m. with the Pastors and visiting professors from The Candler Foundry. This class includes a presentation by a biblical scholar followed by Q & A. This kicks off each week allowing St. Lukers to preview and engage with the scriptures throughout the week prior to the Sunday Sermon. Live classes resume Sunday, August 14 and will meet weekly starting at 6:30 p.m. on Zoom. Click here to sign up. This content will be available for viewing and listening on-demand each week.

Looking for previously recorded sessions? Click here!