Is it possible God is calling you to minister and engage with those incarcerated?
Inside Out Jail Ministries (ISO) is a Christ-centered re-entry initiative that assists inmates as they prepare for their transition after incarceration. St. Luke's has been a mission partner with the Inside Out Jail Ministry (ISO) for many years!
There are several opportunities for inside jail volunteers – facilitating classes and spiritual one-on-one mentoring. These are hands on ministry opportunities. ISO also needs outside volunteers, as pen pals, outside transition team members, and curriculum graders that do not go inside.
Inside Out Jail Ministries will host an orientation to familiarize potential volunteers with ISO, explain volunteer opportunities,  and provide basic training to those desiring to take the next step.
A Volunteer Orientation and Training is coming up: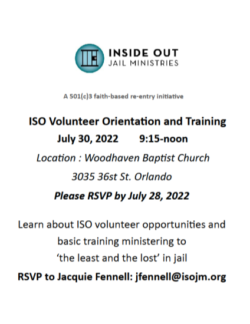 Date: Saturday, July 30, 2022
Time: 9:15 a.m. to noon
Location: Woodhaven Baptist Church, 3035 36th St., Orlando, FL 32839
If you are interested to learn more about ISO volunteer opportunities and to sign up for the ISO Volunteer Orientation and Training, please RSVP by July 28, to Jacquie Fennell at jfennell@isojm.org.
For more information about Missions Ministries at St. Luke's, please contact Amy Winslow at awinslow@st.lukes.org.