Do you consider St. Luke's your church home?
Are you thinking about joining St. Luke's?
After engaging with our Sermon Series this Lent, are you ready to Take the Vow, committing to be loyal to St. Luke's and faithfully participate in its ministries by your prayers, your presence, your gifts, your service, and your witness?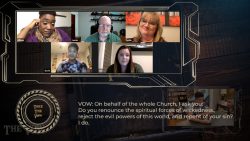 Join us either in-person or online on any of the following days to Take The Vow and make it official:
Wednesday, March 31 @ 6:30 p.m. (ONLINE)
Saturday, April 3 @ 7:00 p.m. (IN-PERSON)
Contact Liz Vasquez, Director of Adult Discipleship & Evangelism, at 407.876.4991 ext. 216 if you are interested in learning more.