Care Ministries
Our St. Luke's Care Ministries provide love and support during the joys and trials of life through group programs and individual ministries. Listed here are the ministries where you can find support or volunteer to assist others with the support that they need.
If you are facing a challenge, have any questions, or want to serve as a volunteer, please call Pastor Jad Denmark, Minister of Care, at 407.876.4991 ext. 229.
In case of an emergency involving the death of a loved one or a hospitalization, call the Church office at 407.876.4991 ext. 316 so a pastor can support you through this time.
Prayer Request and Lists

Please note that pastors, staff, and the Prayer Team pray for all prayer requests submitted weekly from the Connection Cards, website and personal prayer requests.
Submit a Prayer Request Online
Life Events
 Hospitalizations

In case of an immediate need involving the death of a loved one or a hospitalization, call 407.876.4991 ext. 316.
 Births

St. Luke's wants to celebrate your baby's birth and welcome them to our church family. We can provide you with helpful information regarding childcare during worship, baptism classes/dates, and meal assistance for the family upon arriving home from the hospital. Notify the
Care office
 at 407.876.4991 ext. 262 of a new birth.
 Weddings

Click here to learn more about Weddings at St. Luke's
.
Pictures of the Sanctuary
Please know that these pictures were taken during Easter and the banners would not normally be hung in the Sanctuary, however also know that during certain Christian seasons the Sanctuary will be decorated with decorations that may not be able to be removed for the ceremony.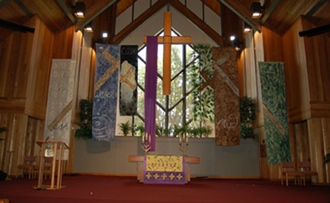 Sanctuary Stage – facing West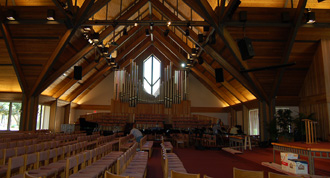 Choir Loft, facing South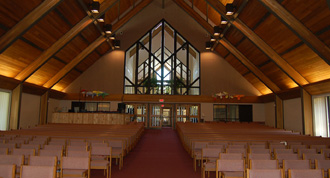 Aisle leading to Back of Sanctuary, facing East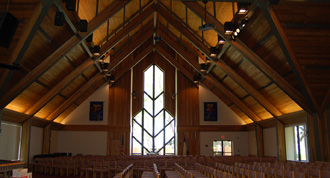 Sanctuary toward Memorial Garden, facing North
Learn about our "Before You Wed" couple's class offered at the Community Counseling Center.
 Deaths and Funerals/Memorial Services

There will be a Memorial/Celebration of Life Service for Carol Ruud Torp on Saturday, August 19 at 3:30 p.m. in the sanctuary. The Reverend Jennifer Stiles Williams will officiate. Carol's parents (Sue and Don Ruud) were founding members of St. Luke's. Carol grew up in the Orlando area and was confirmed at St. Luke's. A reception will follow after the service in the rotunda of Building C.
St. Luke's member Mark Dabold passed away on Tuesday, August 15. There will be a funeral service for Mark on Wednesday, August 23 in the sanctuary at 2:00 p.m. Dr. David Stephens will officiate. In lieu of flowers the family asks that gifts be made to the Colon Cancer Alliance.
St. Luke's member Betty Overman, beloved mother of Melanie Gathers, passed away on July 6. A funeral service will be held at St. Luke's in October.
 Church Member Assistance

Contact the Care office at 407.876.4991 ext. 262 to discuss any member assistance needs.
St. Luke's Care Ministries Directory
Divorce Recovery Ministry

Provides support to anyone at any stage of divorce
Helps the individual/family understand the stages and challenges of divorce
DivorceCare will meet for 13 weeks beginning Tuesday, October 10 through Tuesday, January 9. Meet at the Dr. P. Phillips YMCA from 6:30 p.m. to 8:15 p.m. No meeting on December 26. DivorceCare sessions are led by trained and caring St. Luke's lay people who have experienced the pain and heartache of divorce themselves. The YMCA offers free childcare during the meetings. Click here to view a flyer on DivorceCare.
Attendees are welcome to join the sessions at any point. Meetings include videos, small group discussion (support group), journaling and personal study exercises that reinforce weekly session topics. Each session is "self-contained," so meetings do not have to be attended in sequence. There is a $15.00 one-time registration fee to attend to cover the cost of your personal workbook. Please pay at your first session. Meet in the YMCA Conference Room. Call 407.351.9417 to register. Contact the Care office at 407.876.4991 ext.262 for more information.
Buddy Break

BuddyBreak is for children with special needs ages 3 years – 16 years and their siblings ages 4 years through fifth grade.
Provides free on-site respite care once a month in partnership with St. Luke's and Nathaniel's Hope to bring hope and encouragement to families that have children with special needs.
Autism Spectrum Disorder (ASD) Support Ministry

St. Luke's is excited to offer two support group for parents of children and teens with Autism Spectrum Disorders and a new special support group for parents of adults or soon-to-be adults with ASD.  We invite you  to join one of these helpful support groups on the second Thursday of the month at 7:00 p.m. in Building C Room 201/203 (Parents of children and teens meet here) or Room C205/207 (for parents of adults and soon-to-be-adults) to share ideas, concerns, success stories, challenges and fellowship. A trained facilitator will offer a brief topical lesson for both support groups every month. Contact the Care office at 407.876.4991 ext. 262 or
email
 to register to attend. 
No meeting  in August.
Next Meeting:
Thursday, September 14 at 7:00 p.m. in Building C Room 201/203 and C205/207.
Please note that these two support groups will begin meeting from 6:30 p.m. to 8:00 p.m. beginning on Thursday, October 12.
Cancer Support Ministry  –

NEW TOPIC OFFERED EACH MONTH!



St. Luke's has started a cancer support ministry for individuals and families affected by cancer. We host monthly group support meetings on the second Thursday of each month from 6:30 p.m. to 8:00 p.m. Our September meeting will take place on September 14 in Building C Room 204/206. This support group is open to all cancer fighters, survivors, caregivers, spouses, partners and loved ones of all faiths in the community. Our cancer support ministry is led by lay individuals who are cancer survivors and cancer caregivers themselves. Meetings will include a sharing time and presentations on topics of interest related to the key challenges associated with cancer. 
Allison Brinkley, Dietician at Arnold Palmer Hospital, will present in September on "Nutrition for Cancer Patients." 
We look forward to building relationships and providing spiritual and emotional support for all. Please share the news about this new Care ministry with anyone who may be impacted by cancer. Childcare will be available again in the fall.
For planning purposes we request that you click here to register. Email the Care office or call 407.876.4991 ext. 262 for more information.
Meeting Dates for 2017
September 14
October 19 (third Thursday of the month)
November 9
December 14
Card Ministries

Sends cards to those hospitalized and to bereaved families
Sends holiday greeting cards to new members, military, and shut-ins
Veterans' writing group gathers to share fellowship and write holiday greeting cards to veterans in Orlando
Care Visitation Team

St. Luke's Care Visitation team is comprised of trained lay members who provide follow-up care in partnership with St. Luke's pastors to provide compassion, encouragement, and support for church families during illness, hospitalizations, and/or long-term care.
Caring Kitchen

The Caring Kitchen meets the first Thursday of the month in the kitchen of Building C from 7:00 p.m. to 8:30 p.m. Share fellowship with others and help make healthy frozen crockpot ready meals for St. Lukers who are recovering from surgery, dealing with a chronic illness, going through cancer/other treatments, have a new baby, etc. Adults and children age 12+ are welcome. No experience required – just a compassionate heart and a passion for cooking and caring!
Click here
to sign up to volunteer during available months in 2017. 
Next Cooking Date:
Join us on Thursday, September 7. No cooking dates in July, August or December.
If you know a St. Luker who would appreciate a crockpot ready meal, email or call the Care office at 407.876.4991 ext. 262.
St. Luke's Community Counseling Center

Grief Recovery Ministry –

REGISTRATION OPEN FOR FALL CYCLE!



Weekly support group meetings designed to help you rebuild your life after losing a loved one. Our group is led by caring lay members who have experienced intense grief themselves. You'll find a warm, caring environment and will see your group as an "oasis" on your long journey from mourning to joy. GriefShare is a network of 12,000+ churches worldwide equipped to offer grief support groups. The program is nondenominational and features biblical concepts for healing from your grief. Meetings include videos, small group discussion (support group), journaling and personal study exercises that reinforce weekly session topics.
Our fall GriefShare cycle will begin on Thursday, September 7 and run 13 weeks through December 14. We will not meet on Thanksgiving Day. Meetings take place in the Special Events Dining Room of Building C from 6:30 p.m. to 8:30 p.m. There is a one-time registration fee of $25.00 to enroll. Contact the Care office at 407.876.4991 ext. 262 or email for more information.
Click here to register.
Hearts to Hands Ministry

Knits and crochets prayer shawls, newborn and preemie hats and blankets, and prayer squares.
You don't have to be experienced in knitting or crocheting, just have a willingness to learn and an eagerness to create. Free classes offered on Wednesdays from 4:00 p.m. to 5:00 p.m. in Building C, Room 200. Contact the Care office at care@st.lukes.org or call 407.876.4991 ext. 262 for more info.
Monthly meetings are held at 7:00 p.m. on the second Tuesday of the month in Building C Room 200/202 to collect, bless and distribute completed items.
In Home Care Ministry

Provides care and support for families and individuals in crisis
Provides meals and transportation as requested through a team of volunteers
Opening Doors Ministry (Special Needs)

Promotes opportunities for full participation in worship and programs for persons with special needs
Is dedicated to making the church campus and programs safe and accessible to all
Prayer Ministry

Prays in the chapel on Sundays between and during worship services
Receives prayer requests submitted on the church website (see form below)
Prays in the chapel on Wednesday mornings for those on the prayer list, Connection Cards, and submitted prayer requests
Stephen Ministers

Are children of God who walk beside a hurting person
Are caring Christians who really listen and provide confidential one on one support
Helps meet the needs of those who are facing illness, loneliness, bereavement, job or spiritual crisis, etc.
Serves communion
Receives extensive training in how to provide distinctively Christian care
Stephen Ministry is an international lay caring ministry used by more than 12,000 congregations worldwide. Click here to learn more about Stephen Ministry. If you are in need of a Stephen minister, you may mark your Connection card on Sunday, email or call the Care office at 407.876.4991 ext. 262 to be confidentially matched with a caring Christian listener. The next Stephen Ministry class will begin in January of 2018. More information about the class will be published in October.
Transportation Ministry

Do you need a ride to a doctor's appointment, medical treatment, grocery store, pharmacy, etc.? Contact the Care office at 407.876.4991 ext. 262 or
email
 to arrange for a transportation volunteer to take you free of charge.
Volunteer Opportunities within Care Ministries

St. Luke's Care Ministries has immediate service opportunities in the following areas:
Administrative Volunteers: Volunteers are needed to follow up via phone with those sick, hospitalized or recovering at home. May also assist in data entry, mailings, copying and other administrative duties. Training provided.
Transportation Volunteers: Volunteers are needed to transport individuals to doctor's appointments, medical treatments, grocery/pharmacy, library, etc. on an as needed basis. Liability insurance required.
Food Volunteers: Do you enjoy cooking meals for others? Are you especially talented in "make ahead" meals? We need you! Food volunteers will help purchase ingredients and prepare cost effective and nutritional meals for those going through extended medical treatment. Additional food prep training provided.
Greeting Card Coordinator: A volunteer is needed to organize and coordinate the writing and sending of cards throughout the year. Cards are sent to shut-ins, stateside and deployed military and new members for six holidays. Volunteer will disperse cards to a team of inspirational writers and ensure cards are completed and sent on time. Cards and postage are provided by the church.
If you can service in any of the areas listed above please email
connect@st.lukes.org
or call 407.876.4991 ext. 262 for more information.
Connect and Care Mission Statement
As we affirm faith in God through our ministries, we claim a sacred place where Christ's love unites us with compassion and the caring of others.
In order to make the love of Christ a real presence in the life of each person we reach within our faith community, our ministries:
Extends support during the trials of life and celebrate the joys
Leads persons to resources appropriate to their needs
Creates and maintain innovative programs to minister spiritually, emotionally, and physically
Encourages all to explore and maximize their individual spiritual gifts for the work of the church and to the glory of God.