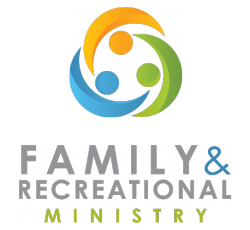 St. Luke's Family and Recreational Ministries enables families to grow their mind, body, and spirit through sports, fitness, and family events.
SPORT LEAGUES FOR CHILDREN AND YOUTH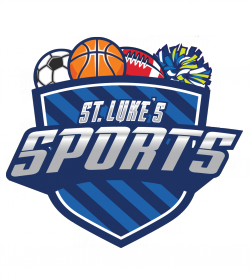 Soccer
This "non-competitive" league (where scores and stats are not recorded) is open to boys and girls in  Pre Kindergarten through 8th grade
St. Luke's Soccer is open to boys and girls of all skill levels. St. Luke's Sports promotes fun and fellowship. Our league dates begin September 15, 2018 and ends November 3, 2018. Registration includes a Jersey, Soccer ball and Trophy.
There will be one practice a week (Monday, Tuesday or Thursday). Games will be held on Saturdays. 

Age divisions are organized by grade and all are coed divisions
Pre-K
K-1st
2nd-3rd
4th-5th
6th-7th
8th

Registration closes on August 22nd. The cost is $120 per child. We will not be able to give the jersey discount we have in the past because we are changing the jerseys this year.
We need coaches! Please volunteer to coach when you sign your child up. If you are registering multiple children, fill out the coaching information on the child/children's team(s) you would like to coach.
We have a limited number of scholarships available. If you would like to apply for a scholarship, please email sports@st.lukes.org for a Scholarship Form. You will need to wait to register until you hear back on your scholarship application.
ADULT AND YOUTH SPORTS

Basketball 
Men's Basketball/Devotion (Free Drop-In)
6:00 a.m. to 8:00 a.m. Tuesday and Thursday in the Gym
Basketball Thursdays
Young adults to adults join us on Thursdays in the Coleman Gymnasium for a friendly game of Basketball. From 7:00 p.m. to 9:00 p.m. Play and meet other St. Luker's.
Youth Open Gym
Youth Open Gym will be Monday nights starting June 5th and running through August 7th. We will play basketball and volleyball, whiffle ball, and dodge ball all throughout the summer. Dinner will also be provided for $5 a person. All mid-high and high school youth are invited and we will play from 6-8pm. If you have any questions contact Chris Smith
Men's Softball
6:45, 7:45 or 8:45 p.m. on Mondays
Played in the Winter Garden Recreation League
Contact: Chris Smith for more information
Volleyball
Adult Co-Ed Intermediate and Advanced Volleyball 
7:00 p.m. to 9:00 p.m. on Tuesdays in the Gym, Building C
Drop-ins welcome! Contact: John Bides
FITNESS PROGRAMS

Evening Exercise
Tuesdays and Thursdays at 6:00 p.m. in the Coleman Memorial Gymnasium. Beginners welcome! Cost is $5 per class or $30 per month. First class is free.
Tai Chi
Every Wednesday from 9:30am-10:30am Mr. Al Aki will teach Tai Chi in the Dance Room in building A. Class will be $2.00 and Drop ins are welcome. First class is free.
50+ Exercise Class
10:00 a.m. to 11:00 a.m. on Mondays and Wednesdays in Gymnasium. Classes are $2.00, drop-ins welcome.
Instructor: Fran Johnson
50+ Stretch and Strength Class
9:30 a.m. to 10:30 a.m. on Tuesdays and Thursdays in Gymnasium. Classes are $2.00, drop-ins welcome.
Instructor: Fran Johnson
Gentle Yoga Class
9:30 a.m. to 10:30 a.m. on Fridays in Gymnasium. Classes are $2.00, drop-ins welcome. Gentle yoga is a slower paced, more nurturing and meditative form of yoga designed for all bodies and suitable for people with medical issues or chronic conditions.
Instructor: Cathy Carter
FAMILY EVENTS

Looking for ways to have FUN Family time?
Seventh Annual Fall Family Campout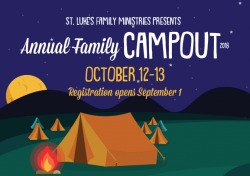 Overnight and Under the Stars! Whether a seasoned camper or have never camped before, this is a great opportunity to spend time with your family and other church families too.
Dad's & Mom's, Grandpa's & Grandma's, and Uncle's & Aunt's  – grab your tents and the kids as we camp out on the St. Luke's field for our Seventh annual St. Luke's Fall Family Campout. The fun starts on Friday, October 12th starting at 5:30 p.m.
Campsite check in and set up your tent for a night of fun starts at 5:30 p.m. Dinner will be available at an additional cost.
Enjoy fellowship, games, a movie on the Big Screen, gooey fun with s'mores and in the morning a sunrise breakfast. Each campsite is $35.00.


FAMILY AND RECREATION MINISTRIES STAFF
Chris Smith, Director of Family and Recreation Ministries
Email: csmith@st.lukes.org
Phone: 407.876.4991 *290
Danielle Cox, Administrator for the Grow Team
Email: dcox@st.lukes.org
Phone: 407.876.4991 *238