Set up a NEW recurring gift or make a one-time gift using "QuickGive."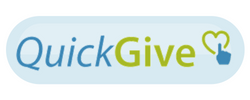 You can also text SLUMC to +1 (833) 245-5230 to receive a link to "QuickGive"
For assistance, please call 407.876.4991 ext. 227 or email St. Luke's Church Accountant, Andrea Whisnant.
QuickGive Online Giving FAQs

Q. Is St. Luke's QuickGive system secure?
A. St. Luke's new online giving system is powered by Pushpay, a PCI compliant vendor that works closely with auditors to ensure security standards exceed compliance standards. Protecting your personally identifiable information matters and Pushpay strictly controls data storage to ensure that it is protected and your privacy is preserved.
This platform actively monitors and checks for potentially fraudulent or malicious activity and our partners at Pushpay are prepared to respond. Extensive monitoring and attention to system activity lets Pushpay proactively address issues, monitor for change, and remain vigilant. Additional checks and identity validation are built into our application, protecting your payment methods and challenging unusual giving behavior.
From background checks to continuous training for all our staff as well as the Pushpay staff, our teams are well equipped to help us keep our data safe and our systems secure.
Have a security question? Email us here.
---
Q. Who do I contact for help with using the QuickGive platform?
A. For assistance, please call 407.876.4991 ext. 227 or email St. Luke's Church Accountant, Andrea Whisnant.
---
Q. What are the benefits of online or electronic giving?
A. The following are some of the benefits for you and St. Luke's:
It gives you an opportunity to determine what you would like to give in advance to the ministries of St. Luke's and include
these tithes and offerings in your financial planning.
Online giving is fast, secure, mobile-friendly, and convenient.
You don't have to remember to bring your check book or cash to church on Sunday.
You can give just once or set up a regular, automated schedule for giving, e.g., weekly, bi-weekly, monthly, etc.
It helps simplify life . . . no more trying to remember whether or not you have supported St. Luke's ministries this week or
month.
When you give using a credit card, you will continue to earn credit card rewards, such as air miles, points, and cash back
if your credit card includes such a benefit.
You can reduce the number of paper checks you write.
Giving can occur even when you are out of town or unable to attend a service.
Regular online giving stabilizes giving patterns which, in turn, will help St. Luke's better forecast and manage our resources.
As more people give online, the administrative processes for receiving, counting, storing, and depositing funds and preparing detailed financial reports are streamlined. This frees up church personnel and volunteers to focus on other ministry opportunities.
---
Q. Is there a cost to set up and maintain an account on St. Luke's QuickGive platform?
A. No. There is no charge to the donor for setting up or keeping an account open.
---
Q. What payment options are available through QuickGive?
A. With St. Luke's QuickGive site, you can give through the following means:
Credit card (VISA, MasterCard, Discover, or American Express)
Debit card
Transfer from your bank account
---
Q. What are the fees for online-giving transactions?
A. No fees are incurred by you (the donor) for any contributions made using the online-giving system. However, St. Luke's incurs a fee for contributions made via debit and credit cards.
---
Q. What if I change bank accounts or the credit/debit card I use for online giving?
A. You can change your payment method at any time by accessing your QuickGive account. Click here to learn more about changing your payment method.
---
Q. What if I want to adjust the date or amount or cancel a recurring donation?
A. You can log into your QuickGive account and change the recurring payment schedule, or cancel the donation, at any point. Click here to find out how to modify or cancel a recurring gift.
---
Q. Will I still receive an annual contribution statement for the funds I give electronically?
A. Yes. St. Luke's will email or mail your year-end giving statement.
---
Q. Will I be provided a receipt for a one-time gift that I give electronically?
A. Yes. As soon as the one-time gift transaction goes through, you will see a link allowing you to print out a detailed receipt for your gift. You will also receive an e-mail notification with a confirmation number, the amount, and recipient information.
---
Q. Can St. Luke's or the QuickGive system take money out of my account without my authorization?
A. Absolutely not! You control when and how much money is transferred either through initiating the one-time-giving option or recurring-gift option.
---
Q. Who can I contact if I still have questions?
A. For assistance, please call 407.876.4991 ext. 227 or email St. Luke's Church Accountant, Andrea Whisnant.