Article submitted by Will Gates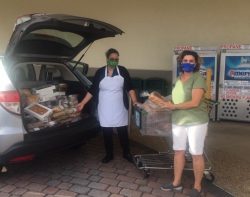 The Publix daily bakery pickup ministry started with an opportunity looking for a need. Karen Brown quickly seized the opportunity and found organizations in need of bakery items. She recruited St. Luker's to help.  As additional pickup opportunities arose, she reached out and we now have volunteers from four area churches.
The ministry has always been a blessing for the organizations benefiting, but in today's environment it has become critical! A special thanks to St. Luker's Anita Vrionides, Mary Holloway, Jeanne Ellis, Cynthia Ramirez, Kristy Cooper, Fred Liddle, Will Gates and Karen Brown.