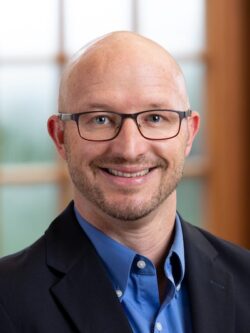 Rev. Dr. Chris Holmes is the John H. Stembler, Jr., Scholar in Residence and Director of Biblical and Theological Education at First Presbyterian Church (Atlanta, GA). In this capacity, he serves as the resident scholar and chief creator of unique learning opportunities and platforms for teaching Bible, history, and theology that bridge the church and the academy.
In addition, he is currently a visiting assistant professor of New Testament at Columbia Theological Seminary (Decatur, GA) and an instructor in UMC's Course of Study Program at Emory University. He earned a dual degree (B.A.) in religion and Spanish at Whitworth University and then completed the M.Div. degree at Princeton Theological Seminary. He earned his Ph.D. in New Testament from Emory University in 2016.
He lives in southeast Atlanta with his spouse, Jenelle who is also a minister in the Presbyterian Church (USA). Together they have two children, Micah (13) and Darcy (11), two dogs, and a three-legged cat. He is an avid Atlanta United fan and enjoys running and riding his bike in and around Atlanta.