Personal growth can be defined and measured in many ways. Sometimes we might just need to step out of our comfort zones or take the initiative to better ourselves. Regardless of where we find ourselves on our journey to learn more about who we are and what we believe is that the journey never ends. Lifelong learning is a commonality shared by many people who consider themselves disciples. Whether a person is growing in faith or professional development, constant thirst for knowledge is key.
Spiritual growth for example can be helpful in many aspects of your life. It can help with work, relationships with friends and family, and of course, the relationship with yourself. It is a positive way of reframing your mindset to allow for new opportunities to arise.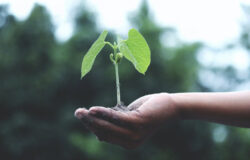 Growth can be conducted in many ways. Immersing yourself in community groups can be an interesting way to not just grow within but make some lasting relationships along the way! St. Luke's offers opportunities for all ages to grow in faith no matter where you are on your spiritual journey. Explore short-term and ongoing spiritual formation groups for children, youth, and adults on the grow page on the St. Luke's website to learn more!