"Do justice: love kindness: walk humbly with God…"
Micah 6:8 
EAST WINTER GARDEN INITIATIVE CELEBRATION DINNER, SEPT. 9

East Winter Garden Community Initiative Celebration Dinner
An Evening of Song, Stories, and Success
​Saturday, September 9, 2017
5:00 p.m. to 6:00 p.m. – Open House
Cost: Free
​6:15  p.m. to 8:30 p.m. – Dinner and Program
Cost: $10 per person
Open House and Dinner will be at St. Luke's UMC, Building C.
Catered by East Winter Garden's own Nate'Z Catering
Join us for dinner and an update of how your St. Luke's Commit dollars have been at work in our East Winter Garden Community Initiative the last 4 years. We will have stories, songs, and videos of all the exciting activities happening in our four focus areas:
educational support
family economic stability
safe and secure housing
neighborhood well-being
In 2013, we launched the Meet Jesus on the Road 4D strategy in East Winter Garden committing to "end poverty one family…one neighborhood at a time." Over 100 people attended the April 2013
AUGUST & SEPTEMBER SERVING OPPORTUNITIES & UPCOMING EVENTS 

AUGUST
August 19: Coalition for the Homeless (Baking from 9:00 a.m. to 1:00 p.m., Cooking, including food prep, from 12:00 p.m. to 5:00 p.m. or Serving from 5:00 p.m. to 8:00 p.m.).
SEPTEMBER
SERVE ON ST. LUKE'S CAMPUS

 

There are many opportunities to serve within the church and to serve our community, right here on the St. Luke's campus.  There are opportunities in our Commit, Connect & Care, Grow, Serve, as well as our Worship Ministry areas.
St. Luke's Commit Ministries:
St. Luke's Grow Ministries:
St. Luke's Worship Ministries:
Click Here
to view the various service opportunities on our campus and to get additional information.
SERVE GLOBALLY

St. Luke's is serving beyond Central Florida. Such global connections give us incredible opportunities to encounter Christ's love and grace in a unique way – through the experience of people from other cultures – and use our resources with our partners so they can live out their calling to reach their communities.  There are several ways you can serve in St. Luke's Global Missions Ministries even if you cannot/want to travel.
Click here to learn about St. Luke's global missions partners. Contact Mariam Mengistie, Director of Mission Development, to learn how you can participate in an international mission experience or support St. Luke's global missions.
UPCOMING MISSION EXPERIENCE TO THE HOLY LAND, October 15-24, 2017 – Please Click Here for information.
If you need help finding a place to serve that is right for you, contact Amy Winslow, Director of Missions, at 407.876.4991 ext. 297.
NEWSLETTERS

Please check out our

Missions

AND

East Winter Garden

E-Newsletters to find out the latest information on what is going on within the Serve Ministry!
Missions E-News
East Winter Garden E-News
Earlier Editions of East Winter Garden E-News
TRAINING INFORMATION

Welcome to our "Training Information"section where you can become familiar with our trainings held throughout the year and stay updated on the current training schedule. Please check back for upcoming 2017 training dates.
Bridges out of Poverty
This is a research based course designed to help people better understand how socioeconomic class has affected them. Bridges covers the "hidden rules" of class (poverty, middle, and wealthy) and helps people from all walks of life to better understand and communicate with people from a diversity of backgrounds. Bridges also assists participants with understanding how to suspend their assumptions so as to begin building meaningful relationships across socioeconomic lines.
Whether you are serving an hour a year or 10 hours a week, in our community or elsewhere, this training is for you!
Upcoming Event Date: TBA
Cost of Poverty Experience (C.O.P.E.) 
The Cost of Poverty Experience is designed to help participants begin to understand what it might be like to live as a typical low-income family in the U.S. It is a two hour simulation and debriefing that provides a brief glimpse into what it feels like to walk for a month in the shoes of families trying their best to just survive with incomes between 100% and 200% of the federal poverty level. C.O.P.E. is an invaluable experience for people who, instead of merely talking about poverty as a problem, choose to be part of the solution to end poverty. This training is appropriate for middle school age and older individuals and for everyone serving locally.  *** Pre-Registration is appreciated but not required***  
Upcoming Event Date(s): TBA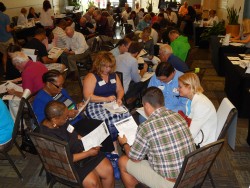 Dignity Serves
Want to learn how to better serve people in your life? Dignity Serves teaches a powerful new paradigm of service called 'dignified interdependence.' Taught from a Christian perspective, this 6 lesson study will give you a useful toolkit to apply in all areas of your life – home, office, church, and neighborhood. Want to experience less guilt and frustration trying to help people? This training is for you. It has helped thousands of people since it first hit the scene in 2008.  Led by Phil Hissom.
Upcoming Event Date:  TBA
Meet Jesus on The Road
Participants will gain a better understanding of our community transformation vision, how St. Luke's understands mission from a United Methodist perspective, what the Bible says about poverty, and asset-based development.  This course provides a safe environment in which to explore how you understand diversity and serving with people from very different backgrounds.
Upcoming Event Date: TBA
Toxic Charity
Several times a year, we offer a six weeks study of this book. The book is helpful for learning how to serve others in ways that are not harmful, but rather maintain the dignity, independence, and hope of recipients. It provides insight into how to be aware of and check our intentions for undertaking acts of charity. It also provides insight into the complexities of poverty.
Bob Lupton, the author, has more than 30 years of community transformation experience in Atlanta. He wrote this book with the hope of offering tools and inspiration for the development of healthy, community driven programs that produce deep, measurable, and lasting change – transformative charity that produces community development.
Upcoming Event Date(s): TBA              
Understanding CQ (Cultural Intelligence)
CQ is the capability to function effectively in a variety of cultural contexts—including national, ethnic, organizational, generational, and many other cultures. Enhance the multicultural understanding and effectiveness of your ministry with this only evidence-based assessment of Cultural Intelligence (CQ). This is for anyone wanting to participate in a global ministry team or serving locally in a cross-cultural setting.
Upcoming Event Date(s): TBA    
MEET THE STAFF

 Staff
Lynette Fields, Executive Director of Missions


Responsible for the overall vision and strategy for missions at St. Luke's, oversees the Community Transformation Initiative in East Winter Garden, and serves on the Leadership Team (pastors and Executive Directors) of St. Luke's.

 Click Here to contact.

Mariam Mengistie, Director of Mission Development


Works with lay leadership in developing strategy and implementation of Orlando and Global Missions, liaison with local community partners at the organizational level, and connects with global mission partners and supporting organizations in those countries.

 Click Here to contact.

Amy Winslow, Director of Missions


Develops service opportunities from entry level through habit and leadership, coordinates community service days, family and intergenerational mission trips, seasonal projects including Wish Tree, Global Fair Trade Market and Bags of Grace, & ensures quality of volunteer experience and Missions Communications.

  Click Here to contact. 

Peggy Caverly, Administrator of Missions




Preparation and updates to the Mission Calendar, communications utilizing the Marketing Ministry area for promotion of Mission Events and needs and posting needed information on Arena (attendance, tags, events, etc.).

  Click Here to contact.                   

Jordan Kassabaum, Intern


As part of the Young Adult Missional Movement (YAMM), Jordan is serving this year, in the Serve Ministries, supporting local ministries, including programming in East Winter Garden.

 Click Here to contact.     
East Winter Garden Staff
Adam Hartnett, Director of Neighborhood Ministries


Ground-level liaison between East Winter Garden and St. Luke's, provides volunteer support and communication, relates to EWG organizations, encourages leadership development of residents, and implements asset-based community development practices.

 Click Here to contact.

Ruth Berlus, Associate Director of Neighborhood Ministries


She will be working in East Winter Garden being present in the neighborhood and assisting with the work of our community partners.

Click Here to contact.
Circles Staff
The Circles® Campaign is a national transformational approach that partners volunteers and community leaders with families wanting to make the journey out of poverty
Beth Witten, Circles Coordinator 

Coordinates the Circle Weekly Meetings, assists the recruitment team in recruiting Circle Allies, trains and provides orientation to incoming Allies, coordinates Circles Match process with Circles Coach and provides Individual Ally/Matched Circle support within the Circles Community.

  Click Here to contact.

Tiffany Kelly, Circles Coach                                                

Assists the recruitment team in recruiting Circle Leaders, helps train and provide orientation to incoming leaders, coordinates Circles Match process with Circles Coordinator and provides Individual Leader/Matched Circle support within the Circles Community.

 Click Here to contact.

Sophia Scott, Circles Administrator 

Maintains data management in the national and local Circles Databases, provides staff reports/analysis from leader progress reports, maintains Circles website and other social media communications, assists in Circle Leader training with Circles Coach, organizes Circles office files and leader training materials, and maintains knowledge and distribution of community resources.

 Click Here to contact.
Visit the My St. Luke's site to sign up for the following: Other Active Volunteer Opportunities Within the Church and Within the Community.