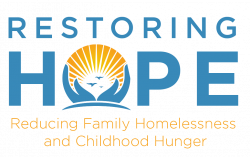 This advent season, your Restoring Hope Celebration Offering supports families facing homelessness and children who don't know where their next meal will come from.
You have a unique opportunity to go all in to fight family homelessness and childhood hunger as part of St. Luke's 2020+ Vision.
"Do justice: love kindness: walk humbly with God…"
Micah 6:8 
Visit the My St. Luke's site to sign up for the following: Other Active Volunteer Opportunities Within the Church and Within the Community.