Dear St. Lukers,
This past Sunday, Pastor Jeremy and I spoke about how St. Luke's core values of Acceptance and Hospitality are rooted in the Gospel of Luke from the very beginning in God's gift of incarnation. We also shared how St. Luke's from the very beginning claimed those values. In worship we looked at one of the original postcards St. Luke's sent out to the community over 40 years ago. Take a look at this gem of history that states that God loves and accepts us as we are!
Another postcard we found shows St. Lukers sharing what the church means to them. A few of the names might be familiar to some of you. I love that some of what was shared are things people still say about us today! We often hear similar stories shared as people connect with St. Luke's and become more involved.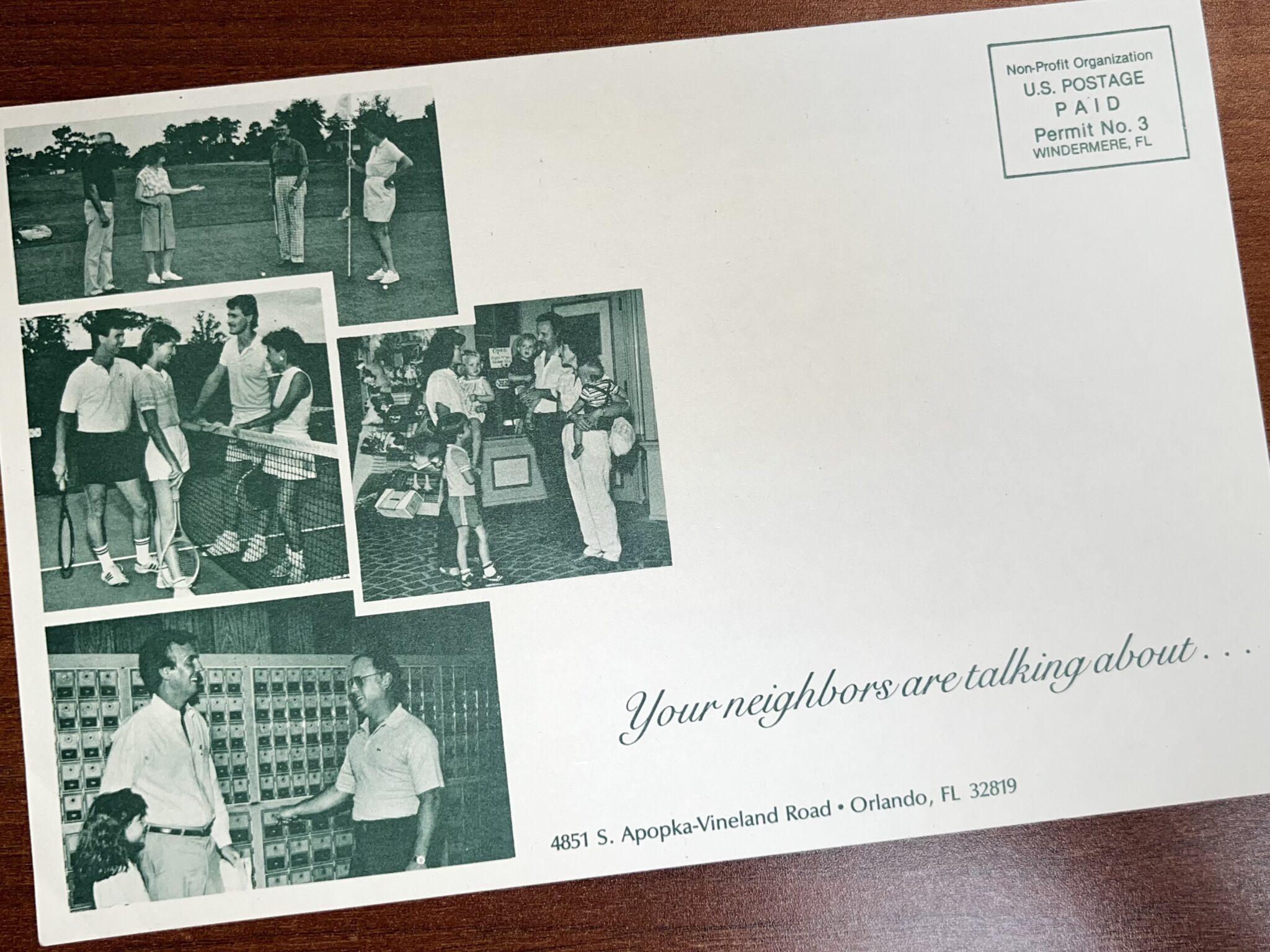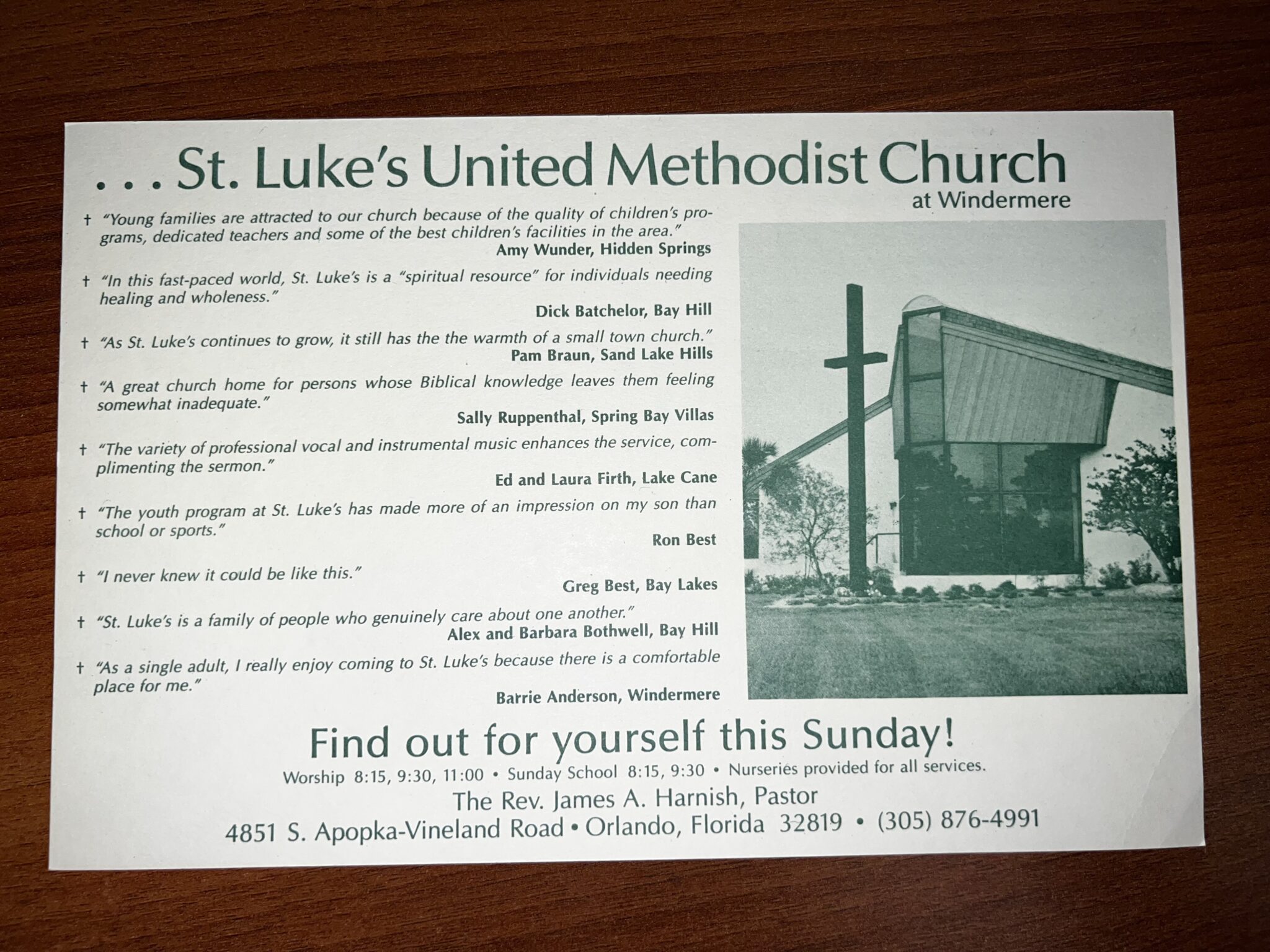 Which got us to thinking…
The Gospel of Luke is all about storytelling. Dr. Ebby Arnold spoke about how Luke uses storytelling throughout the gospel in last week's podcast episode (click here to listen if you haven't already). She talked about how we tell stories about our history and past to shape our present and future. Through this lens, the writer of Luke shares a great deal of who the church is by telling the story of Jesus through testimonies. People's personal stories of transformation and encounters with Jesus.
To live into our namesake of the Gospel of Luke, we want YOU to tell YOUR stories! It can be why you came to St. Luke's, how you have grown at St. Luke's, how you have found your home here, or how you have encountered Christ. You can write your story, a testimony, maybe even just a sentence or two. If you want to make a video telling your story, or with you and your family, get creative! If you have some photos of St. Luke's history you want to share – you can do that, too! We would love to start using YOUR stories throughout the fall in creative ways, to share the story of St. Luke's as we begin to think about our future. Click here to send in your photos, videos, and writings, we want to hear from you!
The stories you share of St. Luke's are the stories of our community, which is our next core value. When we center ourselves in Christ's love and receive and share the gifts of God's acceptance and Old Testament hospitality, the faithful loving kindness known as chesed, these values build us into sacred community. Twenty-five years ago, our leaders wrote that the core value of Community means "we claim a sacred place where Christ's love unites all to support and care for others while nurturing a personal relationship with God." No biblical statement exemplifies this better than Luke 5:17-39.
As you prepare for worship, listen to this week's podcast episode on Luke and Equality and read chapters 4 and 5 of Luke to shape our conversation about how community is redefined by Luke's Jesus. Pastor Jeremy and I will see you in worship at 9:30 or 11:15 a.m., the children will be learning about this in The Treehouse and Sunday School, and the youth will have discussion at their Breakfast Club at 9:30 a.m. Remember, you can attend 9:30 a.m. discipleship for all ages, including a new Parenting Life Together Group led by Kelly and Dave Smith, Melanie and Tom Gathers, and Dennis and Barbara Barber! Can you imagine a better group of mentors to help our new and younger parents? That's what community is all about! After discipleship hour, the entire family can attend 11:15 a.m. worship with Communion and a message for all ages.
We are so grateful to be in community with U!
Jenn.