Our partnership with Society of St. Andrew (SoSA) has become a critical source of much needed fresh produce for people who are facing food insecurity.
The gleaning season has begun, with gleaning of muscadine grapes at UF/IFAS Citra on Wednesday, August 16 from 8:00 a.m. until 10:00 a.m.
For more details or to sign up, you may log in to the Society of St. Andrew Volunteer Calendar.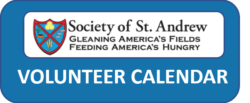 The Society of St. Andrew, the farmers that collaborate with us, and our amazing volunteers, have rescued and redistributed over 2.5 million lbs. of fresh fruit and vegetables. That's over 10 million servings of fruits and vegetables!
Fruit Trees in your backyard?

Our gleaning ministry team is looking to update
our list of fruit donors!
Each year, 119 billion pounds of food is wasted in the United States. That equates to 130 billion meals and more than $408 billion in food thrown away each year. Over the past few years, St. Luker's and the Society of St. Andrew (SoSA) have helped reduce food waste and provide fresh fruit to those experiencing food insecurity in Central Florida.
Our gleaning team brings volunteers to your backyard to pick excess fruit to donate. We are open to picking any fruit if you or a neighbor have more than you can use! Please let us know if you would like to share your FRUITS and we will supply the LABOR!
Click on the link below if you would like to be on our list of potential fruit donors.
You may also click on the link below, if you would like to be on our contact list, to hear when gleaning opportunities become available.


For more information about gleaning, please contact serve@st.lukes.org.