Thank you for joining St. Luke's for our production of Guys and Dolls! Click the tabs below to view more information about the cast, show, and special thanks!
Click the button below to give and support Theatre at St. Luke's:

CAST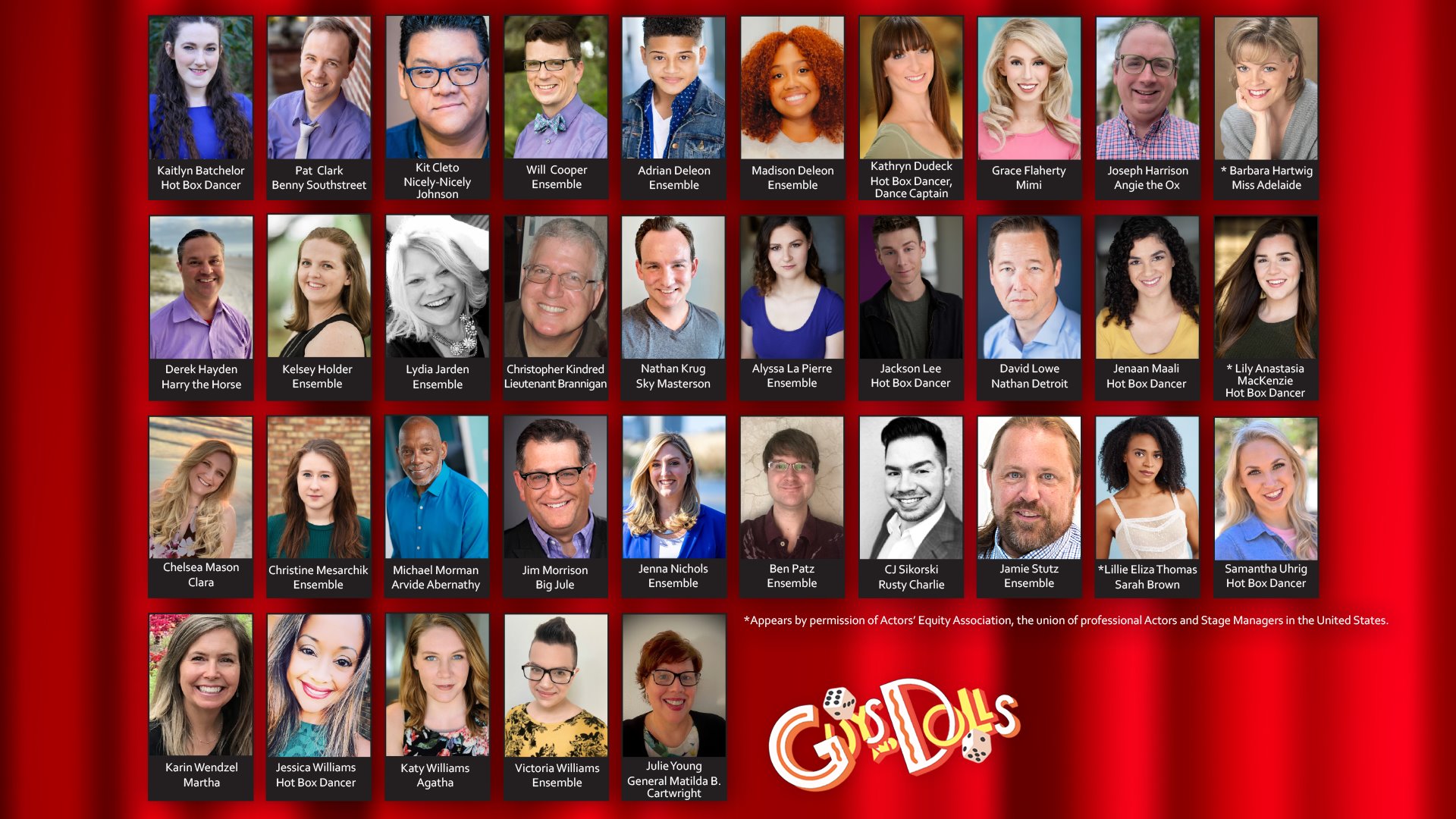 Nicely-Nicely Johnson – Kit Cleto
Benny Southwest – Pat Clark
Rusty Charlie – C.J. Sikorski
Sarah Brown – Lillie Eliza Thomas*
Arvide Abernathy – Michael Morman
Agatha – Katy Williams
Calvin – Chelsea Mason
Martha – Karin Wendzel
Harry the Horse – Derek Hayden
Lieutenant Brannigan – Christopher Kindred
Nathan Detroit – David Lowe
Angie the Ox – Joseph Harrison
Miss Adelaide – Barbara Hartwig*
Sky Masterson – Nathan Krug
Mimi – Grace Flaherty
General Matilda B. Cartwright – Julie Young
Big Jule – Jim Morrison
Master of Ceremonies, Drunk – Will Cooper
Waiters – Ben Patz, Will Cooper
Hot Box Dancers – Kaitlyn Batchelor, Kathryn Dudeck, Jackson Lee,  Lily Anastasia Mackenzie*, Jenaan Maali, Samantha Uhrig, Jessica Williams
Ensemble – Kaitlyn Batchelor, Will Cooper, Adrian Deleon, Madison Deleon, Kathryn Dudeck, Joseph Harrison, Kelsey Holder, Lydia Jarden, Alyssa La Pierre, Jackson Lee, Jenaan Maali, Christine Mesarchik, Jenna Nichols, Lily Anastasia Mackenzie*, Ben Patz, Jamie Stutz, Samantha Uhrig, Jessica Williams, Victoria Williams
*Appears by permission of Actors' Equity Association, the union of professional Actors and Stage Managers in the United States.
ORCHESTRA

Piano/Conductor – John R. Mason III
Keyboard – Jeremiah Watson
Flute/Piccolo – Cindy Patz
Reed 1 – Scott Devlin
Reed 2 – Erik Cole
Reed 3 – Andre Agac-ac
Reed 4 – Sean McBride
Trumpet 1 – Chris King
Trumpet 1 (sub) – Ed Gaston
Trumpet 2 – Kaley Rodriguez
Trumpet 3 – Adam Zapf
Trumpet 3 (sub) – Carlos Bonilla
Trombone 1 – Bryant Scott
Trombone 2 – Joey Vascik
Trombone 2 (sub) – Alex Regazzi
Drums – Gabe Berti
Bass – Mikey McCabe
Guitar – Steve Luciano
SONG LIST



Overture
Opening/Runyonland
Act 1, Scene 1: Broadway
Fugue for Tinhorns
Follow the Fold
The Oldest Established
Follow the Fold Reprise
Act 1, Scene 2: Interior Save-A-Soul Mission
I'll Know
Act 1, Scene 3: Phone Booth
Fanfare
Act 1, Scene 4: The Hotbox-Nightclub
Bushel and a Peck
Home, Sweet Home
Adelaide's Lament 
Act 1, Scene 5: A Street Off Broadway
Guys and Dolls
Act 1, Scene 6: Mission Exterior
Act 1, Scene 7: Street Off Broadway
Havana
Act 1, Scene 8: Havana, Cuba-A Dive
Act 1, Scene 9: Havana Exterior 
If I Were a Bell
Act 1, Scene 10: Mission Exterior
My Time of Day 
I've Never Been In Love Before
INTERMISSION
Entr'acte
Act 2, Scene 1: The Hot Box Nightclub
Take Back Your Mink
Adelaide's Second Lament 
Act 2, Scene 2: The West Forties< More I Cannot Wish You
Act 2, Scene 3: Crap Game in the Sewer
The Crapshooter's Dance
Luck Be a Lady
Act 2, Scene 4: A Street Off Broadway 
Sue Me
Act 2, Scene 5: Interior of Mission 
Sit Down, You're Rockin' the Boat
Act 2, Scene 6: Night-Street Off Broadway
Adelaide Meets Sarah
Marry the Man Today
Finale Act 2
Act 2, Scene 7: Broadway 
The Happy Ending
PRODUCTION TEAM

Director – Steve MacKinnon
Creative Producer – Ben Adams
Associate Director – Faith Boles
Choreographer – Myles Thoroughgood
Conductor/Music Director – John R. Mason III
Associate Music Director – Charles Stevens
Production Stage Manager – Tiffany Lyn Meadows
Stage Management – Christine Kindred, Julie Ohrberg, Michelle Shea
Scenic Designer – Joe C. Klug^
Lighting Designer – Jim Ohrberg
Wig Designer – @teaseandfloof
Costume Designers – CJ Sikorski, Mindi French
Costume Design Associate – Shelby Anne Watts
Lighting Programmer – Andrew Mulkey
Master Electrician – James Atkins
Audio Engineer – Tommy Atkinson
Audio Programmer – Anthony Narciso
A2 – John Stiles Williams
Master Carpenter – Tim Hartwig
Scenic/Prop Build and Paint Crew – John Cole, Bob Horner, Tom Parham, Gregg Gill, Dylan Cox, Marietta Bear, Al Aki, Charlie Woodbutcher, Jeremy Ferrantelli, John Columbus, Kris Hysler, Julie Ohrberg, Elanor Kindred
Electrics Crew – Xavier Krejcha, Adam Shirley, Bayley Steinwehr, Samuel Stiles Williams, Jonathan Ziegler
Costume Build Crew – Linda Williams, Katy Williams, Carol Banga, Janet Barbour, Lilley Scott
Run Crew – Elanor Kindred, John Stiles Williams
Wardrobe Head – Shelby Anne Watts
Follow Spot Operators – Ari Glaze, Susan Kocarek
Light Board Operator, Student Lighting Apprentice – Sam Stiles Williams
Video Operator – Howard Clifton
Dance Captain – Kathryn Dudeck
Production Assistant – Andrea Dunn
Box Office Manager – Mark Puig
^Member of USA Local 829
---
ST. LUKE'S UMC STAFF
Artistic Director – Steve MacKinnon
Creative Producer – Ben Adams
Production Manager – Tiffany Lyn Meadows
Technical Director – Tommy Atkinson
Executive Director of Marketing and Communications – Dawn Fleming
Director of Children's and Instrumental Music – John R. Mason III
Director of Operations – Luky Nova
Director of Video Production – Sarah Tice
Executive Director of Administration – Scooter Leonard
---
CLERGY TEAM
Lead Pastor – The Rev. Dr. Jennifer Stiles Williams
Minister of Congregational Life – The Rev. Jad Denmark
Minister of Worship and Arts – The Rev. Melissa Cooper
Minister of Connection and Community – The Rev. Jeremy Green
SPECIAL THANKS

St. Luke's United Methodist Women • John Stiles Williams • Orlando Repertory Theatre • Daytona State College • Stephanie and Allen Warner for the use of their bar • Jeff Shellhammer • Kim Paredes • Lana Stevens