June 1 marks the start of hurricane season, and as much as we would like to avoid it, we need to stay informed and prepared. Here are some resources to help prepare you for the upcoming hurricane season and the storms it may bring.
Please click the button below for updates on Hurricane Isaias
(posted 7/31/2020, 6:02 p.m.)


Visit these sites for pre-storm recommendations:
How to prepare your home for a storm:
July 16-30, 2020 – click on link below for details
(This program has been extended through August 1, 2020, 8:00 a.m. to 8:00 p.m.)
(If you need additional information or have questions, please call 3-1-1)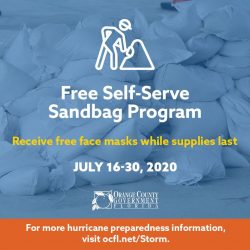 Volunteer in the Event of an Emergency
St. Luke's is preparing to be available as needs arise. The local church is the best early response for the community's immediate needs.
If Central Florida is hit by a large storm this year, St. Luke's Disaster Response teams will be immediately mobilized.
If you are interested in being part of our Disaster Response teams, please click on the link below.

This registration is to gather volunteers who are interested in assisting during the 2020 hurricane season. 
We hope it will be a quiet season and won't need to utilize any of these emergency supplies, but we do need to be prepared!
Please check back on this site in the event of a storm.