The Orange County Office of Emergency Management is closely monitoring Tropical Storm Nicole and the potential impact on our area. We will provide updates as information becomes available.
Follow important storm updates for Orange County residents at www.ocfl.net/Nicole.
Updates as of November 8, 2022 at 6:00 p.m.
Orlando is in the projected path of Tropical Storm Nicole. In keeping the safety of our congregation, community, and staff as our highest priority, St. Luke's will be cancelling all evening on-campus programs on Wednesday, November 9, and the campus will be closed on Thursday, November 10. This includes:
– All Wednesday night programs are cancelled
– Partnership Class will be meeting online
– Jesus in the Gospels class will be meeting online
– Veterans Celebration Concert, originally scheduled for November 10, has been postponed (new date TBD)
– St. Luke's Child Development Center will be closed on November 10
As the storm progresses we will provide more updates about scheduling changes, campus closures, worship services, volunteer needs and more. Now is the time to ensure you, your family, and your home are prepared for the storm so we can be ready to serve our community should the need arise.
We will be praying for everyone in our congregation and community as we move through this storm together.
*Please note St. Luke's is not equipped to serve as an evacuation shelter during a storm.*
Orange County Providing Sandbags Ahead of Tropical Storm

Four locations open Tuesday at 8 a.m. for Orange County Residents
Orange County, Fla. – As Orange County residents make their preparations in advance of Tropical Storm Nicole, Public Works is making free self-serve sandbags available to residents.
All four locations will open to the public at 8:00 a.m. Tuesday and Wednesday and are scheduled to remain open until 5:30 p.m. or while supplies last.
Residents will need to show proof of Orange County residency.  They will be provided 10 unfilled sandbags and directed to the sand pile.
The locations are:
Downey Park
10107 Flowers Avenue, Orlando, FL 32825
Fort Christmas Historical Park (Overflow lot)
1300 Fort Christmas Road, Christmas, FL 32709
Clarcona Horse Park
3535 Damon Road, Apopka, FL 32703
Orange County Multi-Cultural Center
7149 West Colonial Drive, Orlando, FL 32818 (old Goodings Grocery Store)
For individuals needing special assistance, please contact 311 and detailed information will be provided on securing sandbags.
Other Storm Related Items

Debris
Orange County Utilities and Public Works have been working around the clock since Hurricane Ian to remove yard waste and storm debris from resident's yards. To date, more than 150,000 cubic yards of debris has been picked up in the county.
There is more debris still needing to be collected. Residents are asked if they still have debris in their yards to try and keep it from washing down the storm drains. Please get debris off the streets and onto the front yards, away from the street.
Schools
Orange County Public Schools are closely monitoring the storm with the National Weather Service and the Orange County Office of Emergency Management. At this time, no decision has been made to cancel school or extracurricular activities.
Election Day
Today is Election Day. Elections Supervisor Bill Cowles is preparing all the voting sites. The impending storm will not impact your decision to exercise your right to vote.
---
Be prepared during hurricane season
We are in the midst of hurricane season, and as much as we would like to avoid it, we need to stay informed and prepared. Here are some resources to help prepare you for the upcoming hurricane season and the storms it may bring.
Pre-Storm Resource Links

Pre-Storm Resource Links
Visit these sites for pre-storm recommendations:
How to prepare your home for a storm:
The Florida Department of Revenue is offering a Sales Tax Holiday on Home Hardening installations. Please visit Florida Department of Revenue for more information.
Disaster Response Team

St. Luke's is preparing to be available as needs arise. The local church is the best early response for the community's immediate needs.
If Central Florida is hit by a large storm this year, St. Luke's Disaster Response teams will be immediately mobilized. Whether you can help with calling shut-ins, helping to clean up campus, or with administrative needs, we need a team ready to respond if a storm hits our area.
We hope it will be a quiet season and won't need to activate our disaster response teams, but we do need to be prepared!
If you are interested in being part of our Disaster Response teams, please click the link below:


Hurricane Fiona impact on Puerto Rico

Please join us in praying for Puerto Rico.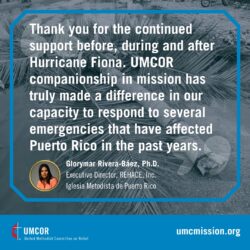 #HurricaneFiona, the first major hurricane of this year's Atlantic hurricane season, caused catastrophic damage in Puerto Rico and brought torrential rains to the Dominican Republic.
It happened almost five years to the day of when Hurricane Maria struck #PuertoRico, which resulted in strong bonds between UMCOR, Iglesia Metodista de Puerto Rico and the hundreds of UM churches that sent volunteers to the territory to help with rebuild projects.
We have been in close contact with the disaster response coordinator of the MCPR and awarded an initial solidarity grant to help with immediate needs.
Our long-term relationship shows the connectional aspect of The United Methodist Church and gives us reason to celebrate how United Methodists are missional #PeopleOfGod. ReHace IMPR
If you'd like to support UMCOR's response efforts for this and other disasters throughout the U.S., you can donate here: