Be prepared during hurricane season
The Florida Department of Revenue is offering a Sales Tax Holiday on Disaster Preparedness from August 26 through September 8, 2023.
Please visit Florida Department of Revenue for more information.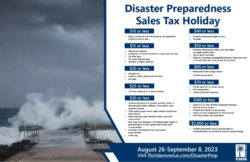 Pre-Storm Resource Links
Visit these sites for pre-storm recommendations:
How to prepare your home for a storm:
For printable Version of Hurricane Preparedness Information, please click here.
Disaster Response Team volunteers needed

St. Luke's is preparing to be available as needs arise. The local church is the best early response for the community's immediate needs.
If Central Florida is hit by a large storm this year, St. Luke's Disaster Response teams will be immediately mobilized. Whether you can help make Congregational Care calls, help clean up or do light repairs on campus, at homes of our congregation members or in the community. we need a team ready to respond if a storm hits our area.


We hope it will be a quiet season and won't need to activate our disaster response teams, but we do need to be prepared!
If you would like more information, please contact serve@st.lukes.org.
Visit st.lukes.org/disaster for information on UMCOR's response to domestic or international disasters.