June 1 marks the start of hurricane season, and as much as we would like to avoid it, we need to stay informed and prepared. Here are some resources to help prepare you for the upcoming hurricane season and the storms it may bring.
There will be a Hurricane Expo coming up on June 4.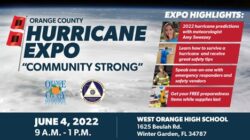 Pre-Storm Resource Links
Visit these sites for pre-storm recommendations:
How to prepare your home for a storm:
Please check back on this site in the event of a storm.
Disaster Response Team

St. Luke's is preparing to be available as needs arise. The local church is the best early response for the community's immediate needs.
If Central Florida is hit by a large storm this year, St. Luke's Disaster Response teams will be immediately mobilized. Whether you can help with calling shut-ins, helping to clean up campus, or with administrative needs, we need a team ready to respond if a storm hits our area.
We hope it will be a quiet season and won't need to activate our disaster response teams, but we do need to be prepared!
If you are interested in being part of our Disaster Response teams, please contact Amy Winslow at awinslow@st.lukes.org.