St. Luke's UMC has partnered with over 1000 children, in eleven and one-half full empowerment groups.  Over 325 households have been able to be a part of this life-saving and life-changing empowerment model thanks to the generosity of our congregation.  Other families, individuals and Bible study groups associated with St. Luke's UMC, including the United Methodist Women and our own Children's Ministry have also partnered with empowerment groups of their own, resulting in over 1500 more children being a part of the Zoe Empowers program.
This is a message from ZOE Empowers:
Dear Friends from St. Luke's UMC,
Once again you have empowered a group of children suffering under the multiple hardships of extreme poverty to realize a new life of self-sufficiency, hope and love.  Without your support, not only would the lives of these young people and their siblings have been mired in a cycle of poverty, but their whole community would have missed out on the advantages of having these economic and social contributors.
Attached is the final report on this group.  It contains all previous reports and an overview of the youth's three-year accomplishments. There is also a letter from the group to you.
Your most recent partnership pledge was to support a group of children in Zimbabwe.  That group began meeting in April and in about a month we will have the name list and group picture.
Thanks again for supporting the children of Zoe.
With warmest regards,
Laura
Laura Nemecek
Director of Program Communications
Graduation Report – Duterimbere Kinazi, Rwanda, 2019-2021
To see more stories about St. Luke's and ZOE Empowers, click on the image below. Choose the ZOE dropdown accordion.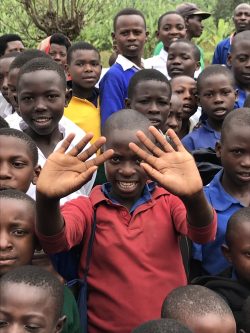 If you would like to help support the ZOE Empowerment working groups that St. Luke's sponsors, please click on the button below and choose "ZOE" from the fund dropdown box.

To learn more about ZOE Empowers and its impact, visit ZOE Empowers.
For questions, email serve@st.lukes.org.